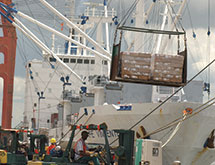 New Orleans Cold Storage (NOCS) – with more than 12 million cubic feet of refrigerated space among its four facilities in New Orleans; Charleston, S.C.; and Houston – is the oldest cold storage company in North America with 127 years of experience under its belt. Focused on temperature and time-sensitive food products, NOCS continues to thrive by maintaining tight relationships with its clients and simplifying the complex import/export process.
"There are many challenges in our business," General Sales Manager Jim Henderson explains. "There are fluctuations in product demand and changes in the food regulations in different countries. We have to be nimble and flexible to react quickly to those changes and come up with solutions for our clients."
NOCS's main clients are international food processors, buyers and sellers around the globe.
"We have Australian meat processors that sell their product to domestic traders, and we have U.S. food processors that produce meat, pork, poultry and seafood in the United States and ship the products from our facilities internationally," Henderson notes.
Its port-located facilities enable NOCS to have close control of its customers' products from beginning to end. "Our focus is maintaining the cold chain, but we also have to be the eyes and ears for our clients," Henderson says. "Many of our clients don't see the product that we handle, since they've bought via e-mail or over the phone, so we're their eyes and ears. We ensure the product is a high-quality product and that the temperature is maintained the way they instruct us to maintain it, within the guidelines of USDA, FDA and strict international governmental requirements."
Henderson notes that the close relationships with the clients are critical to the growth of the business. "We work hard at understanding our clients' business and we keep the communication fluid, which is vital in this changing industry," he explains. "If we did not have the close relationships we have, we might not be able to take care of the customers the way we do."
Another way NOCS takes care of its customers is by staying a step ahead of changes and fluctuations in the industry. The company's president, Mark Blanchard, was chairman of the U.S. Egg and Poultry Export Council from 2007 until 2009. In addition, NOCS is very involved with USMEF, MICA and other groups.
Tracking Trends
Keeping a close eye on the meat industry helped the company when business patterns changed. "Ten years ago, we were doing large import ships of meat from Australia and New Zealand," Henderson recalls. "As the value of the dollar decreased, international products became less competitive in the U.S. and we started exporting meat instead, so our business model had to evolve to adapt to that change. Now we are trying to stay ahead of the curve of what is happening in the international markets to be ready for whatever commodity comes next."
To accommodate its clients' needs, NOCS also invests in the latest cold storage technology. "We worked with our construction and industry partners to come up with a blast-freezing technology that would use the least amount of power possible," Henderson says.
One of the anticipated changes in the near future for the company will be the opening of the Panama Canal expansion in 2014. "The expansion will allow larger ships to enter the ports, so we are expecting an increase of 5 to 15 percent of tonnage in our ports."
With the new 140,000-square-foot facility in New Orleans – and a 60,000-square-foot expansion to its facility in Houston in 2009 – NOCS is well positioned to take on the additional business the larger ships will bring. "We plan to expand our facility in Charleston and we are looking at other ports where our customers would need us in other states of the U.S.," Henderson notes.