New Orleans Public Belt Railroad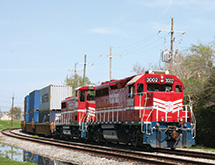 As a neutral carrier with the primary mission of serving the Port of New Orleans and local industries, New Orleans Public Belt Railroad (NOPB) plans to add more tracks and reconfigure its second-largest yard over the next three years. "Our local business is growing," CEO Jeff Davis says. "Local customers' forecasts for traffic is pretty robust."
The NOPB plans to add a third track just off the eastern abutment of the Huey P. Long Bridge, which is owned by the railroad, and reconfigure the tracks in the second-largest of its four yards as well as add some track length to handle capacity growth. "This will allow us to do switching for our customers' traffic closer to their industry and allow for greater capacity," Davis explains. "As their companies grow we will be able to grow with them and handle the additional car loads."
NOPB is expecting an increase in traffic from all of its local business, but especially from the plastic, paper and chemical industries. The railroad has direct connections to six class 1 railroads for which the railroad expedites local and intermediate freight through the New Orleans rail gateway. NOPB, however, is not expecting to see an increase in run-through traffic from those railroads.
"Traffic with class 1 railroads is not as optimistic," Davis notes.
The NOPB is expanding, but has limited opportunities to do so. With a well-defined footprint, the railroad cannot grow as much as it would like and because of that it continuously looks for ways to become more efficient.
"We are becoming more efficient in how we run trains, interchange with the class 1 railroads, utilize track space and serve customers," Davis explains. "We want to use what we have better and more efficiently.
"Since I got here a couple years ago, the business has grown and we realized that efficiency will be our best tool at keeping customers satisfied."
Maximizing Infrastructure
NOPB was established in 1908 to serve the Port of New Orleans as a neutral carrier into and out of the port. Today, the railroad serves 22 industry customers and more than 30 customer facilities within the city of New Orleans on the port property. It operates 180 miles of track and handled 177,000 car loads last year with a staff of 200 employees.
"We are the only railroad in the country that has access to a deep-water port, six class 1 railroads and river access," Davis boasts. "We are situated in a unique location and uniquely owned to be a true third-party operator to protect the city and the port's interests."
The NOPB reports to a nine-member commission – an unattached board of the city of New Orleans. As a political entity of the state, NOPB is uniquely positioned to be a true neutral party because it has no stockholders and its sole purpose is to serve the port.
"I don't know any other railroad that is a political entity of the state," Davis says. "We are owned by the citizens of New Orleans and operate as part of the state legislatively. We operate solely on retained earnings; there are no tax dollars to support us."
Although NOPB does not need to return a large profit to stockholders, the railroad is always looking to expand and grow the business.
"I think our focus is trying to determine strategically what a good number or volume for us to handle is and determine any ways we can expand with our class 1 partners, assist local customers and grow," Davis says. "We look at ways we can improve and add to our infrastructure to improve that and any way we can support the city and state economic growth."
The Port of New Orleans is working on a new intermodal yard and NOPB is determining what kind of capacity and volumes the new yard could handle, says Doug Campbell, executive vice president and chief operating officer. The Port of New Orleans has potential growth opportunities that are being explored.
"We are getting calls every week now about initial interest in the New Orleans area," he says. "We are 10 years past Hurricane Katrina and there was a lot of hesitation coming back to the port area at first, but in the past five years there has been a continued increase in interest in what it has to offer."
New Technology
NOPB implemented a new software system two years ago that allows it to track and become more efficient at handling railcars. The system includes a web portal and customer interface, which allows customers to view where their cars are on the property and communicate with NOPB via the web to move or release them. In addition, NOPB installed a GPS tracking system on its heavy equipment, fleet vehicles and locomotives adding efficiency and is also exploring technology that will automate some of its switching needs.
The railroad added a drone to its list of new technology in August that will help it identify leaks or spills in railcars. "That will help survey and identify the area without us having to use people," Campbell explains.
"The drone will have an infrared camera on it and we will see a leak from thermal imaging to verify it is occurring."
The new technology is important to increase efficiency, but Davis and Campbell say the railroad's No. 1 asset is its people. "They are the true backbone of the company, making sure we are successful," Campbell explains. "The railroad is not an easy job. It's unforgiving, hard work and a lot of our people work long hours in hard conditions."
Safety is the railroad's main focus to ensure its people go home in the same condition they arrived to work. NOPB established a training department with three full-time people who train and work all day to ensure employees meet at least the minimum standards. The state-of-the-art space can train 60 people at a time. In addition to training in-house, NOPB has begun to foster new relationships with local city and state emergency response agencies in an effort to share information to ensure that if the need arises for NOPB and emergency response representatives to work together on an incident, all agencies are familiar with one another's operations and adequately prepared. Recent training exercises have included tabletop drills and live scenario training simulating an actual event.
"We want 100 percent rules compliance 100 percent of the time," Davis says. "We want our employees to be professional, but try to enjoy themselves while they are here, too, be safe and follow the rules. Those are the only three things we ask and they will be successful here doing so and know they are making a difference."