Keeping track
TLI put some questions to Tobyn Hughes, Managing Director of Transport North East andand Director General of NexusNexus, to get , an insight into how the company has performed over the last 12 months, which has been a period of opportunities and challenges
How has Nexus been performing since it was last featured in our magazine around a year ago?
It had been a great 12 months forNexus prior to the coronavirus outbreak. We are looking ahead to work starting on the new train fleet and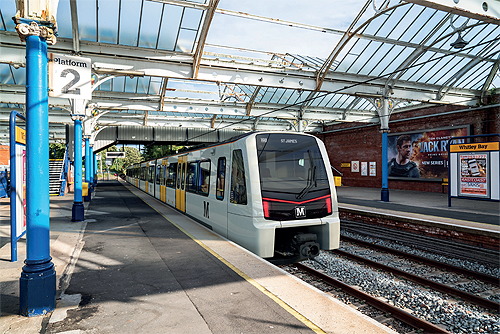 depot for the Tyne and Wear Metro. The appointment of a supplier for the new trains was an historic moment. We have also seen a number of other major projects come close to fruition. The impact of the coronavirus crisis is, of course, a massive setback, but we are determined to overcome it and keep looking ahead to a bright future for Nexus and public transport in our region. Times are tough but I believe we must keep our eyes on the prize.
Would you be able to tell us about any of the recent contracts/projects that the company has been focused on delivering?
The award of the Metro fleet contract to the train manufacturer, Stadler, is a major focus for us going forward. We aim to see the first new trains in service by 2023.
We have also secured Government funding to the tune of £100m for what we call the Metro Flow project. This will see an existing freight line upgraded and electrified in South Tyneside from September 2022, making it capable of carrying Metro services, boosting the capacity for an extra 30,000 passenger journeys every day. Metro Flow was given the green light by the Chancellor Rishi Sunak in the Budget. The funding of £95m from 25the Government's Transforming Cities Fund, will allow Nexus to deliver a scheme costing £103m in total. It's great news for Metro passengers.
The project will involve the conversion of an existing heavy rail line, bringing it into dual use so that Metro services can run alongside freight services, which is similar to the operations we have on the Sunderland line. One of the key points of Metro Flow is that it increases the frequency of Metro services system-wide from 12 minutes to ten minutes outside of the central areas. For our passengers this means more regular services, and faster journey times. This project also gives us scope to examine future opportunities to expand the network to other areas that are currently not served by Metro services.
Three sections of single track on the Metro network totalling three kilometres will be dualled between Pelaw and Bede Metro stations. There are three single-track sections on the Metro network, where trains must use the same line in both directions. The sections of line are located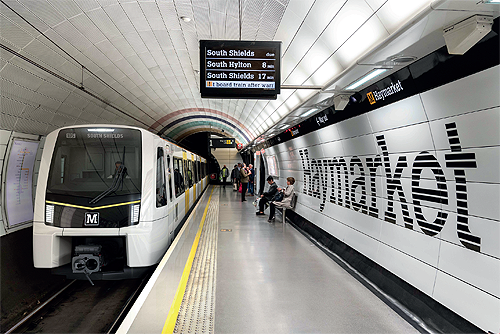 between Pelaw and Hebburn (800 metres), Hebburn and Jarrow (1.4km) and Jarrow and Bede (600 metres).
Nexus is currently in the process of replacing its entire Metro fleet. Could you tell us a bit more about this?
In January we announced a preferred bidder for a £362m contract to build new trains for the Tyne and Wear Metro which will transform performance and passenger experience. Stadler, based in Switzerland, was chosen after a year-long global search for the best manufacturing partner for 42 new trains to be delivered up to 2024.
Our passengers expect the best in the world when they travel, and that is what they will get from our new trains. Stadler has an excellent track record building new trains for cities and regions across the world. The company will put in place new supply chains in North East England and the UK, securing local jobs. I was delighted to welcome Stadler as we make this historic £362m investment in Metro's future. We asked for the best trains for the best price – based on what local people said they wanted to see, providing excellent reliability for years to come, transforming the passenger experience and delivering huge energy savings.
Stadler has delivered on all fronts, and we look forward to working with our new partner and the extensive UK supply chain, which will support them not just to build new trains but maintain them over the next 35 years.
The new trains, based on the ideas and suggestions of more than 3000 passengers, will cut Metro's high voltage power consumption by 30 per cent while providing Metro's 36m passengers with modern features including wifi, charging points, air conditioning and a step-change in accessibility.
Stadler has a track record of delivering excellence in technology, reliability and 26comfort. It is already delivering new trains for the Glasgow Subway; the Greater Anglia franchise into London from Cambridge, Norwich and Essex; Transport for Wales; plus Liverpool, where the company has its UK base in a state-of-the-art maintenance hub. Its trams are already running on the Croydon Tram network and tram-trains in Sheffield. Locomotives built by Stadler are in service on networks operated by Chiltern, Scotrail and TransPennine Express across Northern England.
The company has also built trains, locomotives and carriages to serve passengers across the world, with recent orders including trains for Berlin, Atlanta, California and as far afield as Brazil. A team of more than 30 Metro managers, external industry experts plus financial and legal advisers, worked through thousands of pages of technical data and detailed design visualisations from rival bidders.
Companies wanting to build Metro's £362m new train fleet and depot were challenged to deliver the maximum quality, reliability and energy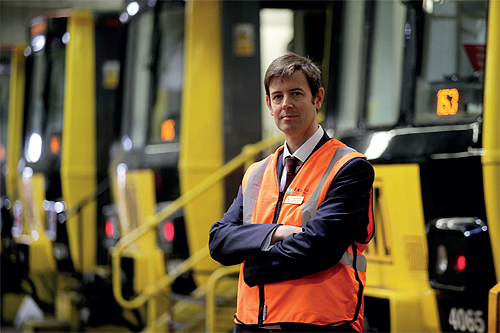 efficiency within a strict price ceiling.
Metro's loading gauge – the limits of weight and height the system operates in – meant Nexus could demand a unique train built to serve the people of North East England for years to come. Stadler has forged new partnerships with more than 30 UK companies in manufacturing, technology and construction as it prepares to build new trains for Metro – around half in North East England.
Nexus invited potential train builders to attend events organised by the North East Local Enterprise Partnership, connecting them with a vibrant local supply chain.
Stadler will work with companies across the region to build North East expertise into Metro's new trains – from specialist glass, cabling and internal finishes through to the crucial drive mechanism – as well as using local expertise to build a £70m new depot.
These new partnerships will endure for up to 35 years as Stadler maintains the new trains for Nexus, employing around 100 people directly, securing jobs through the supply chain and making its own commitments to training and research.
The new trains are to be built at Stadler's St Margrethen plant in northern Switzerland.
Can you also give me some more details about the new £70m train depot as part of the above programme?
We're really looking forward to the work starting on our new depot. It's long overdue and will deliver a step change in the quality of our train maintenance facilities. Stadler will build and run a £70m new maintenance facility at Metro's current depot site in South Gosforth, Newcastle, as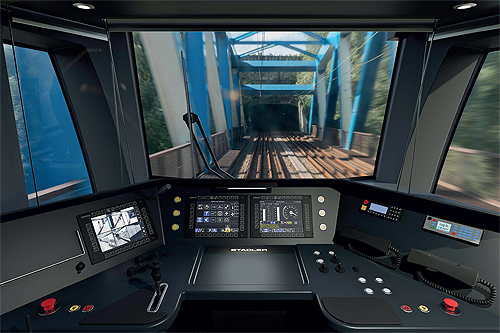 part of the deal, creating scores more jobs in construction and employing around 100 people directly. The work on this new facility is set to start in August. The current Metro depot buildings have been there since 1923, so 28we really do need more modern facilities for our new trains and the workforce that is going to maintain them. We will be gradually transitioning to the new depot. A temporary depot in North Tyneside will be ready by the summer allowing us to stable some of the fleet there while this process takes place over the next three years.
In the summer of 2020, the company is planning on opening the Nexus Learning Centre. Could you tell us a bit more about this facility and its creation?
The work on our new £9m Learning Centre is nearing completion and we expect to have it in use later this year. This will bring all of our organisation's training needs under one roof in a modern, new facility in South Shields town centre. It will represent a long overdue move away from our current training set up, which has seen many of the sessions conducted in old mobile classrooms that have seen better days. This facility will transform the quality of the training that we provide to the Nexus workforce and industry partners, ensuring we keep Metro part of everyday life for the 100,000 people who use the service every day. It will also be the place where our diverse workforce will go to develop themselves professionally, and to work on strategies to improve what we do and how we do it.
I see that over the past ten years, Nexus has spent £300m on infrastructure – can you give a few more details on where this has been invested, and what future plans you have in this area?
It's hard to believe that ten years ago we embarked on our infrastructure modernisation programme. In that time, we have invested £323m in a vast range of schemes, including track replacement, overhead line, station refurbishments, bridges, tunnels and other key pieces of new technology that will ensure we have a Tyne and Wear Metro system for many decades to come. The programme also included a three-quarter life refurbishment of the existing Metro train fleet which was completed in 2014.
We're often asked why we didn't we renew our train fleet sooner. The answer is that in 2007 we simply had to secure money for the ageing infrastructure of Metro. The system was built in the late 1970s but many of its alignments date back to the 19th century. Since 2010 our projects teams have worked tirelessly delivering the renewal programme and they've accomplished so much. Going forward we are talking to the Government about extending the asset renewal programme to areas we haven't been able to cover.
As a provider of a key service, how is Nexus dealing with the impact of Covid-19?
What has been heartening is how our workforce has risen to the challenge, especially frontline key workers who are out there every day carrying out their jobs when the rest of us are in lockdown. I am immensely proud of the efforts our staff are putting in at this time of national emergency. Key workers are the real heroes of this crisis.
It is good news that the Government is providing £8.6m of emergency financial relief to the Tyne and Wear Metro system. The Metro and the Shields Ferry are public services and their importance to the economic and social life of our region cannot be understated. This has been highlighted during the coronavirus crisis when we have been providing a regular service to make sure that key workers can get around.
This has come at a financial cost though; our fare during the lockdown period, leaving a financial blackhole of more than £10 million in our budget. The Government's funding of £8.6 million covers around 80 per cent of that and is very welcome, but it still leaves a funding gap that we need to close.
"We also have funding shortfalls on the Shields Ferry and in other areas. We will have to look at our other activities, saving money and redirecting funding where we can.
"We are now focusing on getting ready to support the region's economy if and when the Government starts to lift the lockdown. Both the Metro and Shields Ferry will be there to play their full role when they are needed. We do not however expect to return to pre-crisis levels of ridership for many months to come, and this will continue to create a financial challenge long into the future. We look forward to working with the Government to ensure that the Metro is put on a long-term financially sustainable footing.
Metro staff have received a number of thank you notes from passengers recently. What are the key factors contributing to Nexus' continued success in this difficult climate?
There is only one word for our key workers at the time of crisis: Heroes. They have gone above and beyond the call of duty to keep our transport systems operational at a time when we are locked down due to the ravages of coronavirus. A great team spirit and camaraderie exists in our workforce and at this most difficult time everyone has pulled together to keep us moving forward. It hasn't been easy and tougher times may still lie ahead, but we've seen the very best of them here in North East England. They haven't let anyone down and I we all just pray that we don't lose any staff to Covid 19, mirroring some of the tragedies reported on the London transport system.
In light of current events, has the company reassessed its goals for 2020?
We still aim press ahead with the procurement of our Metro fleet and the next big step will be to choose the new livery. It's too early to say if the current crisis will delay the delivery of our new trains, but as things stand we are still aiming for 2022 for the first ones to arrive for testing. We are in daily contact with Stadler about the impact of the crisis.
We still aim to open our new Learning Centre open this year, along with the temporary Metro depot. The first spades will go into the ground for the new main depot too. In terms of the Metro system itself, the impact of the lockdown means we will have revise are revenue targets. We will carry much less passengers this year. This is a new reality that all operators are having to face up to.
What are the company's long-term targets for the years ahead?
In the next three years, our aim is to give the people of Tyne and Wear the new Metro fleet they have so badly wanted for so many years. Our current trains have served us well, but they pose an ever-increasing maintenance challenge and they need to be phased out.
In the longer term will continue to explore plans to expand the Metro system. Detailed studies are being carried out to assess the feasibility of eight potential new route corridors, so we are in a good position to select the best option and put a strong business case before the Government.
Alongside that we are developing proposals for further devolution of rail in northern England while ensuring partners' aspirations for rail are embedded in Transport for the North's (TfN) long-term rail strategy.
Nexus
www.nexus.org.uk
Services: Nexus is the Tyne and Wear Passenger Transport Executive