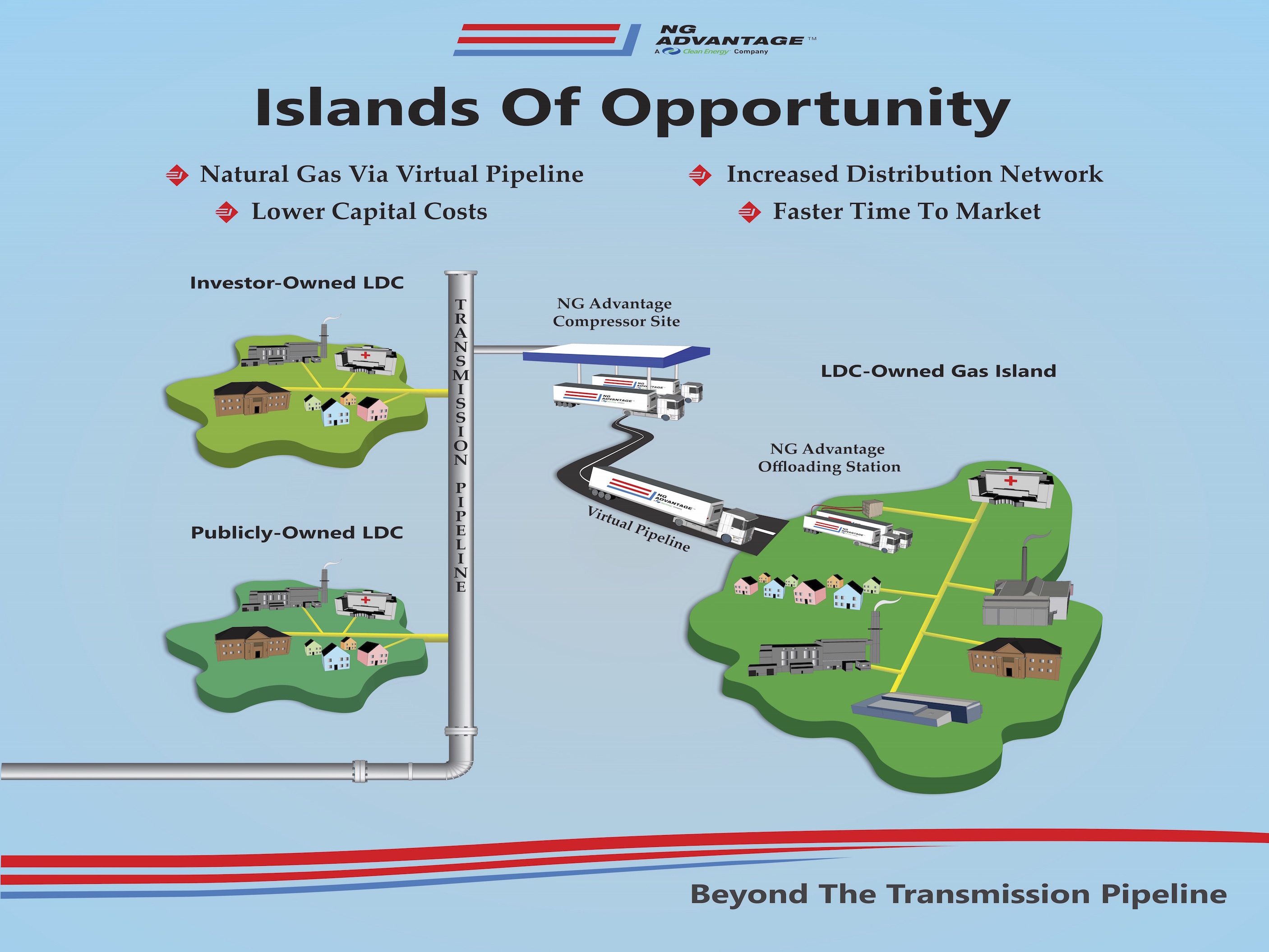 NG Advantage continues to grow the technical capabilities and physical footprint of its compressed natural gas virtual pipeline services.
By Jim Harris
For the past five years, NG Advantage has served as a critical link in the energy chain. The Colchester, Vt.-based company is focused on one purpose: trucking compressed natural gas (CNG) to large industrial energy users who are beyond the reach of natural gas pipelines.
"Our strength is our demonstrated ability to serve very large customers that were previously believed to require a physical pipeline to meet their demand," says Tom Evslin, CEO of the Colchester, Vt.-based company.
The company's largest customer is International Paper, which at one point in its recent history was slated to have a natural gas pipeline extended to its plant in Ticonderoga, N.Y. After that extension was repeatedly delayed and the estimated cost increased, the manufacturer began working with NG Advantage, which delivers 18 truckloads' worth of CNG to International Paper on a daily basis. "That's a huge quantity of natural gas – there's no one else in the United States serving a customer with anywhere near that volume of CNG" Evslin says. "That scale is a true strength of ours."
NG Advantage operates compressor stations in Pembroke, N.H., and Milton, Vt., where it compresses gas purchased from pipeline providers to 4,000 psi. The company then loads natural gas into its "virtual pipeline" of 54 40-foot trailers that it hauls to customer sites. The trailers – manufactured by Lincoln Hexagon of Lincoln, Neb.– contain four 40-foot carbon-fiber tubes that hold the compressed gas. Customers use the gas directly from the trailers, eliminating the need for on-site storage.
Islands of Opportunity
The company's customers include paper mills as well as asphalt plants, hospitals, manufacturers, a commercial laundry facility and three food processing plants. Although CNG is commonly used for process heat, a few of NG Advantage's customers are finding additional uses for clean, cheap energy from CNG.
"One of our customers, a large paper company, replaced oil with natural gas at first, then decided to also use natural gas to generate its own electricity, which increased their CNG use and saved them on energy costs," Evslin says. "We see this as something that will happen more regularly, as companies take advantage of the low cost and positive environmental advantages of CNG to displace their oil use and replace the electricity they used to buy."
In addition to large industrial sites, the company also serves "gas islands" – localized natural gas distribution systems that are not connected to transmission pipelines. NG Advantage trucks gas from its Milton station to Middlebury, Vt., where it is fed into a distribution system that serves large and small businesses, a university, and a hospital. The system is maintained and operated by Vermont Gas Systems, Inc. "This is a new business for us and we are the only US provider offering the service," he adds.
Gaining Customer Confidence
NG Advantage currently provides its services to customers in Vermont, Massachusetts, New York, and New Hampshire. The company is seeking opportunities in other parts of the country, a goal it feels will be more attainable as the result of its partial acquisition in October 2014 by Clean Energy. Clean Energy, a publicly traded national provider of natural gas products, is now the majority owner of the company.
"This transaction gave us the capital we need for expansion, and gives us more of a national presence," Evslin says.
Recent NG Advantage investments include ordering nine additional trailers. The company continues to enhance its unique cloud-based automation system that allows it to better monitor its compressors, trailers, and customer sites.
Evslin credits the company's staff for its growth. "Our people grew this company from nothing to $30 million in sales in just three years of operation," he says. "I'm proud that we've done that safely while earning the confidence of our customers."
www.ngadvantage.com
Revenues: $30 million
Headquarters: Milton, Vt.
Employees: 35
Specialty: Virtual pipeline services