North Carolina State Ports Authority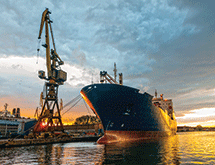 The North Carolina State Ports Authority is reporting a strong start to its fiscal year, as July container volumes at the Port of Wilmington were 26 percent higher than in July 2013. The port's executives attribute this growth to more port calls in its Asian service lane, expanded service offerings in the Latin American trade lane, and increased tonnage in the European trade services lane.
"Unrivaled customer service, faster turn times and ease of doing business with our team make the North Carolina ports the choice for ports on the East Coast," CEO Paul Cozza said in a statement. "We are aggressively working to grow the business, and our container volumes are a result of our commitment to meeting our customer demands for increased service offerings. I am looking forward to a strong year."
North Carolina has two ports, one in Wilmington and the other in Morehead City. The state also boasts two inland terminals in Charlotte and Greensboro. They link the state's consumers, businesses and industry to world markets and aim to attract new business and industry to the state. The ports authority reports it is responsible for 65,000 jobs and $500 million annually in state and local tax revenues.
The Port of Wilmington
Responsible for a sizable increase in business in 2014, the Port of Wilmington offers terminal facilities serving container, bulk and breakbulk operations. It claims to be one of the few south Atlantic ports in the United States with readily available berths and storage areas for containers and cargo.
Served by a 42-foot navigational channel, the Port of Wilmington is a C-TPAT-certified location and is designated as Foreign Trade Zone 66. It features modern transit and warehouse facilities, post-Panamax container cranes and support equipment, and cargo management technology that can support international trade to the Southeast.
Regional and national highway networks serving the port have been improved, and CSX Transportation provides daily service for railroad boxcar, tanker and general cargo services.
The Port of Morehead City
One of the deepest ports on the East Coast, the Port of Morehead City is located only four miles from the Atlantic Ocean. It handles breakbulk and bulk cargo and says it is the second-largest importer in the country of natural rubber. The port also is a leading exporter of phosphate, so it has a dry-bulk facility on-site with a 225,000-ton capacity warehouse. Other open storage is available, and North Carolina port users qualify for a tax credit.
A 177,000-square-foot warehouse with 29-foot ceilings at the Port of Morehead City is available to house commodities such as paper, steel and lumber. Norfolk Southern rail access is on the docks, along with connections to major north-south and east-west interstate systems. A 45-foot navigational channel has docks fewer than four miles from the open sea. Additionally, Radio Island is located across the Newport River from the Port of Morehead City. This site includes 150 acres suitable for port industrial development complete with municipal water and sewer.
Inland Terminals
The 16-acre Charlotte inland terminal is a C-TPAT-certified location. It is located near manufacturing and distribution sites in the Southeast, serving the I-85 and I-77 distribution corridors. With stacking space for 391 containers, the terminal provides neutral container yard operations to container carriers and serves as a staging area for empty and loaded containers.
The terminal is bonded by U.S. Customs and Border Protection. Grounding and mounting service is available for loaded and empty containers. Container and chassis maintenance and repair operations are available on-site from a third-party vendor. Real-time data management is provided through the Port of Wilmington's terminal operating system.
The 13-acre Piedmont Triad inland terminal in Greensboro, N.C., is approximately 185 miles northwest of the Port of Wilmington. It serves the I-40 and I-85 corridors and is the ports authority's second intermodal terminal connecting the industrial regions in the western portion of the state with direct port access. Like the Charlotte terminal, the Piedmont terminal acts as an inland consolidation point for import and export cargo.
"High-volume container traffic makes substantially lower inland transportation rates available to shippers moving cargo by truck or rail between the terminals and the port," the ports authority says. "North Carolina's ports offer highly competitive alternatives to ports in neighboring states for competitive access to global markets. North Carolina's port system combines modern facilities and abundant capacity with the commitment to excel in service to our customers."