North Dakota Department of Transportation State Fleet Services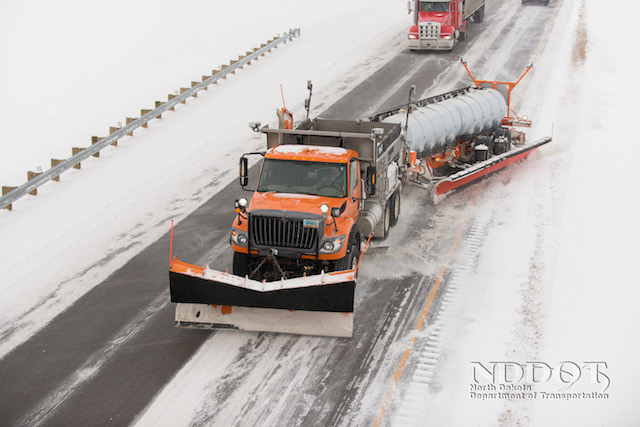 North Dakota State Fleet focuses on safety and value while facing extreme weather, budgetary issues and manufacturing plant closures.
By Staci Davidson, Senior Editor at Knighthouse Media
The U.S. climate varies greatly, depending on the region people find themselves in, and weather tends toward the extreme when one gets to any of the edges of the country. As a northern-most state in the Plains region, North Dakota understands these extremes well, and the State Fleet equips itself best it can to handle them.
It is unique in the industry that North Dakota has a completely centralized fleet – all state vehicles are in the central fleet system. With about 3,560 vehicles in total, North Dakota State Fleet includes work vehicles, heavy-duty trucks, state patrol cars, light trucks, minivans and sedans. Additionally, to deal with North Dakota's weather extremes, the fleet includes more than 350 snowplow trucks, 13 rotary snowplows and heavy-duty tractors, trucks and lifts. This past February, the three NDDOT state airplanes were added to the fleet. In the last four years, North Dakota State Fleet has driven an average of 39 million miles each year, all while contending with the state's infamous weather.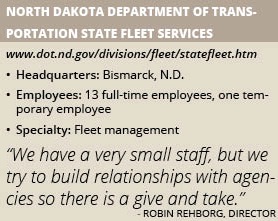 "We go from snow to ice really quickly in North Dakota, and snow plows are always on call from November to March and early April. That is when we can get rapidly changing weather with blizzards, snow and ice," explains Robin Rehborg, director of State Fleet. "The winters are known for blowing, drifting snow and wind chills. In the summertime, it can get up into the 80s and 90s – hot. But the summer also has big thunderstorms and hailstorms – huge storms that go through and can take out windshields."
"Our mission is to safely move people and goods, so that is our ultimate goal," she adds. "There is a lot of roadway in North Dakota."
Extensive Monitoring
That is a lot for State Fleet to manage. Within the fleet, there are 450 vehicles in the state's motor pool that can be checked out daily. Otherwise, all vehicles are assigned to an agency. It is up to State Fleet to keep all the vehicles ready for duty – whether that is to remove snow, transport a state official or perform work as part of the DOT's services.
"A lot of the repair work is done through the DOT's maintenance department," Rehborg says. "State Fleet is housed within the DOT but we are separate in terms of funding. We work closely with the maintenance division. We have to watch it closely, when imminent storms are coming, we have to make sure the plows are where they need to be and can respond as quickly as possible. We watch weather models and do a lot of monitoring."
As a result, State Fleet has a small window during the summer to do all the repairs necessary to the fleet and make sure the plows are ready to go by October. The agency also has to make sure other service vehicles are ready to go for any DOT projects that need to be completed. State Fleet turns over approximately 20 snowplow trucks each year, selling them off and ordering new vehicles.
"The technology in vehicles is always changing, so we have to determine if the upfront cost of additional safety features outweigh their true usefulness," Rehborg says. "With snowplows, the technology is quite high – all plow trucks are equipped with several attachments – and the operator has to operate all of those at once, so we are constantly looking to make that easier. We have trucks with heated plow lights and windshields so the ice doesn't stick to them and strobe lighting to be all around the vehicles. Safety is a major concern. We're running a pilot system for telematics for a portion of the trucks so we can start tracking the plow program online during the winter."
Finding Value
Although users want all of the bells and whistles in state vehicles, State Fleet is beholden to the North Dakota budget, so a lot goes into planning when buying new vehicles, trucks and equipment. State Fleet works closely with all of the agencies to understand vehicles' utilization, what is most important and what features are needed for employees to do their jobs. In addition to budgetary challenges, State Fleet also has to manage manufacturing issues.
"One of the biggest challenges with vehicle purchasing is manufacturer changes and plant closures," Rehborg explains. "If there is a plant shutdown in the middle of the year, we won't get the vehicles we need. We try to have most of our new vehicles delivered by March and April, but this year most of the new pickups won't be delivered until June because of manufacturing issues, and that will have a major impact on the vehicle supply for the outdoor work that needs to be performed when there is not snow on the ground."
She notes that even with these challenges, State Fleet's team is good at working with partners and finding the best values. "We have a very small staff, but we try to build relationships with agencies so there is a give and take," she says. "The team is very good at looking for new ways of doing things to gain efficiencies to save the agencies' and taxpayers' money."