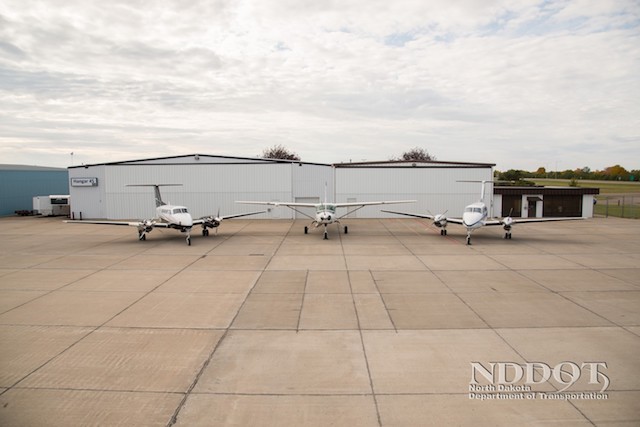 NDDOT's State Fleet Services focuses on staying innovative.
By Alan Dorich, Senior Editor at Knighthouse Media
When maintaining and managing a massive fleet of vehicles, you need dependable, loyal people to provide support. The North Dakota Department of Transportation's (NDDOT) State Fleet Services has that in abundance with its staff, Robin R. Rehborg says.
"They're all very diligent in what they do," she says, adding that the employees are very loyal to the department and NDDOT. "They're always looking for ways to trim costs."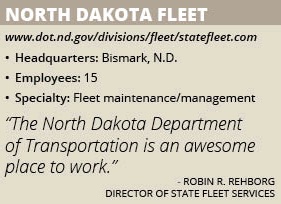 Rehborg is the director of State Fleet Services, which provides, maintains and manages vehicles for North Dakota's state agencies and institutions. She explains that North Dakota state legislature originally formed the fleet within NDDOT in 1983 and it grew to include university vehicles in 1995.
"Today, we have approximately 3,400 vehicles in total," she says, explaining that these include light- and heavy-duty vehicles, as well as three airplanes, which became part of its fleet in 2018.
State Fleet Services partners with North Dakota agencies to determine what vehicles they need, while operating a robust maintenance program. "We work closely with the NDDOT maintenance shops across the state," she adds. "We also have three university shops that we work closely with."
An Awesome Place
Rehborg has more than two decades of experience in fleet management. After working for a large propane company where she oversaw trucks and light-duty service vehicles, "I came to the State Fleet in 2006," she recalls.
After starting as a fleet manager, she moved up the ranks before taking her current role in 2012. Today, "I really enjoy what I do," she says. "Getting involved in the State Fleet Association (NCSFA) has been really good for me professionally.
"The North Dakota Department of Transportation is an awesome place to work," she continues, adding it has helped many others move through the ranks. "Even though it's big, it's a family."
NDDOT also has taken a proactive stance towards technology, which includes the use of online defensive driving courses, as well as its Track a Plow system. Currently, "We have 118 snowplow trucks that have telematics in them," she describes.
This allows state residents and the traveling public to see where some of the snowplows are working on state highways during winter season.
New this year, state fleet added online simulcast option for customers purchasing vehicles at state auction. "Our first auction using this technology in June was a success with 80 percent of vehicles receiving bids online," says Rehborg.
The New Normal
According to Rehborg, State Fleet Services saw its fleet grow during the oil boom in the Bakken Formation of western North Dakota. But since that has cooled down, the department has entered the process of right sizing its fleet.
"We're trying to get to where our new normal is," she says, adding that the department has downsized by 160 vehicles since 2018. "This year, we'll be selling 425 vehicles and only purchasing 340."
Although this process has been challenging, her department has persevered, while keeping up with new technology. "It seems like daily you're hearing something new," she says, adding that the latest innovations include electric and autonomous vehicles.
"We're waiting to hear whether we'll get grants to start dabbling in those products," she says, adding that she sees a strong future for State Fleet Services. "I see us continuing to right size the fleet to make sure we have the vehicles we need [and] moving into more enhanced technology systems."