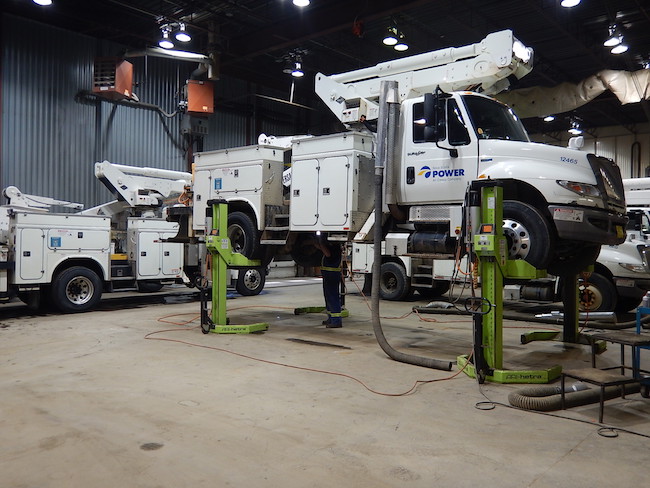 Nova Scotia Power's fleet group prioritizes efficiency to reduce vehicle downtime and deliver lower costs for ratepayers.
By Tim O'Connor
At most organizations, fleet management is the first place a department goes when it needs a new truck, work van or piece of mobile equipment. But procurement is only the beginning of the lifecycle for a vehicle. Knowing when it's time to replace an aging or outdated piece of equipment is equally important.
Nova Scotia Power, an energy utility serving its namesake coastal Canadian province, previously allowed vehicles to run 10 to 12 years before being retired. But this was too long an operational period and created higher maintenance costs and longer downtime – resulting in lost productivity for work crews.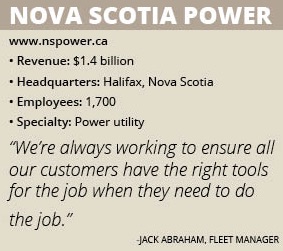 The utility eventually adjusted its lifecycle costing model and now replaces most transport vehicles within four to six years and bigger aerial devices and derricks after eight years. "We track the cost, the age and the use of the vehicle," Fleet Manager Jack Abraham says. "As time goes by and costs go up there comes a crossing point where you're spending more into the vehicle than what it's going to be worth."
Customer Focused
Nova Scotia Power has served Nova Scotians for nearly a century. It started in 1919 as a government organization but was privatized in 1992. A wholly owned subsidiary of Emera, the utility provides 95 percent of the electricity generation, transmission and distribution used by 500,000 residential, commercial and industrial customers in Nova Scotia. A mix of hydro, wind, coal, oil, biomass, tidal and natural gas sources generates more than 10,000-gigawatt hours of power each year.
When Abraham arrived at Nova Scotia Power 19 years ago, the company's power line work fleet was divided into separate regions across the province. Each region operated independently, setting their own vehicle replacement schedules and devoting more or fewer resources to upkeep. The result was a fleet with distinct vehicles that could not be easily shared between regions. "Their focus was getting line work done," Abraham explains. "The fleet was a side issue."
Nova Scotia Power realized its fleet needed more consistency to function efficiently. Within three years, the central fleet group took over all the maintenance and vehicle purchasing budgets for the regions. Centralizing fleet operations enabled Nova Scotia Power to set regular maintenance checks and standardize the trucks used throughout the province to ensure all employees were properly trained to operate each vehicle. Standardization also made the fleet more compliant and cost-efficient, Abraham claims.
The number of power line work regions within Nova Scotia Power's structure has since been reduced from six to three. But the move toward centralization altered the relationship between fleet management and those regions in even more fundamental ways. The fleet group was reorganized so that the power line work regions, as well as the other corporate groups, – hydro/wind, meter and inspection services, system maintenance, forestry, safety and environment – became its customers.
Serving those customers consists of buying, maintaining and disposing of vehicles in a financially responsible manner while ensuring each region maintains access to work trucks. "We're always working to ensure all our customers have the right tools for the job when they need to do the job," Abraham says.
Nova Scotia Power's fleet of 800 vehicles includes aerial lifts, half- and quarter-ton personal transportation vehicles, snowmobiles and ATVs for supervisors, hydro/wind, meter and inspection services, system maintenance, forestry, safety and environment employees; and utility vans for the underground group and system maintenance people who work in substations.
Administering such a large and diverse fleet is a challenge, so Nova Scotia Power is investing in a new management operating program that will allow it to better coordinate with the utility's divisions. "The system will be able to measure more where the gaps are so we can bring the groups together as one," Abraham says. "The people planning the work will be aligned closer to the maintenance scheduling." The management operating program should result in a smoother transition between various stages of work, he adds.
Having good tools in place is critical for a small team within a much larger company. Nova Scotia Power has 1,700 employees but only 19 people work in the fleet group – and 15 of those work on the maintenance side. It's a small team compared to some other utilities, according to Abraham, but the quality of its people makes up for the size difference. "We work well together and we get along together," he says. "We're pretty cohesive.
"It doesn't matter if you have 800 vehicles or 18,000," Abraham continues. "You have to have the systems in place to make sure you're getting the fleet procurement maintenance and disposal done properly and we do that with a small group."
Industry Involvement
Abraham's involvement in the larger fleet industry has given him greater insight into understanding the challenges and knowing what possibilities are out there. He was formerly the president of the Canadian Utility Fleet Council and the Electric Utility Fleet Managers Conference. Through those roles, Abraham has kept a close watch on trends in the industry and gathered a list of contacts he can call on when issues arise.
Nova Scotia Power supports Abraham's involvement with the wider fleet management industry. "You don't have to be big to know what's going on in the industry and keep up with the times," he says. "And we have kept up with the times."
The talk in industry organizations such as the Canadian Utility Fleet Council has made two trends clear: Utilities continue to push vehicle standardization and green energy is becoming a more important component of every fleet. Nova Scotia Power itself has a few electric vehicles in place.
The biggest hurdle toward the adoption of electrical vehicles is the need for recharging stations to power those trucks and cars. However, Nova Scotia Power has an entire group within the company dedicated to creating that infrastructure – paving the way for future electrical vehicle use. "I think the electric vehicle thing is going to grow, grow, grow," Abraham says.
The infrastructure may not be ready to support electrical vehicles in widespread use, but Nova Scotia Power's fleet is testing other programs designed to reduce the utility's carbon footprint. Last year, the utility conducted a trial training program for operators that explained the impact of emissions on the environment to encourage them to reduce vehicle idling. Data from the 110-driver test group are still being collected but Nova Scotia Power is hoping for a 10 percent reduction in idling time through this education. When successful, the program could be rolled out across the entire company later this year.
Its fleet challenges may be similar to any regional contract company, but as a government-regulated utility Nova Scotia Power enjoys greater stability. Contractors must scale their fleets up or down to meet the demand of the moment, but a utility is constant. Power demands don't vary wildly from day to day and routine transmission maintenance is not dependent on market changes. Nova Scotia Power's fleet requirements and maintenance needs remain mostly steady as a result.
Predictability means that Abraham and his fleet group can focus on improving operations rather than reacting to sudden change. "We're trying to become more efficient every day because the more efficient we are the better it is for our ratepayers. They are the bottom-line customers."