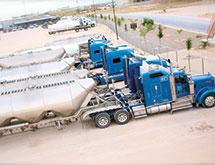 Nova Services' commitment to superior service and competitive pricing has helped it to become a prominent drilling fluids company since it was founded in 1989. By strategically focusing on customer service, technology, innovation, diversification and understanding the changing needs of the oil and gas industry, the company has grown to the point that it can do business anywhere in the continental United States.
Thanks to an experienced staff – which includes executive leadership that averages 30-plus years in the business – Nova has expanded its drilling fluids business and diversified its operations.
Today, the company has divisions focused on everything from sand transport and storage, potassium chloride (KCL) and chemical blending to mining, bagging, hardbanding and pipe inspection.
Nova is based out of a new 15,000-square-foot corporate headquarters in Hobbs, N.M. In addition, Nova has offices in Midland, Texas, and Oklahoma City.
The company has the only permanent liquid mud plant in New Mexico and offers portable plants that can be deployed in a matter of hours.
Nova's new Hobbs facility has more than 107 acres and houses the corporate offices and a number of business unites, including safety and compliance, the drilling mud division, the frac sand unit, the hardbanding/inspection division, warehouses, bagging operations, chemical blending, mechanics shop, sand storage, scales, rail storage and other business units.
Nova's new yard in Hobbs also has a bagging facility, 150 loads of bulk barite storage, chemical blending, scales, rail car storage and offloading. In addition, Nova recently added to its arsenal, adding RailMasters to the Nova family. The company is nearing completion of its first spur in Palestine, Texas.
Hardbanding Happenings
One of the major focal areas for Nova has been the growth of its hardbanding operations. Hardbanding is the process of depositing hard facing alloys onto drill pipe tool joints, collars and heavy-weight pipe to protect both the casing and drilling assets from wear associated with drilling practices.
The company created Nova Hardbanding in 2010 with the primary function of providing a better service and product than the competition in the Permian Basin and surrounding areas. What began with one hardbanding unit has grown to five state-of-the-art mobile units using the newest technology and data recording systems available today, and providing customers with readouts showing the specs used to apply the wire are within parameters.
"It was a startup operation with only a handful of employees and has grown to approximately 65 employees," Division Manager Gary Jordan says.
Nova Hardbanding is capable of on-site service, both in the field and at a yard. It says its hard bands – both casing-friendly (smooth wire) and tungsten carbide applications – are the best in the industry.
The company's operators and units are certified to apply Arnco's XT 100, 150, and 300; Postle's Dura-Band and Tuff-Band; Tuboscope's TCS Titanium and TCS 8000; Armacor's M; Rankin 969; and proprietary Nova wires. Nova is also able to do non-mag applications.
In 2012, the company added to its hardbanding and inspection divisions by founding Nova Inspection Services with a single, state-of-the-art EMI unit. In the past few years, the inspection services business has grown into a highly respected service in the Permian Basin. It now has five drill pipe units, four BHA trucks and some of the most qualified Level ll inspectors in the region. Nova's drill pipe, BHA, rig and tubular services detect defects and discontinuities before they cause serious damage, assuring smooth operation and reducing financial risks.
"Inspection services were added to the mix, as they fit hand-in-hand with hardbanding," Jordan says. "We are able to able to provide services for our customers as a one-call service company."
Growth Period
Today, the operation's state-of-the-art hardbanding equipment provides customers with critical information about the duration of weld time, amps and volts, and pre- and post- hardbanding temperatures to ensure that each job meets the customer's timeline, budget, quality, safety and expectations. As Nova has been growing this area of its operations, the company has experienced more than 50 percent revenue growth. At the same time, it has worked on maintaining an extremely high customer satisfaction rating of 92.5 percent.
"We try on a daily basis to keep a high customer satisfaction rating," Jordan says. "Our sales reps can get a job, but it is the people in the field doing the work for the customer that get us the repeat business. We are working our way to become ISO 9001 certified, and our goal is to become a company with zero defects."
When Nova Hardbanding was established, Jordan says there was very little competition. But since other shale plays have slowed, companies have been pouring into the Permian Basin and eastern New Mexico.
"They come in lowering prices and flooding the market, causing most companies to bid all the work being performed," Jordan says. "We are a service-minded company, and as long as we provide a great product and service to our customers, we will continue to work with and retain our customers."
Nova has continuously built upon its hardbanding operations in the last few years. Development of a pipe yard allowed the company to bring in a stationary EMI unit and a CNC. The company is able to truck the customer's pipe to its yard, perform a full inspection and repair any damaged connections. The turnaround time of the finished product is cut in half.
In the years to come, Nova will continue to use technology, quality products, trained personnel and exceptional service to maintain relationships with current customers and to bring in new prospects. It will also work to ensure an exemplary safety and compliance record so it can deliver products and services as safely and efficiently as possible. To maintain its competitive advantage in the hardbanding marketplace, the company will work to complete SAP implementation and ISO 9001 quality management certification.
"We work diligently on employee retention and want to provide a great workplace where people want to work and grow with Nova Services," Jordan says. "Safety is a priority, and we have a full-time staff in our safety department that assists us in keeping our total recordable incidence rate numbers down."