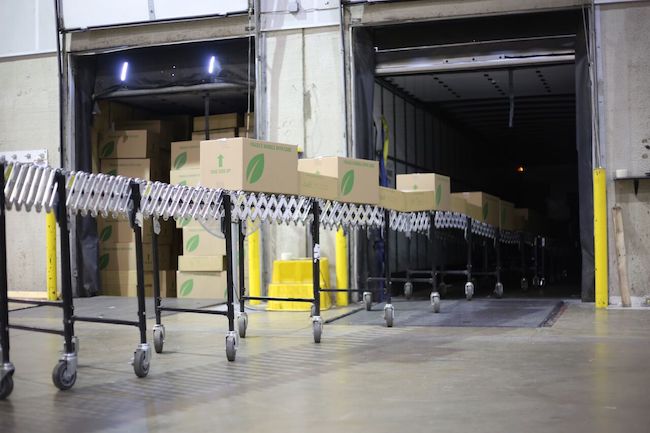 Nutrisystem cut the delivery time of its weight-loss products to two days by expanding its warehouse locations.
By Tim O'Connor
When Nutrisystem introduced its first frozen products in 2009, they made up less than 5 percent of the company's total revenue. Today, they account for more than 60 percent of sales.
A nearly 60-percentage point jump in eight years is an impressive growth rate for a product line and surely has others in the industry wondering how they can replicate that success. David Burton, executive vice president of operations and retail for Nutrisystem, credits a combination of product development and a strong supply chain network.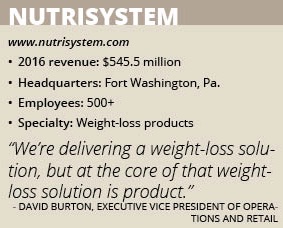 As a company that sells more than 90 percent of its product direct-to-consumer, reliable delivery is intrinsic to customer satisfaction. That is why Nutrisystem places such a high value on its logistics capabilities.
When Burton joined Nutrisystem in 2008 his focus was on fulfillment and logistics, but over the years his role has expanded to oversee operations, including product development, quality control and the retail business. Essentially, Burton now has a hand in every phase of a product, from conceptualization to delivery.
"The core of what we do is focused on the customers," Burton says. "We are a very product innovation, product-driven company. We're delivering a weight-loss solution, but at the core of that weight-loss solution is product."
Product Development
The company spent the past five years investing in research and development, starting with the launch of its Fast 5 kit in 2014 – a meal package designed to help customers lose five pounds in the first week. "When we introduced the Fast 5 it was one of the beginning points of the turnaround of our company," Burton says. Nutrisystem has since conducted clinical research and product development to expand on its Fast 5 kit with new shakes and bars that aid customers in their weight-loss journey.
But its biggest innovation remains its approach to frozen meal items. In 2010, after the first year of sales, Burton realized Nutrisystem needed to change how it delivered frozen meals if it wanted to cement them as part of its product lineup. He led an initiative to bring frozen fulfillment and sourcing to Nutrisystem's warehouses in its home state of Pennsylvania. "Through that, we were able to take the business from 5 percent to 25 percent," Burton says.
With frozen products, Nutrisystem was able to expand its cuisine to include items such as eggs, which are now a customer favorite. "It definitely opened up the breadth of products and types of cuisine we're able to offer," Burton says. Increased variety means consumers are more likely to find a meal that appeals to their taste buds, making them more likely to try Nutrisystem and stick with it.
Logistics Partnerships
Once a consumer decides to try a weight loss program, it's important to deliver the product quickly while they are highly motivated. That's where Nutrisystem's logistics network comes into play. "For many, the decision to go on a diet is a very emotional one," Burton explains. "And we find, that once the decision is made, they want to start as soon as possible. We've done pretty extensive network analysis to design our network and infrastructure to get packages to the consumer as quickly as possible."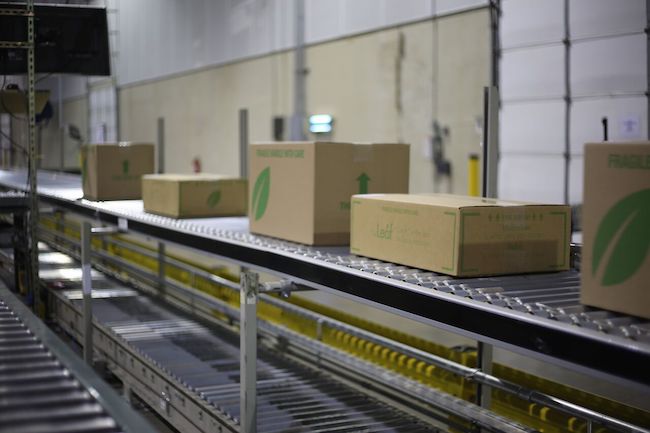 To improve its network, Nutrisystem worked with its small-parcel carrier, FedEx, to track where its volume was growing and identify strategic locations to place its warehouses. With the help of third-party logistics (3PL) providers, Nutrisystem added temperature-controlled warehouses in Georgia and Illinois, increasing the company's total warehouse facilities to seven nationwide.
Each warehouse is designed to ship directly to the consumer, enabling a fast turnaround from order to fulfillment. "We can deliver to over 99 percent of the country with two-day ground delivery for all of our frozen product," Burton says.
"One of the biggest challenges has been keeping up with the volume, making sure we have the right capacity in place and the right volumes," he continues. During peak season – January through April, when consumers are still trying to keep their New Year's resolutions – 3PLs such as Geodis will scale up to 700 employees to support the increase in orders.
The relationship between Nutrisystem and the 3PLs that manage its warehouses does not end at fulfillment. "We have established a quality management system that define what our quality standard and controls need to be for our frozen and refrigerated foods," Burton says.
Evaluating the Future
A strong network and quality standards will serve Nutrisystem well as it launches its next wave of products. The company acquired the South Beach Diet brand in late 2015 and has been working to reintroduce it to the market. "That's added a new dynamic to our supply chain," Burton says. "We're now supporting multiple brands in multiple channels. We consider our supply chain infrastructure as one of our strategic differentiators and one of our core strengths. We've been able to leverage that existing infrastructure for Nutrisystem to support the South Beach Diet."
Nutrisystem's growth during the past five years has been fueled by its traditional direct-to-consumer sales; however, just as it has diversified its products it is diversifying its sales channels. The company has been testing frozen meals in Walmart for the past year-and-a-half and has even become an authorized drop ship facility for the retail giant – allowing it to fulfill Walmart online orders directly from its warehouse in Bethlehem, Pa. "We want to have everything in place to support retailers as they are looking to expand their e-commerce capabilities," Burton says.
Further enhancements in its supply chain network and logistics could open up more opportunities in the future. "We continue to evaluate our network based on our growth strategy and we are working on a longer-term outlook on what our needs will be," Burton says.
Ideally, Nutrisystem would increase its throughput to its existing infrastructure without needing to expand its warehouses every few years. One way to achieve that goal would be through automation. "We continue to look at automation," Burton adds. "We haven't implemented anything specifically yet, but it is an area we continue to explore to identify opportunity."