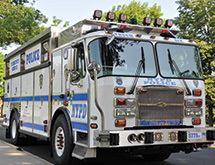 Of all police departments in the world, the New York City Police Department (NYPD) is undoubtedly one of the most prolific in the public eye. Policing a city of more than 8 million people is no easy task, and a major part of that effort relies on the NYPD fleet services division, one of the largest police fleets in the country.
"Fleet services is part of our support services bureau," says Deputy Commissioner of Support Services Bureau Robert Martinez. "The bureau also includes the property clerk division, printing section and central records division."
Pieces of the Puzzle
Within the support services bureau, the smallest part is the printing section, which remains important even as the world becomes more digital. During Superstorm Sandy, for example, the division had to print different collateral to provide citizens with information on issues such as shelter locations and the status of power. Operations manuals and patrol guides are other examples of print materials, which are often printed in many languages.
The central records division coordinates and oversees all hard copy and electronic records of items such as public inquiries and background checks. Many records are now being remediated after suffering damage during Sandy.
The property clerk division is one of the most important aspects of the justice system behind the scenes, as it takes care of all evidence collected at crime scenes. Evidence in murder and rape is held forever, as is evidence related to notorious cases. The support services department is currently building a new $400 million warehouse for evidence storage.
Then there is the fleet services division, with an infrastructure that includes 13 maintenance shops. It maintains police vehicles and repair vehicles for the city's departments of transportation and environmental protection. The fleet division is responsible for NYPD vehicle purchases and contracts.
"Our fleet includes cars, trucks, motorcycles, three-wheel scooters and two-wheel scooters," Martinez says. "There are 150 different makes and models within the fleet. We also strive to be one of the greenest police fleets, as we have 1,800 hybrid vehicles and a handful of electric vehicles."
Ironically, though the size of the fleet is substantial, it is relatively small compared to the size of the department's employment figures. With slightly less than 10,000 vehicles for more than 50,000 people, the ratio of vehicles to personnel is low.  "Everything in the support services bureau is a piece of the puzzle, the foundation behind the scenes in many ways," Martinez explains. "Fleet and property are critical to the justice system. Our fleet helps keep law and order, as police officers need their vehicles to conduct police activity. The city agencies we serve need their fleets to do their jobs. The fleet is a critical tool of the city government."
Continuous Change
The fleet services division has gone through a number of transformative efforts in recent years. Part of that transformation has come through consolidation, which is why the NYPD fleet services division maintains vehicles for the departments of transportation and environmental protection.
"As part of that consolidation, there was an unused department of transportation shop at 158th Street that was a great location," Martinez says. "The city invested $20 million in making it state of the art with 20 bays. Our shops are now spread throughout all of the boroughs."
Another transformation was the creation of FleetStat. Similar to the police department's pioneering CompStat program for utilizing date to reduce crime, improve quality of life and manage personnel and resources, FleetStat allows fleet to use data and analytics to manage vehicles.
The fleet services division is also making investments related to increased storm activity and vehicle functionality. It is investing in all-wheel drive and four-wheel drive vehicles while making sure vehicles are ergonomic and have space for critical equipment like tablets and laptops.
"We have changed our policy to invest in fewer hybrids and more all-wheel drive and four-wheel drive vehicles in order to enhance the police fleet," Martinez says.
As for preparing for future storms, the bureau is retooling after a number of facilities and vehicles suffered damage during Sandy.  The new property clerk division warehouse, complete with climate controls and automated systems, will be part of an ongoing effort for the bureau.
"We will also continue the push for bigger vehicles that can meet the ergonomic and equipment requirements of a modern police department," Martinez says. "Vehicles must be able to interface with body camera technology, and we are looking at ways police vehicles such as buses and mobile command centers can be better designed and used for moving prisoners and emergency response. These are exciting times for the division, as we have the support from the mayor and city council to move forward."