Oklahoma Gas and Electric fleet services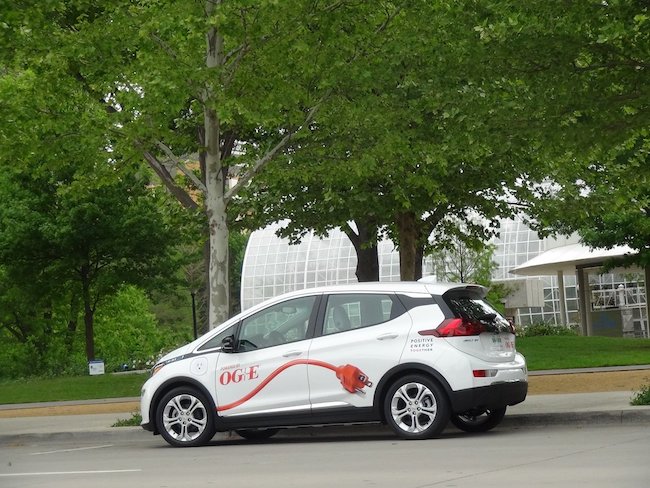 Oklahoma Gas and Electric stays at the front of its fleet's maintenance needs.
By Jim Harris
Oklahoma Gas and Electric (OG&E) takes a proactive approach to maintaining its vehicle fleet. "We're great at preventative maintenance," says Paul Jefferson, fleet manager for the Oklahoma City-based public utility company. "We analyze potential equipment failures and keep track of repairs so we can stay ahead of them."
As an example, Jefferson says his staff began changing fan clutches on vehicles ahead of anticipated failures after they had performed a number of replacements of the engine parts. "We were fixing these quite a bit and it looked like a trend, so we take a closer look at those now," he adds.
OG&E's maintenance staff tries to repair brake components and other vehicle parts before progressive damage can be done to them.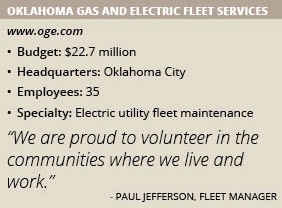 The fleet department operates 10 maintenance garages, nine of which are located in Oklahoma, with the remaining facility located in Arkansas. It is responsible for preventive and other maintenance on the 1,974 fleet assets operated by OG&E's transmission, distribution and power supply departments. The utility's assets are divided into 40 classes including cranes, backhoes, dozers and aerial baskets. "We have everything from a sedan to a 222-foot aerial bucket and everything in between," Jefferson says.
Each of the 40 vehicle classes owned by the utility has its own preventative maintenance plan. Maintenance is scheduled based on factors including mileage, time and amount of hours since the last preventative maintenance.
The fleet department performs medium, heavy duty and hydraulic repair work. Light duty repairs such as tire and windshield replacements and body repairs are handled by third-party garages.
Every piece of OG&E equipment is maintained based on a checklist that includes common items such as oil changes as well as safety inspections for aerial baskets, line trucks and cranes. The fleet department tracks a number of metrics related to preventive maintenance including mean time between repairs, Jefferson says.
The department maintains extensive spreadsheets for each vehicle listing mileage, recent repairs and hours in service. Data from these spreadsheets is used to determine when a vehicle or piece of equipment should be replaced. OG&E also uses Utilimark's benchmarking software platform to track the total cost of ownership of its fleet.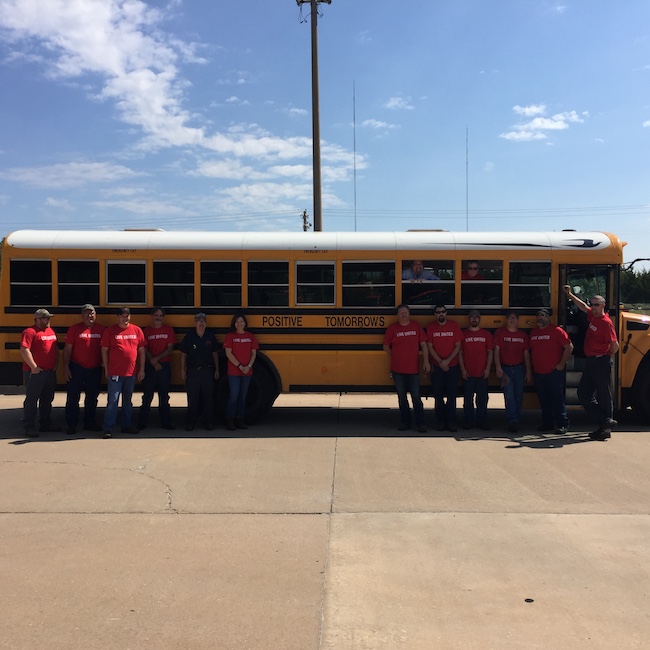 OG&E tracks the use of vehicles through telematics systems placed on light duty trucks and vehicles. Drivers are given scorecards based on telematics data for behaviors such as speeding, braking, cornering, idle time and acceleration. The utility plans to have the devices on all of its fleet vehicles before the end of 2018.
OG&E is Oklahoma's oldest and largest investor-owned electric utility. It serves more than 830,000 customers in 276 towns and cities in a central Oklahoma and western Arkansas. The utility operates several power plants in Oklahoma that generate electricity using natural gas, coal, wind and solar power. OG&E's rates are among the lowest in the United States, and it regularly ranks high in surveys measuring customer satisfaction, system reliability and overall performance.
Going Electric
OG&E's fleet includes several full electric and electric/gas hybrid vehicles including an all-electric Chevrolet Bolt. The utility purchased the vehicle in March from a dealer in California and shipped it to Oklahoma. The Bolt did not become available in Oklahoma until October, Jefferson notes.
The utility uses the Bolt to promote the use of electric/hybrid vehicles and intends to add more of the vehicles to its fleet next year, he adds.
OG&E's fleet also includes electric power take off (PTO)(E-PTO) aerial bucket trucks with booms that are powered by lithium ion battery packs. The trucks are built by Oklahoma City-based manufacturer ETI Equipment.
Community Partnerships
The fleet department partners with the Francis Tuttle Technology Center in Oklahoma City to conduct specialized training for its employees. OG&E also selects two students from the vocational school each year to work in its main garage. "This helps them get experience and helps us get future mechanics," Jefferson says. "We have hired interns full-time in the past."
OG&E's community partnerships extend beyond its relationship with Francis Tuttle Technology Center. OG&E offers employees 16 hours of paid volunteer annually. The fleet maintenance department uses those hours and often more to perform preventive maintenance on vehicles used by local organizations including Daily Living Centers of Oklahoma City. The organization provides transportation to seniors to various social activities.
The department partners with the United Way and other agencies to find groups to assist. The department's efforts earned it a "Positive Energy" award last year from OG&E. "We are proud to volunteer in the communities where we live and work," Jefferson says.