Olympic Freightlines Inc.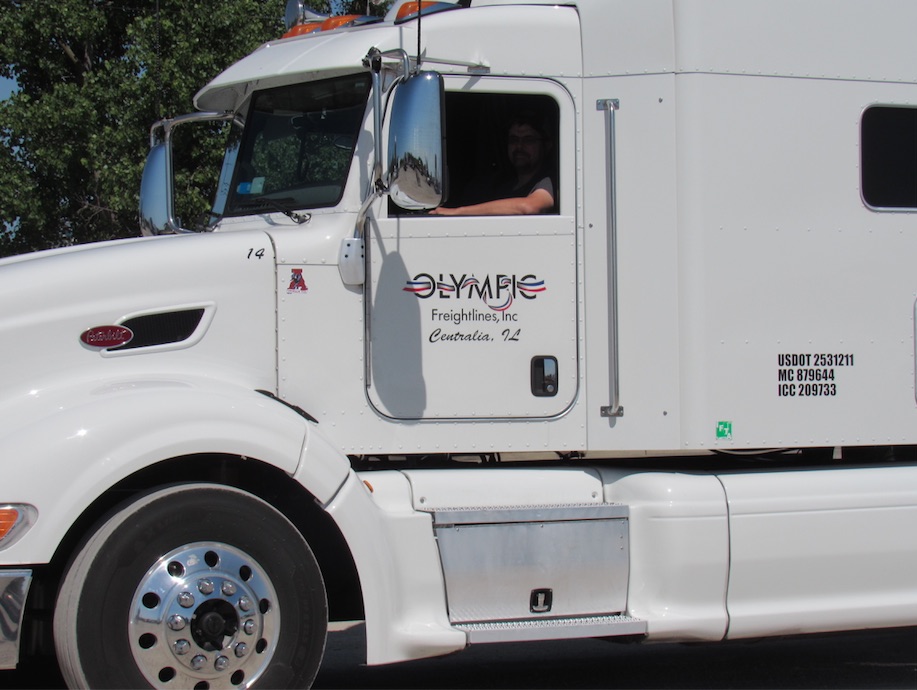 In only its third year, Olympic Freightlines continues to grow quickly.
By Chris Kelsch
It has not even been three years since Bryan Henderson and his wife Paula founded Olympic Freightlines, but already the company is off to a torrid start. Much of that can be attributed to the fact that Henderson, before founding Olympic Freightlines, had 35 years of experience in the trucking industry, in positions ranging from truck driver to operations to fleet management to sales. "Though I didn't decide to do this in one day, I have always wanted to have my own company," Henderson says. "I just felt it was time to go out on my own."
For Henderson, founding the company immediately put his sales skills to the test because he knew he needed a steady base of customers. For those, he relied on previous relationships from other positions. "I had previously reached out to some customers and explained to them what I wanted to do," Henderson recalls. "I asked if they would do business with me, and many said 'yes.'"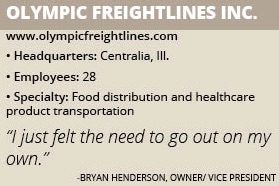 Those relationships included contacts in both the food distribution sector as well as the home healthcare industry. Henderson initially elected to start off with five tractors and five trailers, but the company quickly grew and within 10 months of starting it had grown to 10 tractors and trailers.
Roots in Fleet Management
Though the company is off to a fast start, Henderson hasn't forgotten his roots in fleet management. He recognizes the importance of keeping a strong stable of drivers, who are hard to find. "Our driver is the most important key," Henderson says. "We rank our drivers and our customers equally and without them there is no need for the truck."
One aspect of keeping drivers satisfied is making sure they are home at decent intervals. This is achievable because Olympic Freightlines operates within a six state area throughout the Midwest. "Our current length to haul is 1,000 to 1,100 miles," Henderson says. "We stick to the same regions and don't deviate. We want the drivers to know they will be home consistently."
As a young and growing company, all of its 28 employees wear many hats, especially its experienced management team. Including Henderson, there is over 100 years of cumulative experience within the group. "We all have excellent knowledge of the industry," Henderson says. "And we are very honest and open to each other's suggestions."
In addition to listening to each other's feedback, the management team greatly values the feedback of its drivers. We treat our drivers with the utmost respect. "Our drivers are our eyes and ears on the road," Henderson states. "We have an open door policy with our personnel throughout the day. We want to hear their opinions and suggestions."
Technology Driven
Like any growing company, Olympic Freightlines has to constantly upgrade its technology to keep idle time down and fuel costs low. According to Henderson, the company uses an OmniTRAX system that can track driver statistics like miles and performance. Additionally, the system can also track and log the temperature of its reefer vans. Data is communicated via satellite.
Another technology being considered is dash-cams to monitor different situations. Though there is always initially some resistance from drivers, the technology ultimately pays for itself. "The drivers become comfortable with it," Henderson says. "Ultimately they are receptive to it because it can help clear the drivers and trucks from accident claims."
As Olympic Freightlines continues to grow, Henderson has found it necessary to find another facility to help the company meet demand. To that end, Henderson has purchased 3.5 acres of property just outside of Centralia, Ill. There, in early summer 2017, he will break ground on a new headquarters facility.
"We're going to have a two bay shop as well as 1,300 square feet of office space," Henderson says. And of course, there will be amenities for the drivers. "There will be a driver's lounge complete with washers and dryers as well as showers for them."
Though Henderson has Olympic Freightlines positioned for future growth, Scott Marhanka, director of operations, agrees that its approach to treating its employees will remain the same. "What sets us apart is that management would never ask an employee to do anything we wouldn't do," Marhanka says. "If we have to, we will jump in a truck and drive and do whatever needs to be done."