Ontario Container Transport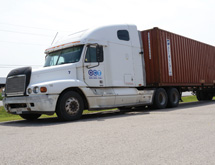 Shipping products is an age-old human activity, so a fresh approach is always welcome. It is that "fresh" approach that Ontario Container Transport brings to the logistics industry. "We are a one-stop solution for your logistics needs," declares Barry Nisan, co-owner of Ontario Container Transport (OCT) with Erik Waisman. "With one phone call, the customer can get everything done. Our customers don't need to get a container company and a separate ocean shipper. We can arrange the ocean shipping and pick up the container from the port, provide storage or warehousing and distribution – we do it all."
At the core of OCT's operation is the movement of containers to, from and between the ports, terminals and ramps in any combination of move required, such as door-to-door, ramp-to-ramp, door-to-ramp, etc.
By partnering with sister company Toronto Trailers (TT), OCT can provide the warehousing and storage solutions required. "We have carved a niche for ourselves in this crowded logistics industry by being nimble, flexible and versatile," Nisan stresses. "Being able to customize the service provided to meet each client's specific requirements is what we have become known for. Services such as cross-dock freight handling, pick-and-pack services, customized distribution and routing, consolidation and shipping are some of the services we perform continuously. The 'bundling' of the various SCM solutions required affords our customers better control of the project at a greater cost savings."
The company manages all general or specialized freight including but not limited to home or office furniture, automotive parts, textiles, food product and produce, machinery and equipment,steel, pipes, windows, pre-cast concrete and other building materials and specialized commodities.
"Being that 'one stop shop' simply tells us where the product needs to go, and we will take care of the rest," Nisan states. "From obtaining the required permits to making the delivery appointments, we take care of everything."
One If by Sea
OCT is an integral part of its clients' import/export operations, offering custom-tailored ocean/sea freight logistics solutions for a variety of cargo large and small. The company offers all types of containerized shipping, from less than container loads to 20-foot, 40-foot, 45-foot and refrigerated containers.
The management of the shipping arrangements is also part of the service that OCT provides. "We have established very good relationships with the major steamship lines," Nisan says. "Through these relationships, we have access to the lowest rates. We do the shopping around for the customer. Every steamship line offers different rates, transit times and available space for different destinations. We will work to secure the space and transit time that best suits our client's requirements, all at the most competitive rates."
Nisan and Waisman attribute the success of OCT to the continued hard work and dedication of their staff. "Our customers want to work with us, because we provide excellent service and support," Nisan says. "We give 100 percent of our attention to our customers from beginning to end, and making sure that the jobs get done on time is our No. 1 priority."