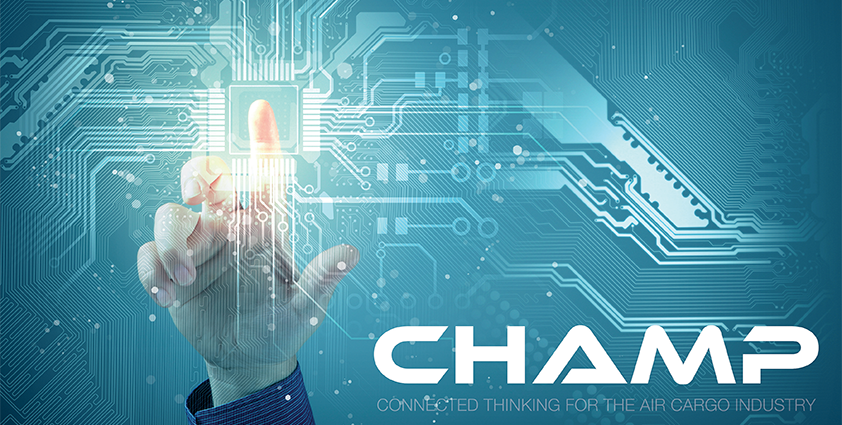 Openness, innovation and collaboration
This year will remain a difficult year. While the Covid-19 vaccine roll-out has offered some respite, escalated conflicts between Russia and Ukraine have created new challenges for humanity and air cargo and the wider supply chain. Whilst no-one can control these events, we hope that our industry remains resilient and continues to tackle such challenges.
CHAMP has been determined to give support to its partners wherever possible to make 2022 a success. Many of across the industry know that CHAMP has adopted the mantra of 'Open. Innovative. Collaborative.' It is our new engagement model in reaching out to all our customers and partners in the supply chain to achieve greater things together. This affects all our product evolutions and changes how we bring you into that process.
CHAMP's technologies helping air cargo stay agile
Our portfolio offers much to anyone in the air cargo supply chain trying to gain crucial efficiencies out of the crisis. APIs and Portals continue to drive efficiencies and open up the space between CHAMP technologies and the wider community. In times of staff shortage and where demand outstrips supply, self-service booking portals on carriers' websites help streamline the sales process and maximize capacity and are a helpful link directly from an airline to its customers.
Visibility remains a firm way forward for air cargo in 2022. Through Traxon Premium Tracking and other tracking API services, shippers and forwarders can benefit from automatic real-time alerts regarding the progress of their shipments and address any issues quickly and efficiently.
MarketAnalytics is CHAMP's new market insights service and provides daily market data with the same speed promise made by air cargo – supporting the agility required in 2022. Just as air cargo can move shipments to anywhere in the world within 24 hours, MarketAnalytics brings new insights updated daily through easy to interpret Power BI dashboards.
Our flagship solution Cargospot Airline will be getting a dramatic refresh of its user experience – so watch this space. In the meantime, our Cargospot Revenue solution already features a variety of user friendly dashboards for easy monitoring of your revenue streams.
For GHAs, our Cargospot Mobile application provides greater flexibility on hardware devices and provides much more functionality and efficiencies to the warehouse operations. We expect this to continue revolutionizing the handling world.
While we have seen many countries delay the introduction of advance customs filing, we do expect more countries to launch their programs in 2022. CHAMP's Traxon Global Customs application already provides customs reporting to more than 60 countries and will be ready for other future countries, like Brazil, to ensure your shipments won't be delayed. Likewise, we are also seeing the new ICS2 legislation for reporting cargo entering the European Union.
CHAMP Academy continues to grow in its coverage as well, offering the CHAMP community the opportunity to train up your employees on an easy to use and intuitive online program.
Future advancements
We are never at a standstill. Always innovating, in 2021 CHAMP led an all-out effort to explore machine learning for our product portfolio. This year, we look forward to further collaborating with the industry exploring the potential of technologies such as voice recognition, and other new ways of interacting with our products.
CHAMP is also involved in Internet of Things (IoT) technologies that enable us to centralize and monitor in real-time cargo data available for pharma shipments, such as from temperature sensors. We also conducted extensive research in employing artificial intelligence to extract the content of documents to enable their digitization into our community.
We see these technologies evolving rapidly and further pushing the industry towards digitalization. The air cargo community will benefit from more agility and boosts in efficiency and guide our industry through 2022 and beyond.

For a list of the sources used in this article, please contact the editor
David Linford is Director, Global Sales & Account Management, CHAMP Cargosystems, which provides the most comprehensive range of integrated IT solutions and distribution services for the air cargo transport chain.
www.champ.aero