Orange County Fleet Management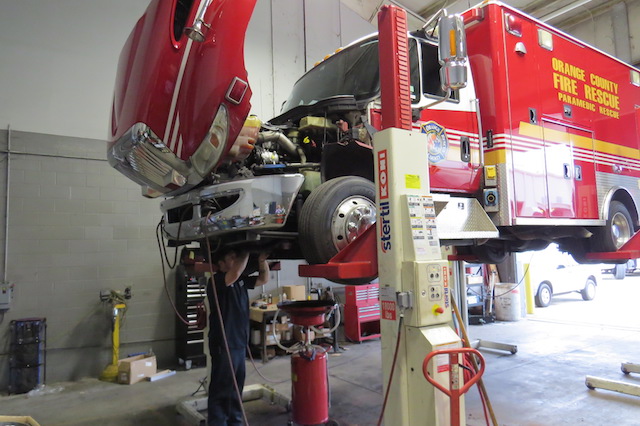 Orange County Fleet Management is investing in new technology to manage its fleet.
By Kat Zeman, Senior Editor at Knighthouse Media
Managing one of the largest government fleets in Florida is not an easy feat. Bryan Lucas, fleet management director for Orange County Fleet Management, oversees the repair and maintenance of all of the county's assets that include roughly 1,930 cars, trucks and rolling stock and about 1,800 off-road vehicles like bulldozers, trailers, generators, boats and water-going vessels.
Like most management professionals today, Lucas is leading the organization into a more tech savvy age. A new fleet management information system and diagnostics scanning equipment are being implemented this year.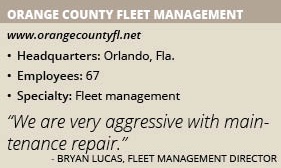 "We are in the process of implementing a new and more modern system right now that will give us mobile capabilities and more reporting abilities it the field," Lucas says.
The new fleet management software and hardware will track work orders, inventory and billing more efficiently, he says. In addition, Orange County Fleet purchased new dealer-level diagnostics scanning equipment for its cars and trucks and is training its employees on it.
Furthermore, the organization is updating software and hardware at all of its 13 fuel terminals this summer to make them more efficient and secure. On average, these terminals dispense roughly 2.5 million gallons of unleaded and diesel gas per year.
Focus On Maintenance
When operating a fleet the size of Orange County's, it's crucial to keep up with preventive and scheduled maintenance. "We are very aggressive with maintenance and repair," Lucas says. "We collect meter data and every time a vehicle stops for fuel those meter readings are used to schedule preventative repair."
In addition, Orange County Fleet focuses on saving money through selective partnerships with vendors. One such vendor, Tallahassee, Fla.-based Becks Auto, provides the fleet with outfitted vehicles such as pickup trucks with utility crane bodies and vans that have specialty racks.
"It's been a win-win for us," Lucas says. "They are saving us money and we get exactly what we need. This partnership worked out very well for us."
Award Winning
Government Fleet magazine and the American Public Works Association named Orange County Fleet one of its top 50 Leading Fleets for 2018. "That's three years in a row for us," Lucas says. "We're very proud of that. We're going in the right direction."
The awards program, sponsored by Ford Motor Company, recognizes operations that are performing at a high level, particularly in fleet leadership, competitiveness and efficiency, planning for the future and overcoming challenges.