Over seventy years of expertise has fueled Vaculug's environmentally conscious answer to tire production
Just after the Second World War, in 1950, the procurement of raw materials was still as challenging as the importation of finished goods. However, the entrepreneurial spirits of the era, saw these issues as mere gaps in the market for innovation. Prior to founding Vaculug that year, Mr. LWR Morley had been the Managing Director of North Road Tyresoles Services Ltd, which gave his new venture with Mr. F Widdowson a sense of direction: a joint answer to helping the country, and the manufacturing industry, get back on its feet.
With a decade of experience in supplying the car, truck, tractor and earthmover industries with the most suitable tires for their vehicle fleets, the team started to notice the worsening quality of the casings it was receiving from new tire manufacturers. As such, it dedicated the next ten years to improving the efficiencies of its own Duramold range of retread tires. As a result, in the 1960s, the company become the largest independent tire re-processor in Europe. This eye for quality has been a key attribute of Vaculug since its humble beginnings, and it still sits high on the company's agenda today.
The contemporary product range has grown to include services for deep mining, transfer stations, landfill, ports, railheads, and steel and materials handling industries. However, perhaps more importantly for both today, and tomorrow, is the development of the retreading services that the company offers. Coinciding with modern fleet management, Vaculug is able to offer its customers a significant reduction in their carbon emissions, through its stringent approach to reusing tires. Each retreaded tire sold, has required fewer raw materials and 75 liters less oil in its production, as well as a 30 percent reduction in the amount of carbon dioxide produced. The pressure on natural resources is further reduced, as the rubber and steel in the casings is recycled, along with all of the waste by-products from the process.
Fleet service solution 
Each recyclable casing is shaved of any residual tread and examined thoroughly before it's commissioned for reuse. If all the results are satisfactory, it will be recoated, detailed and then tested further before being released for sale – each tire undergoes a series of eight quality checks in total and is issued a unique barcode to allow for full traceability. By adopting Vaculug's fleet management services and retread tires, companies stand to reduce their transport operations' tire wastage by 50 percent.
This comprehensive and competitively priced solution maximizes fleet up-time and ensures that all vehicles remain compliant with UK road laws. There are also options for premium, mid-range and budget tires, alongside retreaded, all of which are inspected on a monthly basis by Vaculug's service partners as part of its preventative tire maintenance program. This helps to identify unusual wear, damage and tread depth ahead of time, and to organize necessary maintenance. All of the information is uploaded to the Vaculug Management System (VMS), which is available 24/7, and supported by a 24/7, 365 day-per-year tire rescue roadside service.
Sustainability strategies
The company's considerations for the environment stretch further than its product range and services, as Jorge Crespo, Managing Director, details further: "Innovation is in our DNA; it provides further drive for efficiency, which enables our sustainability mission. Certain kinds of industries, such as ours, take a little more consideration and thoughtfulness when it comes to green strategies. In retreading tires alone, we save four tons of rubber and the best part of two tons of metals per year. Being part of a circular economy helps hone your perspective on efficiency, sustainability, innovation, and the implementation of technology. Our goal was to become carbon neutral in 2030, but we're going to hit it by 2028; we are in the recycling industry so everything we do is geared towards saving the environment."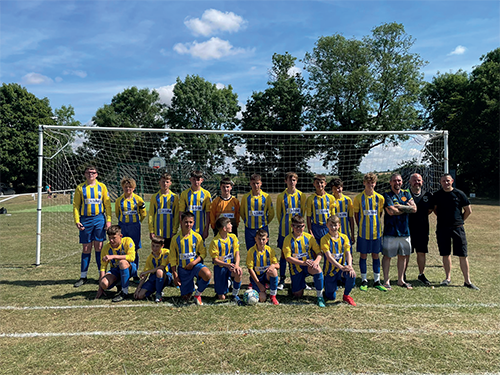 Jorge was appointed in 2020, to reorganize the company with a greater focus on sustainability, people and investment, and in the last two years he has implemented a number of changes. Besides the launch of a customer app and being the first retreading company to accept crypto currency payments, Vaculug has issued its first 55-page sustainability report. Jorge describes another burning objective that shapes the business' operations: "The company culture is not only about delivering profit to our shareholder – there is only one and he is fully onboard with our policies regarding social responsibility, which are at the heart of the business. We also donate ten percent of our profits every year to a number of social causes.
"We have a foundation with a global and multi-societal reach that supports people from our home in Grantham to as far as South Africa, Spain and India – other countries where we have a footprint." He continues: "It sponsors everything from youth sports teams to scholarships to Oxford University; we are big on funding child education around the world. We have an established mentorship program that pairs students with executives from different countries and tries to identify the most suitable institutions for them to attend for education. It's entirely ran by us, meaning we have full control of the finances and can rest assured that not a penny goes to waste. Honestly, it's really the drive behind why we do, what we do – other than our initiatives to support our 165 employees at Vaculug."
By the sound of things, Jorge is only just getting started. Despite being proud of the company's day-to-day operations and achievements, he hopes to see a completely different version of it succeeding in the next three to five years. A version that is even more responsible in its Environmental, Social and Governance policies, and enhanced, in terms of its cost effectiveness and customer and supplier relations. "I know what we are doing is good but there is a lot of room for improvement," he concludes.