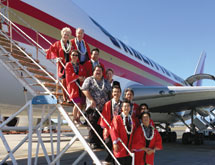 Though the economy has lagged, CEO Beti Ward of Pacific Air Cargo (PAC) explains that her company's success has come from servicing a real industry need. After working in the air cargo business for eight years, Ward launched her own company in 1989, American International Corp., to serve a niche market.
"I hadn't been involved in the business for long when the need to service shippers in Hawaii became obvious," says Ward, who has served on the board of Airforwarders Association. "Being far removed from what could be considered reliable transportation – particularly when it comes to perishable items – the need for professional and dependable shipping services to the Pacific was clear."
After 11 years as a profitable business owner, she sold American International Corp., only to be called out of retirement by former clients when the company went bankrupt under its new ownership. In 2000, she launched PAC, which has offices in California and Honolulu, and today provides exclusive express air cargo service between Los Angeles and Honolulu, including service to Pago Pago and American Samoa using Boeing 747 freighters.
The company transports everyday items such as clothing and perishables but also handles what Ward calls the good, bad and the ugly – such as bulky, heavy and oddly shaped equipment for the military. She also owns Aloha Contract Service, a ground cargo-handling company with an office on each Hawaiian island that services six of the state's airports. Ward says her companies' services have become even more crucial now that passenger airlines have significantly reduced or eliminated freight airplanes from their fleets.
"There is a long list of items that can't go on a passenger plane but they can go on freight planes, and that's been good for us," Ward says. "Passengers are more into convenience than comfort and big airplanes use a lot of fuel so passenger airlines are using more narrow bodies. There aren't any wide bodies coming from Los Angeles to Hawaii and not many are coming from San Francisco. But those planes can't carry much freight in the belly of the plane and the low-cost airlines don't even mess with it."
Superior Service
PAC's focus is not only on handling items that passenger airlines can't but handling it better than its competitors. The company has a 98.7 percent on-time rate and a less than 1 percent claim ratio. Ward says the company is committed to one-on-one service and insists PAC will never use an automated phone service.
"The qualities that keep us strong and profitable in our market is quality of service, known integrity and individualized customer service," Ward says. "Folks have grown to know this. They don't worry when their cargo is on PAC. If someone has an issue, they can call anyone from an agent to the CEO. You can't do this with our competitors. They are just too big."
Another PAC strength is its flexibility. It has entered code share agreements with Delta Air Lines, American Airlines and Japan Airlines to sell cargo to one another's planes. In addition to passengers, the airlines' wide-body planes carry freight from Japan to Honolulu. PAC uses Honolulu as a hub where the airlines can transfer cargo to PAC, which then makes the last leg of the trip to Los Angeles.
PAC began forming freight-forwarding partnerships eight years ago and Ward says the company continues to look for innovative ways to service customers. It is also researching new areas to serve while staying focused on its current market.
"At this point we are trying to maintain our edge and stay on top of expenses," Ward says. "We continue to look at the South Pacific and Tahiti and some other islands, but at this point it's just a market that we are watching. Right now we are making sure that everyone is bringing in new ideas and staying strong and focused."