Pacific Gas & Electric Company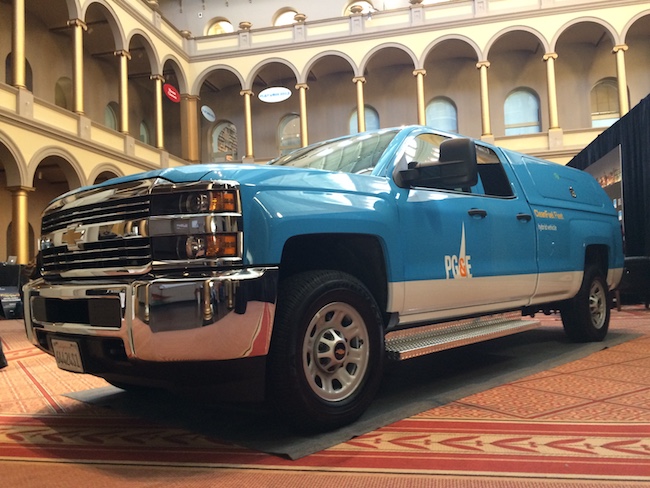 Pacific Gas & Electric Company leads the charge in advancing technology to create electric and hybrid utility vehicles to eliminate emissions of greenhouse gases.
By Stephanie Crets
Pacific Gas and Electric (PG&E) Company is one of the largest combination natural gas and electric utilities in the United States. The company provides its services to approximately 16 million people throughout a 70,000-square-mile service area in northern and central California. Much of that service wouldn't be possible without the transportation and aviation services department, with vehicles that go into the field every day to service outages and take care of other customer needs.
PG&E's fleet is 15,000 strong, situated across the entire service territory with 65 operating garages. Director of Transportation and Aviation Services David Meisel has been in the transportation industry for about 40 years and was recruited by PG&E in 2006. His department manages capital planning and vehicle specifications and design, regulatory compliance and vehicle rental needs, along with maintaining regular upkeep and maintenance over the duration of each vehicle's life.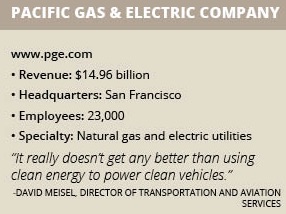 PG&E operates in a culture that is ever-ready for emergencies, from routine power outages to more serious issues such as weather disasters. Therefore, PG&E's fleet has to be ready for action at the drop of a hat. "Part of my job is working on catastrophic emergency response during natural disasters. In our service area, that could be severe storms, wildfires or earthquakes," Meisel explains. "But in our role as a mutual aid responder to assist other utilities during emergencies, PG&E played an important role in the aftermath of Hurricane Sandy. We sent hundreds of vehicles and people. Our people knew they were going to a place in November with no heat, lights or food and nowhere to sleep. But every one of them packed up and headed there.
"I don't know a single person here who doesn't believe they have a higher calling," he adds. "Everyone takes heat and light for granted. When those go away, the utility people are who fix it. When you have something like a hurricane, it takes a lot of people. We responded for 28 days. They left their families because someone needed their help. That's always been the most impressive part about our industry. Doing your job simply because others need their help."
On top of that, PG&E has a deeply ingrained safety culture. Whether they are working on something as critical as hurricane response or being up in a bucket fixing a power line, the company ensures its employees are safe and comfortable while performing their jobs. "Every person in our company has the ability to say 'stop the job' if it's not safe," Meisel notes. "We want to be productive, but we won't sacrifice safety for productivity."
Fleet Innovations
PG&E's vehicle needs and equipment specifications are incredibly broad and diverse, depending on the type of work that needs to be tackled and how a vehicle is going to get there. "Because of where we live, we have every conceivable type of geography and typography: mountains, deserts, sand, rocks, oceans," Meisel says. "We have every situation and that creates a need for a wide range of vehicle types that other companies don't need to have. It's what it takes to manage something of this magnitude. When we go into the mountains, for example, we're the largest single snowcat owner in the United States, with 80 or 90 snowcats."
PG&E operates a wide range of vehicle types and styles, but it's always looking to push the boundaries for new, more innovative vehicles, especially when it comes to clean air emissions. "We are constantly pushing the automotive manufacturing industry to bring new things to market," Meisel says. "We're well ahead of them many times and we develop our own products. We absolutely believe there needs to be a plug-in hybrid pickup truck. You have to deal with that platform if you want clean air emissions. As an industry, we've skirted the edge with small cars, but we haven't gone into the work vehicles. That's one of the biggest things for our country and industry."
That belief led Meisel's team to work on the Ford F-550 truck, which is the No. 1 work vehicle used in the utility industry. It is bigger than a traditional pickup truck with a bucket on the back that lifts workers to the power line, and it's used as the primary emergency response vehicle. Because the truck powers the bucket, it spends a lot of time idling. "We took a different approach: What if we could electrify all that?" Meisel says. Now, the bucket controls, as well as the heat and air conditioning, are all electrified.
Idle mitigation was the first step, and then PG&E developed the plug-in hybrid truck that can go 50 miles on a battery with no emissions or fuel consumption. It has increased fuel efficiency by 200 percent. After that, the company built components to export that power. If workers are on a jobsite, they don't have to purchase generators. They can simply plug into the truck.
"For exportable power, we've developed technology to export that power and power the grid with it, but it won't spike up or down," Meisel explains. "The same vehicle that's a plug-in truck can also be used to power the grid in an event of an emergency. After a storm, you can go to the circuit, plug in your truck and power the entire neighborhood with it. Each technology adds another important piece to the puzzle. Not many kinds of technology allow you to dual-purpose something – all for virtually no incremental cost. The cost benefit becomes better because we have the ability to use it a lot, and we're finding more ways to use that technology than we ever thought possible."
PG&E is considered an industry leader in alternative field technology. The company has worked on many projects for other companies and major automotive manufacturers. It is even tasked with giving guidance and testing products before an OEM goes to market. But being at the forefront of vehicle technology can create challenges.
For one, Meisel explains, people might not trust new technology right away and prefer not to change from the old ways. Therefore, transitioning to something, even if it might be better, creates a distinct learning curve for workers. Secondly, PG&E still must contend with funding to develop new technology as it's not a cheap task. "A lot of companies want new technology but are unwilling to fund it and will let others do the leading work and reap the benefits," Meisel says. "But we'd prefer not to wait for someone to develop something. We like to lead and invest the time. We are consistently working on that new technology, so we're either working within our own budget or the grant side. "
Lastly, developing the technology involves several stages and processes, and a commitment to providing the necessary resources. "If you want the technology to change, you have to stay after it and allocate resources to it," he says. "You don't have extra people just lying around to do it, so it becomes extra work. It's exciting to work on but still incremental work and time."
Close Relationships
PG&E has many close relationships and partnerships with its manufacturers, dealers and suppliers. Altec Industries is its bucket truck manufacturer, and the companies work closely on technology advancements so both can stay ahead in the industry. "We work with manufacturing partners to keep them up to the same place we are to collectively push in the same direction," Meisel notes.
CA Automotive Group is a series of dealers owned by one person that also works on advancing electric technology with PG&E. "We both want to make this technology bigger than just the utility buying it," Meisel says. "We want to make it available for our employees and regular people in the world. The idea is to get all vehicles to be emission-free, not just our utility vehicles."
PG&E's major vehicle suppliers are General Motors and Ford for pickup trucks and cars, while Peterbilt supplies bigger equipment. For its smaller equipment, PG&E wanted to advance the plug-in technology and to encourage its own employees to adopt plug-in electric vehicles (EV), so it worked closely with GM, Ford and CA Automotive Group to create an employee EV incentive program. The program provides PG&E employees with special manufacturer discounts in addition to a $2,000 cash incentive from the company.
Meisel says he was amazed at the pace at which the vehicles were purchased: 1,000 were sold in about seven months. "That was something we didn't have to do but we did it because it was the right thing to do, and the response from our people has been amazing," he says. "They're selling new vehicles with new technology because our people think it's important to advance this technology. They do it because it's the right thing to do, and I'm very proud of the team I work with." In addition, to support the wave of EV adoption that resulted, the utility expanded its industry-leading workplace EV charging program.
PG&E's work has drastically improved emissions in its region and it continues to lead the charge in eliminating emissions of greenhouse gases. "If we can create vehicles that are emission free, why wouldn't we do that?" Meisel says. "We're in a unique place because we have the largest utility fleet in the United States, and we're putting our own money, operators and resources behind it. We have an obligation to look at our own emissions profiles and continue to advance the technology to get to clean driving.
"When I look at our power-generating fleet, we have one of the greenest fleets in the world; somewhere in the 50 to 60 percent range with renewable energy. It really doesn't get any better than using clean energy to power clean vehicles. That's what I'm excited about for our industry and company."