Palmetto State Transportation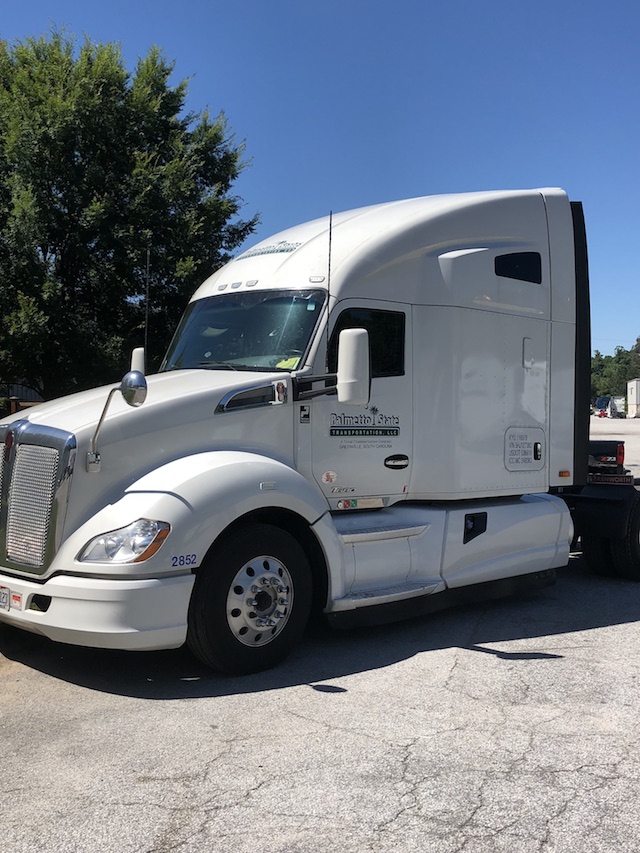 Palmetto State Transportation is implementing a new high-tech TMS system.
By Kat Zeman, Senior Editor at Knighthouse Media
When it comes to transportation, an effective fleet management software system is essential. Transportation service providers and fleet owners face many challenges when operating their business.
From planning effective routes to optimizing capacity for truckloads, their success often depends on the technology platform that supports their daily business operations.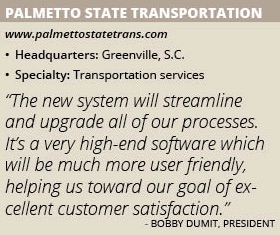 Palmetto State Transportation knows this. The Greenville, S.C.-based company is dedicated to employing modern technology to handle its customers' LTL, volume LTL, truckload and protective services for transporting hot, cold and hazardous materials.
The company is implementing new high-tech transportation management system (TMS) software that will make asset tracking, accounting, mapping and mileage, mobile communications and document management more efficient.
"We have had a TMS system since 2001," President Bobby Dumit says. "But we feel like we have outgrown it. The new system will streamline and upgrade all of our processes. It's a very high-end software which will be much more user-friendly, helping us toward our goal of excellent customer satisfaction."
Bells And Whistles
Palmetto State Transportation started implementing its new TMS system and training its employees on it in November and expects to be fully operational in July. It is using TMW System's Truckmate TMS system.
TMW Systems is a developer of enterprise management software for the surface transportation services industry, including logistics, freight, trucking and heavy-duty repair and maintenance.
"The new TMS will allow us to run more efficiently and give our customers more bells and whistles," Dumit says. "For example, our customers will be able to receive alerts about their deliveries. The new software will be more efficient at sending our drivers road information, allows for better communication with dispatch, eliminates payroll issues and streamlines our invoicing process."
Among its many benefits, the software – including shipment planning and execution, fleet and carrier dispatch software and some fleet management applications – is designed to give its users complete visibility to costs and resources, automating routine processes and alerting them to exceptions before they turn into problems.
A High-Tech Fleet
In addition to a new TNS system, all of Palmetto State Transportation's trucks are equipped with satellite tracking systems and instant two-way communications. Utilizing GPS communications, the system is accurate to within 1,000 feet. Each unit provides full-time, two-way information flow between drivers and the company's control center.
This allows the company to tell its customers exactly where their product is and how long it will take to arrive at its destined location. In addition, customers can track their cargo online via the company's secure website.
The company's trucks are also designed to prevent damage to cargo. All trailers are air-ride equipped with an E-Track system for freight that is received and locked down during transit.
An air-ride suspension system replaces a standard steel spring with bladder or bag of compressed air. It results in much better shock absorbency to provide a smoother ride for the truck and its trailer.
In addition, the company promises to deliver freight "off the truck" with no break-bulks. All trailers also are temperature controlled and heated for freight that is temperature-sensitive. Palmetto State Transportation's specialized trailers come in the form of vans, reefers and air rides. Customers also have access to flatbeds, drop decks and lowboys.
A Personal Touch
Palmetto State Transportation is a family-owned company that started with one truck in 1991 and grew to a fleet of almost 100 today. The company prides itself on its personalized customer service.
"I think we give our customers a more personal touch," Dumit says. "We go above and beyond. We're much more flexible on our availability than the larger carriers, we can adapt our rates, offer a spot quote and most of our freight is load-to-ride."
Founded by Bobby Dumit's father Bob Dumit, the company was was established with the intention of providing great transportation service at a fair and competitive price. "My father worked for a textile distributor," Bobby Dumit says. "But he saw a need arise for trucking services at that time."
Today, the company specializes in hauling chemicals, pharmaceuticals and machinery – the largest chunk of its business. However, it also transports textiles, auto parts and food products. "Our niche is volume LTL that's 8,000 pounds or larger," Dumit adds.
Palmetto State Transportation also offers expedited service in addition to consolidation and warehousing. In 2002, the company saw an opportunity to further offer solutions and services and added a brokerage division.
The brokerage operation offers a variety of services including truckload, temperature controlled, expedited, flatbed, over dimensional, over weight and local shuttle services.
Palmetto State Transportation serves the Northeast, Midwest, Pacific Northwest, Texas and California. Its truckload and expedited services cover the entire United States and sections of Mexico and Canada. In addition to its headquarters in Greenville, S.C., the company has opened a trucking terminal in Thomasville, N.C.