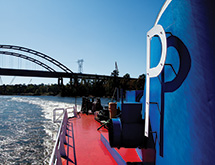 Over the past 75 years, Parker Towing Company has grown from a single boat, the Heloise, which pushed wooden barges down Alabama's Black Warrior River, to one of the leading barge lines in the Southeast.
Today, the Northport, Ala.-based company operates 25 tugboats and more than 300 barges along numerous waterways that extend from Alabama to the lower Ohio River. But the company recently has adjusted to the ebb and flow of the market as many of its clients endure tough economic times.
"We are a marine transportation company first and foremost," says Tim Parker III, whose grandfather, Tim Parker Sr., founded the company. "That's our core business." But Parker Towing Company has diversified over the years to provide several other services as well.
For example, the company operates five terminals in Alabama and one in Tennessee that handle a broad range of dry cargo commodities and provide an intermodal link between barges, trucks and rail. The company added the terminals division in the late 1980s because it saw a need in the marketplace, Parker says. The terminals make up about 7 percent of the company's business, he says.
The company also operates the Port of Decatur, one of the busiest ports on the Tennessee River. The port handles a large portion of the more than five million tons of river freight that moves through Decatur, Ala., Parker says.
Parker Towing Company operates Whistler Machine Works, a job shop specializing in the repair, rebuild, new machining and fabrication of various parts and equipment. The shop, which was acquired in 2013, represents about 9 percent of the company's business, Parker says.
Parker describes his company as a mid-size organization that competes in an extremely competitive market populated by three or four big companies and numerous other mid-size firms. Mid-size companies can be more versatile and respond more quickly to clients' needs, but "the bigger companies have a lot more boats and a lot more barges," Parker says.
Coal Is King
Parker Towing Company hauls a variety of materials including coal, steel and steel products, wood chips and other commodities, such as cement, metallic ores, petroleum and aggregates, scrap metals, machinery and project cargo, Parker says. But coal is the dominant commodity transported by the company, Parker says.
The company transports large amount of coal to domestic utility and industrial users. It also handles export coal shipments to U.S. Gulf ports.
But the coal industry is experiencing an economic downturn that is significantly impacting Parker Towing Company, he says.
"The coal business is hurting," Parker says. "The steel business is hurting. Times are not great right now. We're a ton-mile business. We want to move a lot of tons a lot of miles."
But that goal is very difficult to achieve when many of the industries Parker Towing Company serves are hurting, he says.
"None of our customers feel good about their industries," Parker explains.
As a result, the company must find alternative means to remain competitive, which is not an easy proposition. "It's tough to fill the gap," Parker says. "It's hard to see a light at the end of the tunnel in the coal industry." In fact, he does not anticipate improvement in the market for at least two or three years.
New business streams likely will be found via a combination of new forms of cargo and broadening the geographic region Parker Towing Company serves, Parker says. "We've got to diversify and grow responsibly," he says. "We want to look for long-term contracts on different river systems."
The company has no specific timetable for implementing this strategy. "It's a matter of what opportunities are available. We're all struggling, we've just got to try to adapt."