This 'Patent of the Month' features three separate patent applications. Each proposes a different solution to a common problem: how to overcome the current issues associated with 'refuelling' battery-powered heavy duty and/or long-haul electric trucks.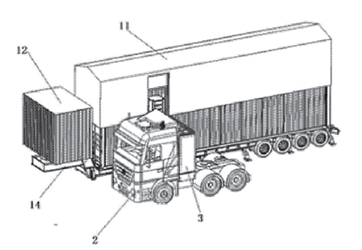 Battery electric trucks are already available from established manufacturers including Mercedes-Benz, Volvo and Scania. Other models are on the way from new entrants, such as Tevva and Volta and demand seems set to grow. Scania's own roadmap indicates that they expect 10 per cent of their vehicle sales to be electric by 2025, increasing to 50 per cent by 2030.
Battery-powered HGVs typically have a range of 250Km-400Km before requiring recharging. Mercedes-Benz quotes a time of 60-90 minutes to recharge from 20 per cent to 80 per cent of battery capacity when charging at 160kW. This isn't overly long and could be carried out during a driver's lunch or rest break. It's also easily accommodated by overnight charging when a vehicle is returned to an operator's depot at night. So, why is this considered a problem?
Scale is the core issue. Whether a fleet operator's hub or a third-party commercial truck orientated 'service station', multiple charging stations will be required to serve the number of trucks, likely between 20-40. Connecting that number of charging points, each potentially capable of charging at rates of 150kW to 500kW, requires a dedicated connection to the national power supply. Difficulties can sometimes arise from infrastructure planning, regulatory and financial perspectives.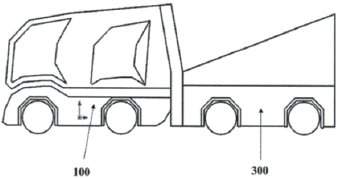 A range of solutions are needed to provide dedicated high power charging points. The first patent example is an idea already seen and implemented for passenger battery electric vehicles – 'battery swapping'. Chinese application CN215361023 proposes a battery swapping station for heavy duty trucks that is mounted on a truck trailer. Referring to the image to the right, the main trailer body (11) houses multiple battery packs (3) and a hoist mechanism for lifting the battery packs on and off a truck tractor unit (2). A single high power charging unit (12) is provided to re-charge the battery packs.
Whilst not necessarily optimal as a primary recharging solution, it would allow a fleet operator to locate the battery swap station at a desired, and variable, mid-point on a long-distance route, enabling a battery electric truck to complete the entire journey. No significant infrastructure investment would be needed.
A similar, but perhaps more left-field, solution is proposed in US patent application, US 2021/0206287. Here the concept combines both on-vehicle re-charging of a battery pack and battery swapping. As seen in the next image, the main truck tractor unit (100) includes its own permanent battery pack, which is recharged in a conventional manner by plugging it into a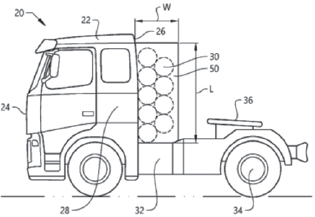 charger. The battery pack is relatively small, allowing charging to be accomplished quickly or at lower power levels. When additional range is required, or a plug-in charge station is not available, an additional battery module (300) is connected to the main tractor unit. In the patent application this is envisaged as a separate wheeled unit that rigidly connects to the tractor unit, providing a load bed.
The final patent application, WO 2021/083533, filed by Volvo Trucks, is focused on finding a way to avoid the problem altogether. In this case, a hydrogen fuel cell powered truck is fitted with multiple hydrogen gas tanks (30), mounted in a vertical stack behind the rear wall (26) of the truck cab.
The patent seeks to protect the idea of housing at least part of the cooling system for the fuel cell within the rear wall of the truck cab.
What these three varied patent applications demonstrate is that the route to enabling heavy duty and long-haul electric truck operations is far from settled and there is still considerable scope for innovation. Companies innovating in this area that have invested in patent protection will be better placed to take advantage of any future market opportunities, for example when the preferred solution becomes clearer.
Callum Wardle is a partner in the Electronics, Computing & Physics group at European intellectual property firm, Withers & Rogers.
www.withersrogers.com