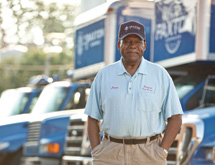 For more than six decades, Paxton Cos. has continued the Paxton family's legacy in logistics. Based in Springfield, Va., the family owned firm provides moving, storage and records management services for corporate, government and education sector clients around the globe.
COO Bill Paxton says his family entered the moving business in the 1900s, when his great-grandfather, Frederick D. Paxton, founded District Transfer, a furniture moving company in Washington, D.C. In those early days, the elder Paxton used mules and donkeys for hauling power.
Forty-six years later, his son, Albert Lee Paxton, founded Paxton Van Lines, which eventually evolved into the current company. Initially, the company provided relocation services for the U.S. government, and became an agent of Atlas Van Lines in 1953.
Today, Bill Paxton says, his family's company has 300 employees in multiple countries. "Our international group is our fastest-growing group," he says, adding that it comprises more than 60 percent of Paxton Cos.'s revenues. "We are truly an international company.
"The folks that run our international group have backgrounds in doing freight forwarding overseas," he says. "They spend a lot of time overseas and a lot of time in the air to make sure we're doing the right things."
Paxton Cos.' customer base is very diverse, but "we are primarily a corporate mover," Paxton explains. "We do a really good mix of small, medium and large corporations."
When one market is down, the company can direct its concentration to the one that is up. "As long as we move swiftly to react to the marketplace, we've been able to stay above water," he says.
Love for the Business
Paxton joined his family's company in 1984 and still enjoys it after all these years. "I love coming to the office every day," he says.
He adds that Paxton Cos.'s executives do not get nervous when the business gets complicated. Instead, "We love a challenge," he says. One recent challenge was the U.S. economic downturn.
To adjust, Paxton Cos. began focusing more on clients overseas. However, the company's orders from U.S. clients have recently increased. "This year is the first year where we're seeing significant growth in our domestic operations again," he says. "We're approaching levels we had a few years ago."
This increase also will bring challenges, he admits. "Capacity is a huge issue as corporate America starts spending on moving people," he says. "We have to spend to keep up [and] make sure we have enough equipment and enough people to manage the capacity."
The Best Weapons
Paxton Cos. strongly invests in training and educating its employees. "A knowledgeable team member is our absolute best weapon against inefficiency in our local market," Paxton says. "Having them [be able to] think on their feet is a really good way to stay ahead of the game."
He is proud of Paxton Co.'s current staff. "We've got people that are dedicated to doing things well and doing them right," Paxton says. "It makes it fun to come to work every day. I'm proud to sit amongst all these folks."
These include James "Beep" Horne, who started with the firm in 1959 and still works there today. Paxton Cos. has even named its Distinguished Service Award after him. "He's just a true testament to the proper work ethic that everyone should strive to do in their lives," Paxton says.
"Beep shows up everyday ready to work and continually looks for ways to improve the company and our customer's experience," Paxton says. "He's a role model for the younger employees with his 'team first' attitude."
Excited for the Future
Paxton Cos. plans for continued success overseas, Paxton says. "There's so much opportunity internationally," he says.
Already, the company has locations in Baghdad, Erbil and Basra, Iraq; Tripoli, Libya; Juba, South Sudan; Kabul, Herat and Mazar-i-Sharif, Afghanistan; and Peshawar, Pakistan. Soon, Paxton Cos. will add locations in Doha, Qatar; Singapore; and London, and it will be scouting more locations in Africa, he says.
The firm also is excited to see its domestic business grow and will stay focused on logistics, Paxton asserts. "We started as a local trucking company, and wheels and trucks [are] our game," he says. "That's what we do."