Perry Ellis International Inc.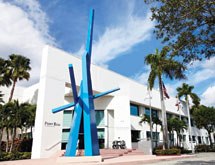 What started out 45 years ago as a small wholesale apparel company selling a Latin clothing staple has transformed itself into an internationally known designer, distributor and licensor of brand name apparel. George Feldenkreis created Supreme International in 1967 and entered the apparel market selling guayaberas – pleated, four-pocket shirts widely worn in the Caribbean. It also was a hit in the Florida market, which is Supreme International's headquarters. Over the past four decades, Supreme International has purchased other brands to own some of the most widely distributed brands today, including its current namesake – Perry Ellis.
Supreme International changed its name to Perry Ellis International (PEI) in 1999. This purchase was preceded and followed by other acquisitions.
PEI now owns 28 brands that are distributed to more than 50 countries through regional, national and international department stores, as well as through company-owned stores and corporate wear distributors.
The company has ratcheted its operations to absorb the exponential growth. PEI receives more than 6,500 containers a year from more than 400 contract manufacturers in Asia and Central America. It stores products at four company-owned warehouses and three others operated by third-party logistics (3PL) partners. All PEI apparel sold in the United States comes from one of these locations. Stores submit their purchase orders and arrange their own pick-ups. However, according to Vice President of Logistics Marvin Leto, the logistics process begins before a single delivery is made either to PEI's warehouses or to retailers.
Planning Stages
"The logistic process starts long before product comes into the warehouse," Leto says. "It really starts where we manufacture the goods. We use PO [purchase order] managers that are located in various parts of the world. They are our eyes and ears in the various countries we work in."
Each manufacturer has its own system that PEI ties into to upload its orders. When orders are shipped, PEI's warehouses receive automatic shipping notifications. PEI then turns around and notifies the customers' transportation management systems when shipments are ready.
The customers decide when and how to pick up their orders. All of it, Leto says, is done electronically.
"If you imagine 6,500 containers a year coming from about 400 different facilities from almost every part of Asia, the Far East and some in Central America, it would be impossible without using electronic systems," Leto says.
Executive Vice President Joseph Roisman explains that PEI also couldn't manage without its third-party logistics partners. PEI does own four Southeast warehouses – two in Miami, one in Tampa, Fla., and one in South Carolina – with a combined 800,000 square feet of space. Each one uses modern systems to keep inventory in line, and its Tampa facility is fully automated with two tilt-tray sortation devices and conveyor belts that can process 55,000 pants a day and gear up to 100,000 pants if needed. However, it also relies on third parties to fulfill demand.
"It's more convenient to work with 3PLs if say you have customers on the West Coast and you use a 3PL on the West Coast," Roisman says. "Those customers can receive their merchandise much quicker. Also, by contracting them, it reduces our own overhead."
National Presence
To complement its Southeast warehouses, PEI works with partners such as Port Logistics Group (PLG) and ACT Fulfillment Center to help cover other regions of the country.
"The qualities we would like 3PLs to have is to be knowledgeable in apparel and all the warehousing requirements associated with that such as packaging and labeling," Roisman says. "They also have to have cross-dock capabilities and allow us to pick up our own orders."
Working with reliable 3PLs allows PEI to focus more on brand development and quality. "We look forward to delivering continued growth through the creation of fashion that resonates uniquely with the lifestyles of consumers worldwide," the company says.