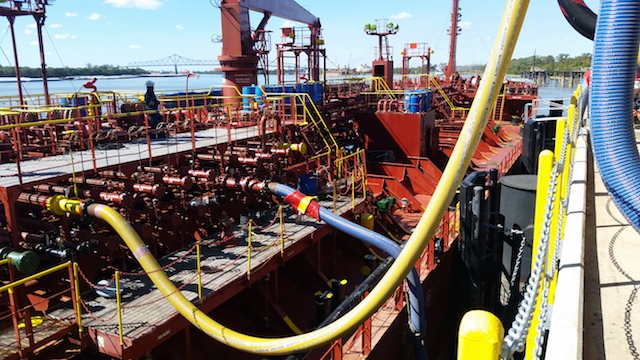 Pin Oak Terminals is constructing a more than $600 million terminal in Louisiana that promises to be a game-changer for its customers.
By Janice Hoppe-Spiers
Just two years after announcing the construction of a new liquid and chemicals storage terminal on 431 acres on the east bank of the Mississippi River, Pin Oak Terminals is now operational. "Today we have leased and are in the process of constructing more than four million barrels of tankage, operating a two-bay automated truck rack and handled numerous vessels and barges on our very large marine loading and unloading dock," CEO Mike Reed says. "There hasn't been a new facility built for customers on the lower Mississippi in quite a while and there is pent-up demand to do it and do it right."
The project involves a more than $600 million investment in storage tanks, docks and related infrastructure in Mt. Airy, La. This puts Pin Oak in a prime location to service crude, refinery feedstocks, finished products and the chemical industry through rail, ship, pipeline and truck access. Pin Oak's services include offloading, storage, heating, blending and transfer of bulk liquids. The company's permits allow construction of approximately 10 million barrels of storage and unit train loops at the site along with numerous strategic pipeline connections.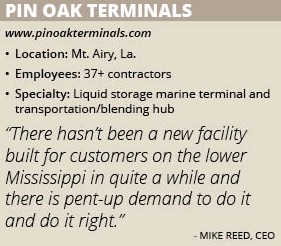 "Pin Oak Terminals is a 15-year-old dream come true, which is now being fully supported by the market," Reed notes. "Without the support of our customers, our dedicated employees and contractors, the local community, the Port of South Louisiana, St. John Parish officials and Louisiana state government, this would still be a dream."
Customer Service
Reed came aboard Pin Oak Terminals in April 2015 as CEO and was able to secure the first contract that fall. "I've been in this business for 30 years, so there is some turnover, but at the decision level there are people I know that I've been in business with for a long time," he notes. "We have a customer focus, a good location, great assets, committed owners and really good people."
Pin Oak directly employs 37 people today as well as contract workers whose numbers fluctuate with business requirements and construction. At the executive level and among frontline management, the team has more than 300 years of combined industry experience.
As Pin Oak continues to grow, it will transition from contractors to more full-time employees. "Today, we are focused on continuing to grow the business based on market and customer demand and need, and the execution of initial construction and promises made to customers," Reed says. "We are actively engaged in numerous commercial discussions that will increase our footprint and balancing that next deal and customer to come onboard with the execution of our existing plan.
"Terminal storage is all about location and it's a highly asset-intensive business," he continues. "You make the bulk of your money with your storage tanks and docks – but it's really about the superior customer service and your focus on customer satisfaction."
Pin Oak has flexible assets with a lot of options, Reed says. "We have access to multiple markets and lower-cost solutions," he adds. "I would say, in general, we have lower overall cost to market for our customers' goods and services, and offer ways for them to differentiate themselves in the market to their third-party customers and suppliers."
As a new terminal, Pin Oak says it can customize assets to meet its customers' needs. "They don't have to settle for an existing asset that's been there forever," Reed explains. "We have time now to build and right-size whatever the customer wants. That's unique because we can build it once and build it right."
Reed challenges his team to think far ahead in terms of customers' needs, allowing it to have the right assets and operate as a "Day 1" company. "I'm a big fan of Amazon CEO Jeff Bezos and the 'Day 1' experience of how to run a company, which is by delighting the customer and giving them something they didn't know existed for our industry. That's what I'm trying to do," Reed says. "In that focus of customer service, we have to be able to do all this and give our owners a return on their investment."
Vice President of Construction and a more than 30-year veteran of the industry Rickey Encalade says, "For the past couple of years, Pin Oak, along with local contractors and service providers, has been working adamantly to transform a vision idea into reality. Our construction team has been focusing on consistent execution of this fast-tracked project for our customers while maintaining high safety standards and complying with local and federal environmental regulations.
"Pin Oak's determination is to become a recognized leader in the terminal industry through safe, compliant and reliable operations," he continues. "We stand by our motto 'Safety is our Priority' and work diligently with the community by providing security and firefighting services. We've received positive feedback from our partnership with the local government by hiring residents within the parish thereby assuming that the dollars are earned and spent within the parish."
Further Developments
Pin Oak has the ability to connect refinery complexes with pipelines that cross the terminal or are in very close reach. "We are in the process of making multiple pipeline connections and have different phases and sequences of doing it," Reed says. "We will be delivering multiple connections over the next one to three years."
Moving forward, Pin Oak plans to continue listening to the market and customers to develop solutions that they may not have thought of. "This is traditionally an 'old' business; there's not a lot of R&D in the terminal space," Reed says. "People get stale in their jobs and are used to being told this is the way it will work. We want to challenge that and be challenged to find new solutions. A new generation is rapidly coming into the business and they have a different mindset on how things can be done. We want to embrace this change and adapt but still perform the basic business."