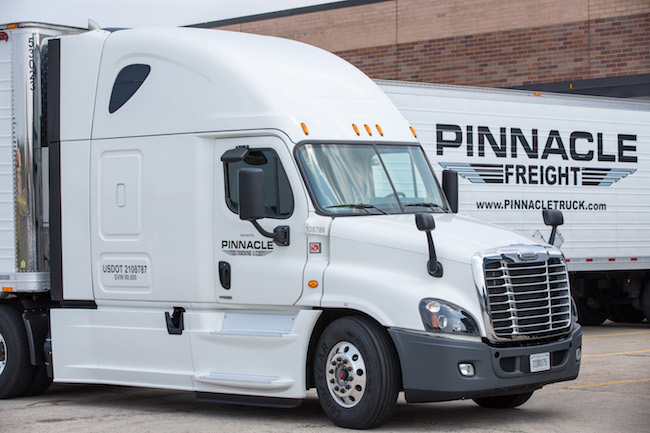 Pinnacle Freight Systems is ready to grow again after taking a year to strengthen its operations.
By Tim O'Connor
The danger of rapid expansion is that some things can be left behind in the wake of growth. From 2013 to 2015, business journal NJBIZ named Pinnacle Freight Systems as one of New Jersey's 50 Fastest Growing Companies each year. But after three years of aggressive expansion, President and CEO Mike Ravallo realized it was time to take a breather and strengthen the company's infrastructure. "We purposely put the brakes on in 2016 from growing the company," he says.
Pinnacle, a provider of truckload and less-than-truckload (LTL) services, spent last year boosting its driver safety department, enhancing driver training and ensuring it had the protocols and systems in place to accommodate future growth. It enlisted consulting company Envirun to make sure all driver logs were compliant, provide hazardous materials training, maintain driver files, handle owner-operator requirements, manage vehicle leases and oversee DOT inspections, among other risk management services.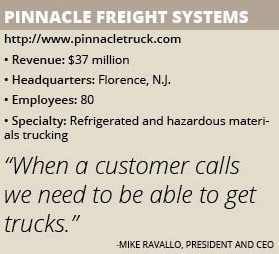 The reliance on outside companies to manage parts of its operations allows Pinnacle Freight to focus on what it does best: trucking. Ravallo considers the company to be a niche player that specializes in temperature-controlled and hazardous materials transportation. A majority of the hazardous materials that Pinnacle handles as LTL shipments are food-related items that contain alcohol, such as flavorings for the food and beverage industry. "We can fulfill a very rare requirement, which is a refrigerated hazmat service provider," Ravallo says.
Pinnacle requires all of its drivers to obtain authority to handle hazardous materials, giving it more availability to haul the specialized freight than most other transport companies. "It's a good revenue stream for us and it's a fight we can win because there's not a lot of companies competing," Ravallo explains.
Building Fleet
Ravallo, a 35-year veteran of the trucking industry, took control of Pinnacle in 2009. Prior to the acquisition, the company was a one-man operation. Within two years, Ravallo added motor carrier authority, creating the path for the company's rapid expansion. "The business completely transitioned," he says. "I infused some cash. Since that time we've seen accelerated growth."
The company now has 80 employees in addition to a nation-wide network of agents that operates under Pinnacle's credentials and umbrella. Ravallo credits Pinnacle's growth to its ability to attract talent. "It's the culture and the people I've brought into the company," Ravallo says. "I've been so fortunate to be able to bring good talent here. They're a solid team of builders that really know how to build a company from zero to maturity."
The other reason for Pinnacle's growth is its focus on capacity. Ravallo has spent the last few years diversifying the company in an attempt get give customers access to trucks. The company had about 20 trucks in 2012. Today it has 60 trucks between its own leased vehicles and independent owner operators. Ravallo's short-term goal is to reach 100 trucks. "Our game is the capacity game," he says. "When a customer calls we need to be able to get them trucks."
Leasing trucks is a key component of Pinnacle's strategy. Pinnacle's entire fleet is leased from providers such as Penske, Miller and Ryder. The setup requires the leasing companies to handle all maintenance and repairs. If a truck has a problem on the road, it can pull into the lessor's regional center and receive repairs, or the provider will source a replacement truck so the driver can keep moving and keep the delivery on schedule.
As a result, Pinnacle limits its downtime and improves its reliability. "Which is a really good selling point with our customers because they know we'll never give them an excuse that the truck broke down and we're waiting for a repair," Ravallo says. In addition, the company claims 99.9 percent of its shipments arrive claim free.
Like with its risk management operations, working with outside providers allows Pinnacle to concentrate on its core business. "The way that trucks are being built now and all that's required to maintain them, it's hard to keep up," Ravallo says. "We'd rather not concentrate on that at all. We want to focus on trucking. Switching to leased trucks has been a game-changer for us."
Looking Forward
Need for greater capacity led Pinnacle to move into a 200,000-square-foot facility in Florence, N.J., in 2015. The site has ample parking for Pinnacle's entire fleet and the building itself is heated year-round, with two coolers to store inventory at both 40-degree or 60-degree Fahrenheit temperatures for customers. "This facility really allows us a lot of flexibility," Ravallo says. "It allows us to handle a lot of freight."
After a taking a year off of growth, Pinnacle Freight is ready to begin expanding again. The company has already added additional sales resources and is working toward allowing independent agents to bring in their own trucks. By the end of the year, it expects to introduce new on-board technology that will improve customer visibility into shipments and keep the company compliant with requirements from the Federal Motor Carrier Safety Administration. "We're very excited about what we think 2017 is going to be," Ravallo says.