Port Freeport invests in improvements to meet the demands of its partners while ensuring its well positioned for future growth.
By Janice Hoppe-Spiers, Senior Editor at Knighthouse Media
Port Freeport is poised to grow substantially with new public/private joint venture projects because of its available land for development and proximity to the ocean. The port says $60 billion to $90 billion of new pipeline and petrochemical plant projects are being built in Texas and in the region, and it is preparing for increased business through expansion and improvement projects.
Port Freeport was established in 1925 when the voters of Brazoria County, Texas, recognized the importance of having a reliable waterway to move commerce. A six-member commission governs the port. The 45-foot-deep Freeport Harbor Channel serves 18 public and private operating berths.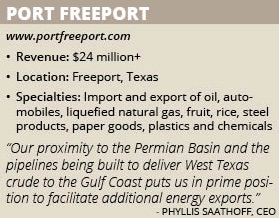 Port Freeport offers state-of-the-art Ro/Ro, container, breakbulk, liquid-bulk and project cargo facilities. Its top import commodities include steel, aggregate, construction equipment, autos, chemicals, clothing, oil, foods, and liquefied natural gas (LNG) from Brazil, Colombia, Costa Rica, Guatemala, Honduras, India, Saudi Arabia and Mexico. The port's exports include crude oil, autos, construction equipment, breakbulk, project freight, chemicals, rice, cotton, LNG/LPG, clothing and food. Port Freeport's top export countries include China, India, Japan, Lebanon, Colombia, Costa Rica, Cuba, Dominican Republic, Honduras, Nigeria and Saudi Arabia.
Freeport LNG
Port Freeport was recently named one of Forbes' Top Ten Fastest Growing U.S. Seaports for Exports. The port is a major energy and chemical tanker port, ranking 10th in the nation for tanker freight.
"This was achieved primarily from the new oil and gas exports," Saathoff says. "Port Freeport expects to continue to make the Top 10 list with the Freeport LNG liquefaction units expected to come on line beginning early next year. Additionally, our proximity to the Permian Basin and the pipelines being built to deliver West Texas crude to the Gulf Coast puts us in prime position to facilitate additional energy exports."
Freeport LNG's new facility will include three liquefaction trains that will produce about 5 million tons per year of LNG. Gas pretreatment, a third LNG tank with 160,000 cubic meters of capacity, and a second marine dock with dual capacity of loading and unloading also will be built in the facility. Construction began in 2015 and is expected to be completed next year.
Further Expansion
In 2015, Hoegh Autoliners joined the port's family of partners, creating a major OEM Ro/Ro facility on the Gulf Coast, offering all services to customers that move all types of rolling stock. The following year, Port Freeport welcomed the first Neo-Panamax Ro/Ro vessel. "It was the largest pure car, pure truck carrier in the world with the capacity to carry approximately 8,500 car equivalent units," Saathoff adds.
Port Freeport partnered with a global supplier of steel products that opened a new seamless pipe mill in Bay City, Texas, last year. The $1.7 billion facility's feedstock began arriving at the port in mid-2017.
Port Freeport last year also broke ground on its first major rail project. "The rail project will include a 200-acre multi-modal industrial park, which will feature three new rail lines, environmentally friendly vehicle storage and processing centers, as well as warehouse and distribution centers," Saathoff says.
The port also received approval of its first M-69 Marine Highway Designation and route from MARAD. "This new marine highway will offer service routes for container on barge operations and will lower truck emissions by offering alternative barge services to and from Port Freeport," she adds.
Port Freeport also expanded its Heavy-lift Truck Corridor this year by adding an additional route from Sweeny, Texas, to Bay City, Texas, to its list of routes offered to local industry. "This route will help facilitate the delivery of steel products by truck to and from Bay City and Port Freeport," Saathoff notes.
Great Depths
In 2003, Port Freeport saw the need to widen and deepen the Freeport Harbor Channel to serve larger vessels. At that time, it entered into a $6.5 million feasibility cost-sharing agreement with the U.S. Army Corps of Engineers for the Freeport Harbor Channel Improvement Project. The Freeport Harbor Channel and the companies operating on it today generate an annual economic impact of $46.2 billion and about 126,000 direct, indirect and induced jobs.
A little more than a decade later in 2014, Congress approved the Water Resource Development Act, designating the port as an "authorized project" to deepen the Freeport Harbor Channel to depths ranging from 51 to 55 feet. In May, the U.S. Army Corps of Engineers approved the Freeport Harbor Channel Improvement Project General Reevaluation Report and Environmental Assessment.
"With current operating depth of 45 feet and soon to be 55 feet, Port Freeport began the expansion of Velasco Terminal in 2013 with the completion of a new container handling berth housing two Post-Panamax cranes," Saathoff says. "Future visions for Velasco Terminal include three berths for a combined total of 3,600 square feet, nine gantry cranes and a total lift capacity of approximately 1.5 million containers."
Moving forward, Port Freeport will continue focusing on customer service and says it excels at developing public/private partnerships with major corporate clients. "Recently, voters within the navigation district voted in favor of a $130 million bond with support from tenants and local industry," Saathoff says. "The approved $130 million bond package is Port Freeport's commitment to the Freeport Harbor Channel Improvement Project, which will make the channel the deepest in Texas."