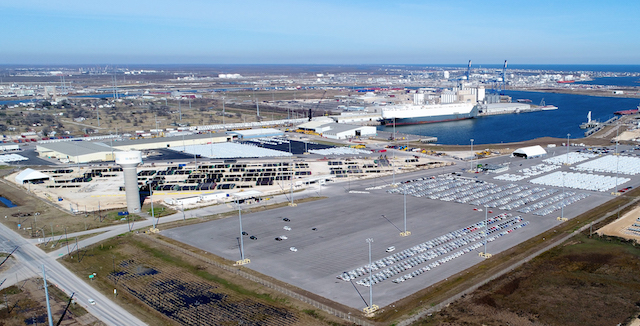 Port Freeport makes strides toward key strategic initiatives designed to support the economic expansion in Texas.
One of the fastest-growing ports in Texas, Port Freeport recently completed phase one of a rail project that has been a long-term objective for improving landside accessibility for the port its current and future customers.
In August 2017, Port Freeport broke ground on the $21 million Parcel 14 Rail Development Project. It's roughly 21,000 linear feet of rail track that has been constructed consisting of a lead track spurring from the Union Pacific main line at Cherry Street, crossing SH 36 and then connecting to three ladder tracks on Parcel 14.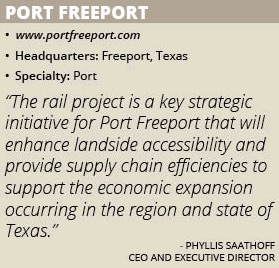 Consisting of more than 200 acres, the Parcel 14 site is being developed into a rail-served multimodal industrial park with warehousing facilities, cross-docking activities and distribution centers. Other areas in the site have been allocated for new vehicle processing and storage. Union Pacific Railroad will offer manifest train service on the new rail infrastructure.
"The rail project is a key strategic initiative for Port Freeport that will enhance landside accessibility and provide supply chain efficiencies to support the economic expansion occurring in the region and state of Texas," Port Freeport Executive Director/CEO Phyllis Saathoff said, in a prepared statement.
Port Freeport was awarded $6.3 million in funding from the U.S. Department of Transportation Consolidated Rail Infrastructure and Safety Improvements (CRISI) Grant Program to assist with funding the second phase of the Parcel 14 development.
"We are excited to have the support from the Federal Railroad Administration for the advancement of this key infrastructure project," Saathoff stated.
The second phase of the rail project will include the addition of approximately 24,000 feet of ladder tracks adjacent to the recently constructed 21,000 linear feet of directly accessible from State Highway 36.
Key Facts
As Port Freeport continues to grow the need for additional rail infrastructure is essential to continue supporting the business needs of its current and future customers. Here are some key facts about the Parcel 14 project.
* 21,000 feet of track has been constructed, consisting of a lead track spurring from the Union Pacific main line at Cherry Street and connecting to three ladder tracks located on Parcel 14 parallel to State Highway 36.
* A 40-foot access road adjacent to the rail line for ease of truck access to the Multimodal Industrial Park and Port Freeport.
* Port Freeport has allocated approximately 80 acres for the development of over 1.5 million square feet of rail connected warehousing facilities for packaging, vehicle processing and distribution operations.
* Additional acreage has been allocated for new vehicle storage so that Port Freeport can continue to grow its market as a Finished Vehicle Logistics provider.
Economic Impact
Located roughly 60 miles south of Houston in Brazoria County, Port Freeport is a deep water port with seamless connectivity between multiple modes of transportation. The Freeport Harbor Channel is 46 feet in depth and is the shortest channel on the Texas Gulf Coast with a vessel transit time of 1.5 hours to most private and public berths.
Port Freeport is ranked 19th in total tonnage on a national level and 5th in the state of Texas.
A recent economic impact analysis performed by Texas A&M Transportation Institute, based upon 2017 data, revealed that Port Freeport had a statewide economic impact of 150,651 jobs, federal tax revenues of $3.2 billion and a total economic output of $98.8 billion – double the economic output reported in the analysis performed in 2016.
On a national level, the port's economic impact to the economy is 279,780 jobs, federal tax revenues of $5.4 billion and a total economic impact output of $149 billion. Port Freeport 2017 exports exceeded $1.48 billion, up by nearly 58 percent from previous study.
"Brazoria County and the surrounding area have experienced substantial growth since the 2016 TTI study," Saathoff states. "Billions of dollars have been invested in the petrochemical industry expanding production capabilities. This investment coupled with the addition of new tenants and new infrastructure at Port Freeport, is fueling the economic growth and enhancing the competitiveness of Port Freeport and the Freeport Harbor Channel."
The port continues to make progress toward its strategic initiatives that will likely increase these impacts in the future. These initiatives include:
*Deepening the Freeport Harbor Channel to depths between 51 and 56 ft, which will make Port Freeport the deepest port in Texas.
*Expanding Velasco Container Terminal to include additional berth space and post-Panamax gantry cranes.
*Developing a multimodal industrial park adjacent to state highway 36 that will be served by the new rail infrastructure.
To achieve its maximum potential, Port Freeport is advancing all the strategic objectives concurrently. Congress authorized the Freeport Harbor Channel Improvement Project in the Water Resources and Reform Act of 2014, and Port Freeport expects to start construction on the first beneficial, usable increment of channel in early 2020.
The first phase of the Velasco Container Terminal was completed and put into operation in 2014. Construction will commence on the next section of berth in the third quarter of this year.