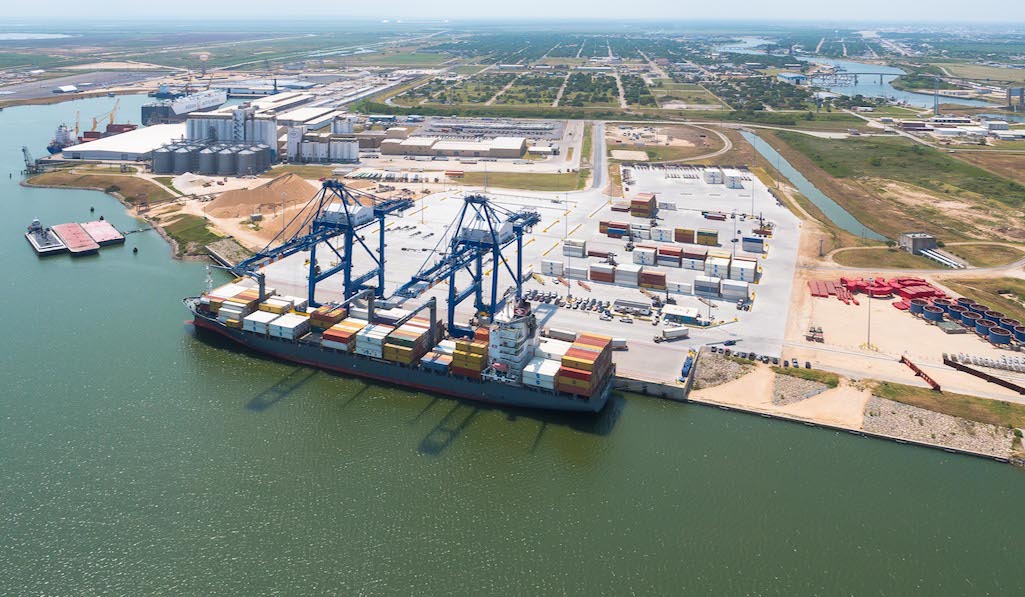 Responding to client needs and investing in ongoing improvements have allowed Port Freeport to become one of the most reputable ports in Texas.
By Eric Slack
Located in Brazoria County, Texas, Port Freeport is one of the top 35 ports in the nation. Thanks to developments in market sectors such as energy and petrochemicals, the port is poised to take advantage of plenty of growth opportunities.
Created in 1927, Port Freeport is tasked with making improvements for the navigation of inland and coastal waterways, and the preservation and conservation of these waterways in aid to navigation. It is ranked 26th in international tonnage and occupies approximately 8,000 acres on deep water. The port has about 500 acres mitigated and ready for development and another 1,800 that is available.
Port Freeport serves a diverse group of clients. They include some of the most significant players in the energy and petrochemical businesses, as well as the traditional container, break-bulk, agricultural and roll-on/roll-off sectors. Approximately 90 percent of its business is energy and chemical feedstocks.
"This is one of the reasons we are ranked 10th in the nation for chemical tankers," Director of Economic Development Mike Wilson says. "The balance is the traditional cargo such as produce, manufacturing projects, automotive steel and general break-bulk."
Providing Choice
Port Freeport is a non-operating port, making it essentially a landlord. It prides itself on providing new, state-of-the-art infrastructure to clients along with consulting services from its team of tenured professionals. Most of its major clients need long-term partnerships because of the size of the investments they are making. As such, it's not uncommon to have lease agreements of up to 90 years for major manufacturing or energy projects.
"For example we have new roll-on/roll-off facilities and a new container facility, Velasco Terminal, which offers the deepest container berth on the Gulf Coast," Wilson says. "Our roll-on/roll-off facility operated by Horizon services is the new home for GM imports and exports along with CAT, Komatsu and many others."
Port Freeport offers quick, one-hour transit time via its 45-foot channel, which can accommodate most vessels. The port plans to take the main channel down to 50 to 55 feet and that deepening and widening project will take about eight years to complete.
Other strengths for the port include the fact that it is the only port in the gulf surrounded by Category 4 hurricane protection levees. It also offers rail service and highway access, both union and non-union labor, no air draft or bridges over its channel, and pipeline infrastructure that makes it possible to move oil and gas as far north as Canada and to the east and west coasts.
"One of the main things we offer clients is the freedom to operate the way they want to operate," Wilson says. "We ask clients to tell us how a port fits into their business plan and then we do that."
Always Improving
Port Freeport offers brand-new facilities and is constantly building new space. Two new berths are on the way at its Velasco terminal, along with on-dock rail. Velasco will one day have the capacity to do about 2 million twenty-foot equivalent units (TEUs) a year. The port also has plans and engineering for additional rail in the form of five-unit trains, each about 5,500 feet in length along with 200,000-square-feet of warehousing for cross-dock and resin-packaging facilities.
"The rail will be used for resin hopper car delivery to the packaging facility, OEM, unit trains, crude unit trains and manifest train operations," Wilson says.
Additionally, the port is partnering with Ft. Bend and Brazoria counties to create a short line railroad. It will traverse the west side of Houston and ultimately provide connections to three class one railroads.
Other improvements take place in the virtual world. The port's brand-new updated website has ample information and connectivity. It is specifically designed to increase the communication and quality of its information systems so clients and potential clients get the right information right away.
Driving Growth
In 2012, the port conducted an economic impact study that showed it had a $17.2 billion impact on the local and regional economy. A more recent study showed that it had a $46.2 billion impact annually and that it accounted for 65,900 direct, indirect and induced jobs in Texas, with 16,400 local jobs tied directly to its waterway. Shale oil and gas have had a tremendous impact, and energy markets with their variable returns will continue to drive growth and investments.
"We have a 10-year forecast we have to keep updating because all the consultants seem to always underestimate how much Texas can grow and what that growth does to everyone who wants to be a part of it," Wilson says. "This is by far the biggest driver for all our clients and the port's success."
Keeping pace with its market will be one of Port Freeport's top priorities. The organization operates on a property demand model based on signed contracts for 180 to 200 acres of new space that needs stabilizing. There is double-digit growth possible in containerized, break-bulk and/or roll-on/roll-off cargo. With so many decisions to make and needs to fill, the port has to be selective about what it takes on.
Regulatory and policy issues related to federal funding for dredging, harbor maintenance tax, channel expansions, highway expansions, hazmat and safety are all challenges as well. But in many ways, these are good challenges to face because they mean opportunities abound.
"Texas is already about the 12th biggest economy globally and still growing," Wilson says. "It's clear to see there will be plenty of freight for everyone who can handle it."
www.portfreeport.com
Headquarters: Freeport, Texas
Specialty: Port services