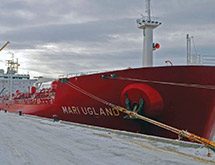 In 1998, the Port of Anchorage undertook a master planning effort to examine the port's future physical needs and determine whether it needed to expand. This effort reached a turning point in 2014, when it released a "2023 Business Plan" that made recommendations for capital projects. Since its release, that plan has been further honed to reflect the port's economic and demographic reality.
"Our business is fairly stable and predictable, and hasn't changed very much since 1998," Port Director Steve Ribuffo says. "There are 750,000 people in the state, and we support about 80 percent of them; they only eat so much and buy new clothes only so often, and fill their gas tanks once a week."
With no significant population growth forecasted for Alaska over the next several decades, the port adjusted its initial plans to add berths and new spaces to the facility, located at the northern end of the Cook Inlet in south central Alaska. "We have plenty of available capacity here," Ribuffo says. "We don't need more port, we just need a new port."
Plans are underway to modernize the existing deep-water port facility, which includes three bulk carrier berths, two petroleum berths and a barge berth with a loading ramp that goes dry at low tide. "We want to replace the dock infrastructure we now have so we can better survive in the highly seismic environment we have in Alaska and continue to stand for another 75 years," he adds, noting that earthquakes and seismic events are a regular activity in the state. "We don't want to be caught unaware if we get an event that causes significant property damage."
The port in 2016 will take the first steps in more than five years toward replacing its existing infrastructure, which includes supporting its dock with new piles made of steel-reinforced concrete and replacing three older cranes. A test pile-driving program, which includes driving and testing the types of piles the port hopes to use on a permanent basis, will commence next summer. The knowledge gained from the test program will determine the design and cost of the final project, Ribuffo says.
The Port of Anchorage is a critical contributor to the state's economy, as it handles roughly 74 percent of all freight entering south central Alaska and 95 percent of all refined petroleum products. In addition to consumer goods and gasoline, the port also handles turbine aircraft fuels used at Joint Base Elmendorf/Richardson and Ted Stevens International Airport in Anchorage. Eight main tenants including ocean carriers Totem Ocean Trailer Express and Matson operate from the port.
The port is an enterprise department of the Municipality of Anchorage, and funds its operations through the revenue it receives from tenants and other customers. Port officials are responsible for safely maintaining and managing facilities, security, roads, utilities and infrastructure improvements. The port director is appointed by Anchorage's mayor and reports to the municipal manager.
Tenant Growth
Although the port's own infrastructure improvement projects are still a few years off, two of its tenants in 2015 broke ground on new facilities that will enable them to meet growing demand for their products.
Petroleum company Delta Western in April began work on a new refined petroleum storage facility. The first product to be stored at the facility – anticipated for completion this fall – is the gas methanol, which will be used in exploration activity at the North Slope oil field. The methanol tank is the first major component of the storage facility, which will ultimately hold 360,000 barrels of refined petroleum products.
"Methanol is a product we've never had here before, which is exciting," Ribuffo says. "This is also a product for which there is a demand and no stored supply; this facility will allow them to keep a sufficient amount here to fill their orders."
Delta Western distributes its products from fuel terminals placed throughout the state. "We're pleased they picked the Port of Anchorage to build this new terminal," he adds. "Clearly, they see the value in our port – they had a lot of options of places to build, but chose to do it here, so that's a big deal to us."
Cement manufacturer Alaska Basic Industries in May began work on a new cement storage facility anticipated to be operational later this year. ABI supplies the majority of the cement used for all construction projects in Alaska, as well as for mining uses. The facility is anticipated to hold 40,000 tons of cement, two times more than what ABI currently stores at the port. "ABI is growing the size of their footprint here and bringing in more product than before, which means higher revenue for the port within an existing product line," Ribuffo says.
Ribuffo says he is proud of the support shown to the port from its tenants as well as from Anchorage officials and other stakeholders. "There are folks who've stuck with us during the worst of criticism who are committed to our success. And we are making sure that, as we go forward, we are slower and more deliberate in our actions and able to defend every move we make so there's very little to criticize us for," he adds.