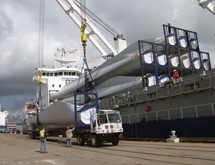 A recently completed $67 million capital expansion program will allow the Port of Beaumont, Texas, to solidify its status as the No. 1 military cargo port in the United States while also increasing its capacity to handle dry and liquid goods.
The expansion, initiated following the port's adoption of a facilities master plan in 2006 and completed in 2013, included developing a greenfield property in Orange County, Texas, to supplement its operations. It also involved expanding the port's rail infrastructure and installing a new mobile harbor crane that allows for the handling and lifting of heavy cargo. "When we were moving toward this master plan we identified several infrastructure improvements we could perform in the port that could give us greater flexibility in marketing ourselves," Port Director and CEO Chris Fisher says. "We knew that by increasing our rail access in particular that we would have a much more marketable facility."
Other improvements included opening a headquarters building for the U.S. Army Military Surface Distribution and Deployment Command's 842nd Transportation Battalion, which oversees the shipment of military cargo throughout the Gulf of Mexico and Western United States. The Port of Beaumont ships more military vehicles and other cargo than any other U.S. port.
In addition to military cargo, the port handles bulk cargo including grains and potash and break bulk cargo including lumber, plywood, steel, pipe and coil. Much of the port's bulk cargo is facilitated by a 3.5-million-bushel grain elevator capable of loading 80,000 bushels per hour.
The port, located 84 miles east of Houston and 270 miles west of New Orleans, is accessible from the Gulf of Mexico and Intracoastal Waterway through the Sabine-Neches Ship Channel, 42 miles upstream from the Gulf. The channel is a minimum 400 feet wide and 40 feet deep. The Intracoastal Waterway and the Mississippi River connect the Port of Beaumont to an inland water system serving cities including Minneapolis; Chicago; St. Louis; Kansas City; Louisville, Ky.; Omaha, Neb.; and Memphis, Tenn.
Major Improvements
The Port of Beaumont spent $28 million of the capital improvement program's $67 million total budget on tripling the size of its rail interchange and relocating it closer to the rest of the port. The expansion will allow the port to interchange up to 400 rail cars and quickly load and unload unit trains. The BNSF, Union Pacific and Kansas City Southern railroads all offer direct service to the port, Fisher notes.
The Port of Beaumont's rail improvements also include a $12 million rail loop in a facility in Orange County, directly across the Neches River from the rest of its operations in Jefferson County, Texas. "Our rail connections are now second to none," Fisher says. "The money we spent on those two rail projects has greatly enhanced our connections. From a rail standpoint, we can serve customers as well as any port in the country."
The 240-acre Orange County terminal also includes new roadways, a 650-foot cargo wharf and a new state-of-the-art petroleum terminal operated by Jefferson Energy. The energy company contributed more than $150 million to build the terminal where oil and other liquid bulk cargo can be loaded and unloaded onto train cars.
"We're really excited about what we've been able to do with the Orange County terminal," Fisher says. "We've taken a raw green site property that in 2007 you needed a four-wheel-drive vehicle to reach and turned it into a state-of-the-art terminal that in the next two years will become a quarter-billion-dollar facility."
Industry Recognition
The Port of Beaumont's capital improvement efforts earned it the recognition of the Railway Industrial Clearance Association (RICA), which in July 2013 named it the nation's most improved port. The award was the result of a survey sent to the organization's more than 400 members asking them to rank ports across the country.
RICA members cited the port's capital improvement program as the main reason for the award.
"It is an honor to be recognized by RICA," Fisher says of the award. "Our valuable customers, business partners and community leaders have contributed to our growth and continued success."
RICA, founded in 1969, is dedicated to serving the heavy and dimensional transportation industry. Its members include class 1 railroads, shippers, regional and short-line railroads, riggers, port authorities, expeditors, heavy haul motor carriers, barge and steamship lines, consultants and others.
In addition to the RICA award, U.S. Army Military Surface Distribution and Deployment Command also recently recognized the port for its crucial role in transporting military cargo, Fisher adds.
Plans for Growth
Port of Beaumont is making plans for additional growth and development. The port in January 2014 was to have started work on a new, $100 million facilities master plan. Fisher anticipates this new master plan will include rehabilitating its original facilities in Jefferson County.
Further development is also anticipated in Orange County, as the port owns an additional, as-of-yet undeveloped 215 acres of land bordering Interstate 10, Fisher notes.