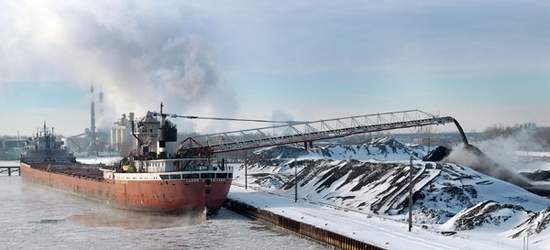 Port of Green Bay completes major improvement projects with major environmental benefits while it looks to continue expansion.
By Janice Hoppe-Spiers
Shipping as a means of transportation has been an integral part of Green Bay, Wis., since the early 1800s. Today, the Port of Green Bay specializes in connecting the Midwest to the rest of the world. "People are looking at the Great Lakes as a mode of transportation," Executive Director Dean Haen says. "Wisconsin does a lot of manufacturing so we have to figure out how to do more exporting and use the water."
The Fox River flows into the Port of Green Bay and 14 companies in a variety of industries have terminals along the river. Port businesses handle dry bulk commodities such as coal, limestone and salt, bulk liquids like petroleum products, liquid asphalt and tallow. Break-bulk commodities include wood pulp and forest products in addition to oversized cargo like machinery and wind components.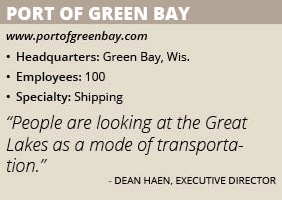 "We have RGL Holdings returning to the port and they will be moving foreign wood products into the area as part of Wisconsin's paper manufacturing base," Haen notes. "This historic operator was a big player here in the late '80s. RGL is rehabbing and rebuilding the dock wall and expects to be open this spring or early summer."
A major project for all the port's users over the past few years was the $17 million rebuilding of the Cat Island Chain, a series of islands in the lower bay approximately two miles northwest of the mouth of the Fox River. The islands, which eroded in the 1980s, were reestablished with material that was dredged from the 14-mile channel that extends four miles upriver and 10 miles into the bay.
The island provides a nearby and inexpensive location to dispose of dredge material and simultaneously serves as a bird and fish habitat. "There has been incredible environmental results," Haen says. "We haven't had a piping plover in Wisconsin for decades, but they are now nesting on the Cat Island Chain. The environmental benefits we can see and quantify and it has been exceeding our expectations."
Further Acquisition
The Port of Green Bay exists to enhance the prosperity of the people of northeast Wisconsin by providing facilities and infrastructure able to effectively and efficiently move commodities and goods across the nation. It is part of a healthy economy and provides a critical link to national and global markets for Wisconsin enterprises.
As such, the Port of Green Bay has completed a property acquisition plan to create a hierarchy ranking for industrial property. "Because the port has limited resources, we and the Brown County Harbor Commission wanted to figure out where to best invest its money for the benefit of the community, region and port," Haen says. "We identified We Energies plant as the most ideal property to ever become available and our efforts are focused on acquiring it for port related industrial use."
Moving forward, Port of Green Bay will focus on containerized goods, export commodities and recreational cruise ships. "Recreational cruises on the Great Lakes are taking off," Dean notes. "It fell away during the recession, but now it's back and we have our first cruise ships visiting this summer. Hopefully it becomes a staple of our future."