Port of Indiana–Jeffersonville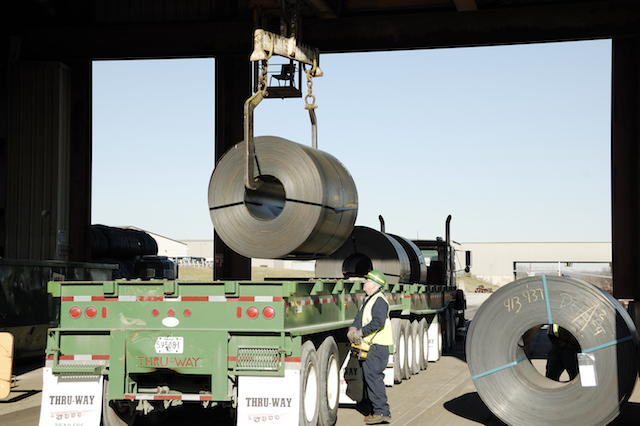 The Port of Indiana-Jeffersonville plans to grow as a manufacturing hub for the automotive industry.
By Alan Dorich, Senior Editor at Knighthouse Publishing
It is said in the real estate business that location is everything. But the same is true in the ports industry as well, Jeff Miles says. "A port's success is generally a function of the market that surrounds it," he states.
Miles is the port director for the Port of Indiana-Jeffersonville, which has benefited from its location in Jeffersonville, Ind. "We sit right in the middle of a starburst of automotive manufacturing and assembly plants in Ohio, Indiana, Kentucky, Tennessee and Alabama," he says, noting that allows the port to be a strong contributor to its community.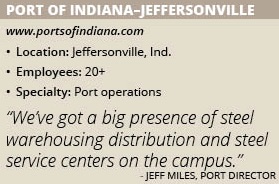 The campus, which is part of the Ports of Indiana authority, operates as a gateway that provides year-round barge connections to the Gulf of Mexico through the Ohio and Mississippi rivers, along with access to more than two-thirds of the U.S. market. Many manufacturers "rely on their manufacturing inputs to come through the Port of Jeffersonville," Miles says.
Currently, the 1,054-acre port has 28 separate businesses on its property. "We have a big presence of steel warehousing, distribution and steel service centers on the campus," he says, adding that it has other customers that manufacture lubricants and non-metallic auto parts.
The port also has an important role in serving the agricultural sector through its longtime partner, Continental Grain & Barge Co. "[That] is simply a function of being in America's heartland, and being one of the larger producers of corn and soybeans," Miles states.
Growing Stronger
The Port of Indiana-Jefferson has recently been in growth mode. In the last two years, Miles notes, the campus opened a new, 170,000-square-foot steel wire processing center for manufacturer POSCO, the fifth largest steelmaker in the world.
Through a $10 million TIGER Grant award, Ports of Indiana has partnered with the U.S. Federal Government on the expansion of its terminal rail system. This will provide a new truck/rail-to-barge transfer facility that will double the port's capacity in dry bulk materials.
"Under the auspices of that program, we are developing an intermodal transfer capability," he says, noting that this will make the port more efficient when handling truck and railcar transactions.
Another project is the construction of a corridor that will provide a means to access its campus from Interstate 265. The port has partnered with the city, the Indiana Department of Transportation and Clark County, Ind., on the project.
"We're in the preconstruction engineering phase of that," Miles reports, adding that he expects it to be completed in 2020. "Trucks will be able to get out of the Port of Indiana-Jeffersonville more expeditiously."
A native of Lawrenceburg, Ind., Miles has extensive experience in the industry and previously spent 30 years working for deep sea ports on the East Coast. Recently, he was the COO for the North Carolina State Port Authority in Wilmington, N.C.
He is proud of how the Port of Indiana-Jeffersonville helps local businesses. "We bring value to the community," he says. "They view us as an integrated partner of their supply chain."
The port, Miles notes, plans to continue working closely with its clients while also attracting their customers to its location. This is part of its plan to create "an automotive clustering strategy," he says. Its strategic intent is to provide its customers with a competitive advantage in serving their customers.
"The idea is that we will bring steel in through the docks, [and] ship it a few hundred yards across the campus to a steel processor," he describes. "There it will be cleaned, cut to size, stamped into blanks to make it ready for manufacturing or another conversion process."
From that point, the steel would be shipped another hundred yards across the port's campus to be turned into automotive fasteners or other component parts. Through this process, "The costs of transportation, inventory and damage in transit are kept to a minimum so it gives everyone in that cluster a significant competitive advantage," Miles says.
"That simplifies the supply chain, as well as makes it more reliable," he declares. "We're trying to get more of the manufacturing activity to be done on this campus, so the product leaves in a transformed, higher value state of processing."
Miles also predicts that the port will see more non-traditional uses of the waterway. "We're seeing now some interest in using the Ohio River System for retail-oriented activities," he says.
These will involve the transport of higher-value finished goods that were previously moved by rail or truck. "They may find themselves moving by barges on the Ohio River System," he says, noting that this shift will be due to congestion and capacity issues on North America's rail and trucking systems.
"Freight is going to find its path of least resistance," he predicts. "Our value proposition is something that really resonates with the industrialists that are trying to expand their business."