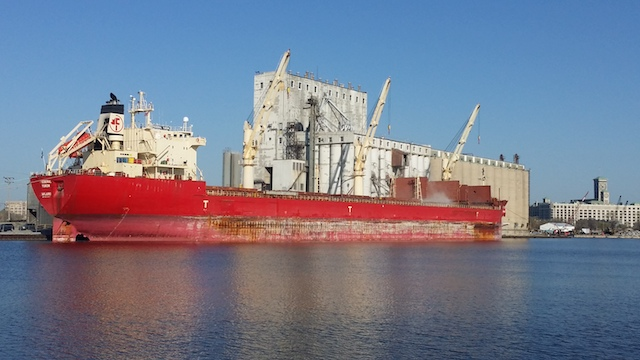 The Port of Milwaukee provides a cost- and time-saving alternative to larger port cities through modernization and stellar customer attention.
Move over Port of Chicago — there is a new contender looking to draw cargo shippers and tourists to the midwestern United States. The Port of Milwaukee is positioning itself as a world-class import/export hub for both domestic and global clients.
"We've begun an aggressive push to modernize the port as both a cost- and time-saving shipping alternative to nearby ports as well as make Milwaukee a must-see travel destination for tourists," Port Director Adam Schlicht says.
Situated on Lake Michigan in southeast Wisconsin, the 467-acre Port of Milwaukee boasts 16 berths, 14 miles of modernized rail that connect the Union Pacific and Canadian Pacific railways (both Class I railroads), 330,000 square feet of heated warehouse space, 50 acres dedicated to dry bulk storage and the ability to store 300,000 barrels of bulk liquids. The port's city heavy lift dock (CHLF) can accommodate 440,000 pounds at a 52-foot radius and includes a complement of mobile crawler cranes.
The port enables access to international waters via the St. Lawrence Seaway and other U.S. and Canadian Great Lakes ports. Moreover, it is the sole Lake Michigan port beyond Chicago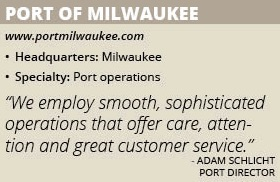 approved to serve the Mississippi River inland waterway system, which provides direct river barge access to the Illinois River that connects other U.S. ports on the Gulf of Mexico. An on-ramp at the port gives trucks direct access to federal highway I-94/795, which connects Milwaukee to Chicago, Minneapolis, Des Moines, Indianapolis and other major cities.
"The port averages between 2.3 and 2.5 million tons in commercial activity per year," Schlicht says. "[The port] ships commodities such as European lumber and Canadian salt, as well as domestic grains, cement and limestone."
As a result of its planned growth, the port aspires to reintroduce container filling services demanded by its trade partners. "[Trucks] have to go to Chicago to backfill a container," Schlicht notes. "Not only does this increase the amount of travel time, the congestion around that city increases travel costs." An in-state solution, he says, will create more affordable and time-friendly transportation options for shippers.
Schlicht says the port's main attribute is the world-class customer service provided by its staff and partner stevedores that makes the Port an attractive option. "We employ smooth, sophisticated operations that offer care, attention and great customer service to all of the ships and rail serviced through the port," he says.
"One of the great advantages of the Port of Milwaukee is that it's a smaller niche port that's connected to the world, but doesn't experience the congestion of a larger city like Chicago," Schlicht adds. Those factors both improve the Port's efficiencies and reduce the time and expense of a company's transport services.
Cruising Along
Tourism is also seeing an uptick at the Port of Milwaukee. "We've seen a three-fold increase in cruise ships docking at the port in recent years," Schlicht says. "Port Milwaukee's Pier Wisconsin cruise dock, which has been in service for over a decade, offers immediate access to downtown Milwaukee and its myriad of cultural and entertainment destinations."
Development efforts involving urban investments and new construction have drawn businesses to Milwaukee. "The city of Milwaukee is an up-and-coming area that has an assortment of museums, restaurants and other attractions for tourists to enjoy," Schlicht says. "We see this trend as a fantastic opportunity for Milwaukee, its businesses, and its citizens."