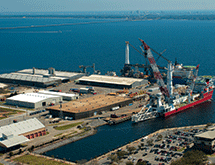 Although the Port of Pensacola has had many advantages since its first use in the mid-1700s, since 2009, the oil and gas industry has been providing a boost to the port's traffic. "Our primary customers are the service vessels that are involved in the offshore oil and gas construction side of the business, laying pipe and providing dive support for pipe-laying projects – all the support vessels for new oil and gas rig construction," Port Director Amy Miller says.
The port includes five deep-draft berths, two general cargo warehouses, more than 200,000 square feet of general cargo warehouse and 300,000 square feet of warehouse space under lease to proprietary tenants. Of the 50-acre site, approximately 20 acres remains undeveloped.
Some of that land is about to be put to good use by DeepFlex – reportedly the world's only manufacturer of unbonded non-metallic pipe for deepwater applications – which has joined forces with Offshore Inland Marine and Oilfield (OIMO) Services – which already operates out of the port – to establish a new unbonded flexible pipe-manufacturing and qualification testing facility at the port. The plant is expected to be fully operational by the second half of 2015 and is designed to produce up to 62 miles of the specialized pipe annually.
The OIMO/DeepFlex complex will include a heavily renovated existing port warehouse plus new buildings and infrastructure constructed on up to three-and-one-half acres of undeveloped port land. It will be capable of producing DeepFlex's complete flexible pipe product range.
The pipe produced at the facility will leave the port either by truck, rail, barge, cargo ship or direct load-out to subsea pipe-laying vessels calling at OIMO's existing Gulf of Mexico offshore and subsea support services center on the west side of the port. The complex will generate rent and additional income through the port's cargo and vessel fees. "This is our first on-port manufacturing," Miller says. "We're very excited about it. Offshore oil and gas just continues to grow for us."
Wind Turbines
Another major modern industry providing business for the port is a manufacturer of wind turbine nacelles, the small maintenance rooms located high above-ground behind the turbines. GE Wind assembles the nacelles at its plant in Escambia County near Pensacola. "They import the components from Asia that go into assembling the nacelle, and then the assembled end-product gets reexported," Miller explains. "Right now, most are going to wind farm development projects in Brazil. Their business just continues to grow. This year, they'll move more wind nacelles through the port than they ever have."
For GE Energy, the port also stores and transports portable generator units that can power more than 42,000 homes in natural disasters. Four of these separate trailer-mounted components can power a small city when they are fully assembled and connected.
The port's breakbulk liner service to the Caribbean that calls on a half-dozen ports has expanded. "It started out monthly a little over a year ago doing entirely exports of primarily southeastern U.S.-produced lumber products," Miller says. "That's now grown to 18 ships a year and is starting to attract import cargo, as well. Breakbulk liner service is any kind of cargo that is unitized but isn't in a container."
Aggregate Demand
CEMEX moves bulk cement products for local construction and road-building projects through the port. Martin Marietta Aggregates imports aggregate rock from the Bahamas, which is used in local construction. The port also exports gondola rail cars to Colombia for the Colombian coal trade.
One of the major competitive advantages of the port is its location. "We are as far north as you can get in the Gulf, which means your cargo stays on water longer, which makes it cheaper to move," Miller explains. "We are 11 miles from the first sea buoy in open shipping lanes."
That means it takes no more than two hours for the local port pilot to bring the ship into harbor rather than the eight hours or more some ports require. That reduces the cost of the port pilot that the shipping company has to pay. "An advantage for us is our proximity to the open Gulf of Mexico and the shipping lanes," she says.
For the future, Miller anticipates continuing business from the oil and gas industry – as its rigs move further east in the Gulf from Texas and Louisiana toward Florida – and potential business from the widening of the Panama Canal. Miller is betting that smaller ports like Pensacola's will be feeder ports for one or two larger ports in the United States that will receive the larger ships the canal's widening will make possible. With all these new industries and prospects, the future of the Port of Pensacola looks bright, she says.