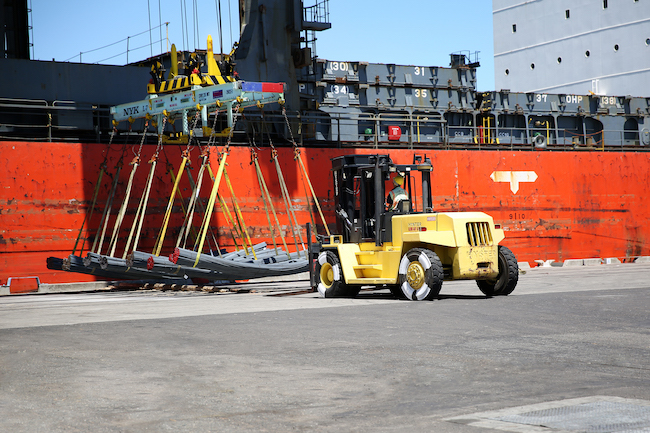 California's Port of Stockton focuses on facility upgrades to accommodate new products and markets as it continues to diversify its cargo mix.
By Janice Hoppe-Spiers
Port of Stockton brings value to its clients by being strategically located to offer rail, ground and water access in addition to being the one of the few operating ports in California with room to grow. "A combination of rail, room to grow and water is pretty much unique on the West Coast," Marketing Director Pete Grossgart says. "A lot of ports are landlocked while we still have room to grow."
Located in the San Joaquin Valley, the Port of Stockton is the third-largest port in California with its two main complexes sitting on 2,000 acres and an additional 200 acres of land available for growth. "We are unusual for a port that's as big as we are because we are not a container port," Grossgart explains. "We focus on general cargo, break bulk and liquid bulk products."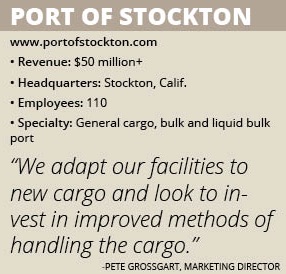 In addition to its location, the Port of Stockton prides itself on being flexible to help its clients get the job done. The port features 15 berths; two massive Liebherr 550 mobile harbor cranes, each with a 144 metric ton capacity; and more than seven million square feet of warehouse space.
The Stockton Deepwater Ship Channel has a draft of 35 feet (MLLW) and reaches an average of 40 feet at high tide. Vessels between 45,000 and 55,000 DWT, as well as some wide-beam 60,000 DWT ships can easily navigate the passage with a full load.
Port Upgrades
New cargo is coming through Port of Stockton that either had previously been transported in containers or is coming from new markets. "One new market is non-GMO grains that we only a year ago saw our first shipment," Grossgart says. "Since then we have handled seven ships and a total of almost 200,000 tons. We adapt our facilities to new cargo and look to invest in improved methods of handling the cargo."
Further improvements to the port include dredging all the docks, which increased the number of berths on the west side from four to nine. The added berths increased efficiency by opening up two warehouses that were previously not in use because there were no berths close by.
Port of Stockton will expand its road and rail infrastructure to piggyback off the extended I-5 off-ramp that debuted in early December. The port will build a new bridge to the west complex that will increase capacity and clearances, as well as move the port's main gate away from the local neighborhood.
"About 4,400 trucks a week transit through that neighborhood and that will be taken care of," Grossgart says. "The off-ramp now goes into an industrial area and we will close off access to the neighborhood so drivers can't use it as a shortcut. Construction will probably begin in March for the expansion of the roadway and then that will lead to the bridge and new gate. We are probably two years away from all that being completed."