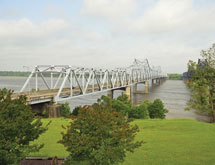 The Port of Vicksburg, owned and
operated by Warren County, Miss., and the Warren County Port Commission, started operations in 1968 and has risen to become a top inland port. Located at a key junction of the Mississippi River, the 422-acre port ranks among the top U.S inland ports.
Truck traffic at the port measures in excess of 165,000 trucks per year. These trucks import and export between 800,000 and 900,000 tons per year. The most recent study of the roughly 300 inland ports in the nation ranked Port of Vicksburg as the 11th-most active based on trip ton miles. There are approximately 1,200 employees at the port, not including the truck drivers, boat operators and rail employees who also help maintain the port.
"The Port Commission is a public entity setup by state statue," explains Executive Director Wayne Mansfield. "There are five commissioners; two are appointed by the county board, two by the mayor and aldermen and one by governor. They serve four-year terms."
The port is a Foreign Trade Zone and Port of Entry with an onsite United States Customs service. Its harbor channel is 9,550 feet long, with minimum 300-foot width, and 12-foot minimum depth. An approach channel 4,850 feet long with 150-foot minimum width and 12-foot minimum depth, connects the harbor channel to Vicksburg Harbor. The port maintains a 150-ton crane, two 15-ton overhead cranes, all-weather loading and unloading and 129,000 square feet of insured and sprinklered warehouse space.
A rail and road loop allows direct access from barge to truck to rail. Liquid warehouse facilities, barge fleeting and marshalling services, and barge cleaning and refurbishing services also are available.
"Ships received are not just from the county and state, but globally," Mansfield says. "There is a refinery at the port, so we receive crude oil from the North Sea as well as pig iron from South America, for example."
The industries supported include bulk and break bulk. Frequently shipped commodities passing through the Port of Vicksburg include:
•Lumber•Paper products•Fertilizer
Good Location
One of the primary reasons for the port's success is its prime location. Port of Vicksburg is situated at a river crossing near Interstate 20 and I-55. It is 45 minutes from an international airport and located at a rail crossing. The port is located in the middle of the Southeast, six hours from Dallas or Atlanta and three hours from Memphis or New Orleans. It is located only 40 miles from the state capitol and within a 60-minute drive there is a workforce of 430,000, with about 6,000 driving to the port on a regular basis.
With such a prime location, business is booming at the port. It is currently at capacity and considering expansion plans.
"Our biggest challenge is how we go about adding space and new port facilities to create industrial opportunities in the future," Mansfield says. "Containerized barge shipping is becoming larger in scope in the coming years, so we are positioning ourselves for that."
Industries at the port operate their own docking facilities. Port officials coordinate expansion, zoning, grants and maintenance. The port also partners with government agencies developing timber programs, community development and recruiting new industry to the area. It contracts with Kinder Morgan to operate the port. More than 20 companies and industries are located at the port. Ergon Refining is adding new laboratories and research and development facilities near the Bunge-Ergon ethanol plant to process more diverse types of crude. Magnolia Marine Transport Co. of Vicksburg also is expanding in Vicksburg, adding two new $6.5 million towboats to its fleet of 19 towboats and 68 barges. The Anderson-Tully Lumber Co. and custom pipe fabricators Specialty Process Fabricator Inc. are two other major port partners, along with others including Falco Lime, Vicksmetal Armco and propane distributor Neill Gas – to name just a few.
River Infrastructure
Mansfield communicates with most of the 16 ports along the Mississippi River, joining forces to improve river infrastructure. Much of the infrastructure on the river is older than 40 years and must be improved, he says. Locks and dams north of St. Louis impact operations at Vicksburg, especially if large barges cannot get through. Proper river dredging is also required. In March, Mansfield visited the nation's capitol with a delegation of river cities to push for more infrastructure spending. The delegation met with elected officials, agencies planners and the U.S. Army Corps of Engineers. "We were well-received," Mansfield says. "We were there to convey our message that we need assistance and want to be more productive."