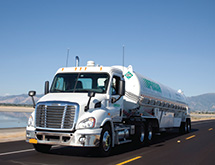 Praxair is one of the leading industrial gas companies in the world, but its safety initiatives are really what set the company apart, says Tim Johnson, fleet manager for Praxair's U.S. industrial gases business. "We're different [from other fleets] because we're hauling cryogenic materials under high pressure," Johnson says.
Praxair produces atmospheric, process and specialty gases. In the United States, it transports them with a fleet of approximately 1,000 cryogenic bulk tankers to clients in sectors that include hospitals, food and beverage and industrial.
Fleet safety is nothing new for the Danbury, Conn.-based company, which took the lead early on to reduce accidents and improve the safety of both its drivers and others on the road, Johnson says. Praxair implemented roll stability systems in its U.S. tanker trucks more than 15 years ago, Johnson says. "The system can calculate G forces and apply the brakes to slow the vehicle," he explains.
But that was only the first of many safety initiatives adopted by Praxair. It adopted electronic stability control to improve a truck's stability and avoid skidding. "Electronic stability control calculates what the steering limits should be," Johnson explains.
Ongoing Safety Initiatives
In 2014, Praxair took additional steps to help ensure fleet safety by adding both collision-avoidance and lane departure systems to its U.S. tanker trucks, Johnson says. Collision avoidance uses radar or lasers and cameras to detect an imminent crash. Once the detection is complete, the system either provides a warning to the driver when there is an imminent collision or takes action without any driver input by braking or steering. "The system determines how close you are to something in front of you and applies the brakes," Johnson says.
A lane departure warning system, meanwhile, is designed to warn a driver when the truck begins to move out of its lane unless a turn signal is on in that direction. The system is designed to minimize accidents by addressing some of the main causes of collisions: driver error, distractions and drowsiness. "It really all revolves around driver safety," Johnson says. "We have a passionate commitment to safety at Praxair and it underpins everything we do."
Safer Trucks
Praxair has relied not only on technology but on the design of its trucks to improve overall safety. Praxair's trucks, for example, feature a lower center of gravity to help prevent rollovers. The trailer underwent endurance testing at a test track where it was put through its paces at the University of Michigan Transportation Research Institute. A trailer filled with liquid oxygen was placed on a tilt table that tilted it to the maximum angle possible, and rollover still did not occur, Johnson says.
The new design led not only to a reduction in rollovers but also produced other safety benefits. For example, the rig's low profile resulted in the whole trailer being visible in drivers' rearview mirrors. This increases driver awareness, both while backing up and going down the road. Stability also is improved, while the trailer holds the road better and incurs less wind resistance, Johnson notes.
More recently, Praxair installed side airbags in its fleet to improve driver safety during an accident or rollover. Additionally, the driver's seats are designed to drop between six and eight inches during a collision to ensure more space between the roof of the cab and the driver's head, Johnson says.
Praxair's efforts have not gone unnoticed in the industry. In 2013, the company received an award from the Compressed Gas Association recognizing its safety performance. The award was based on the total recordable case incidence rates defined by the Occupational Safety and Health Administration.
Finding the 'Root Cause'
Praxair's latest safety initiative is designed to examine the causes of accidents. The company has installed cameras in 20 percent of its U.S. fleet that feature both a front- and driver-facing view, Johnson says. "You really want to get a 360-degree view," he says. Praxair plans to install the cameras across the entire U.S. fleet within the next couple of years.
The cameras will help Praxair take the next step in preventing accidents. "We want to see what led to the event," Johnson says. "We want to understand the root cause." The cameras capture the eight seconds before an event such as hard braking, roll stability, collision mitigation and lane departure and the four seconds after the event, Johnson says.
Despite the investment in safety technology tools, Praxair still devotes considerable time to driver training, Johnson says. All newly hired drivers undergo the same training despite their prior experience, he says. The company uses Six Sigma methodology to identify risk factors. As a result, Praxair is perennially one of the top safety performers – six times better than the U.S. industrial average, he notes.