Pressure Systems International (PSI)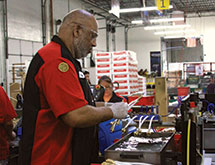 More than 80 percent of truck fleet tire problems are caused by improper inflation. In fact, tires represent the second-largest financial expenditure for most fleets, says Pressure Systems International (PSI).
To address this issue that raises both safety and cost concerns, PSI invented the first automatic tire inflation system for North America in 1993 that automatically inflates tires while en route. "The company was started from a patent," Executive Vice President Frank Sonzala recalls. "No one had ever inflated tires going down the road for the commercial trucking industry before."
PSI's system funnels extra air from the truck's brake system to ensure tires remain constantly inflated to preset levels. The advantages of the product are many, PSI says.
Produced from high-cost oil and rubber, tires are the most expensive maintenance problem in the trucking industry. When underinflated tires hit road objects, emergency road repair bills are costly because they could include off-hour transportation to the site. The cost of new tires provided during these calls might be double or triple the normal price, as well. Blown tires also create road hazards and safety issues in their own right because of tire remnants left on the road.
Proper tire inflation reduces the chances a tire will pop and it also allows trucks to continue further after a tire is damaged. Rather than making an emergency repair call, a trucker could instead travel another 75 miles or more to a company's service station partner, saving the roadside repair costly markups as slowly leaking air is replaced. "This is more economical than having someone come out at 3 a.m. for a roadside call," Sonzala says. "One roadside call eliminated pays for a tire." Needless to say, blown tires also delay shipments and mess with schedules.
Tires also last longer with the system, the company says.
Underinflation is the worst enemy to tires, Sonzala points out. Another major advantage of the system is increased fuel economy. "Fuel is a very expensive item and fuel economy comes down to proper tire inflation," Sonzala says. Factoring in increased fuel efficiency and saved maintenance costs, the purchase price of a PSI system is generally recouped within one year or sooner, PSI says. More than 70 percent of the top-100 for-hire and private trucking companies utilize the PSI system, Sonzala notes. That list includes FedEx, Schneider, Old Dominion, Dean Foods, Swift, JB Hunt, Target, Kroger Co. and Werner Enterprises. It has a simple design which can be installed on any type of trailer, including van, liquid tank, logger, flat bed, chassis, livestock, platform, drop frame, dump, deep drop, doubles, dry bulk, reefer, auto transporter and military. It adds life to tires, increases fuel efficiency and safety, maximizes recap potential and keeps trailers on the road delivering loads on time. This translates into lower costs, fewer headaches and higher profits, the company says.
Record Sales
PSI remains the world leader in automatic tire inflation systems, the company says. It ships to 43 countries, including China. PSI's sales increased 30 percent in 2014, and it is projecting an 18 percent increase in 2015.
Sonzala says one factor behind the booming sales is the Federal Motor Carrier Safety Administration's Compliance, Safety and Accountability (CSA) standards for tire inflation. Under CSA, underinflated tires hurt a trucking company's safety ratings. Safety ratings, meanwhile, are increasing in importance as a key metric for clients selecting trucking vendors.
"The advent of the CSA makes drivers want their tires to be inflated," Sonzala explains. "Shippers also are concerned about points."
Best Place to Work
PSI employees enjoy an outstanding company culture, Sonzala explains, and many have been with the company for decades. "It is even better than a family culture. Everybody pulls for each other," he says. In fact, a survey conducted by a polling firm and the San Antonio Express News ranked PSI in the top 30 of more than 1,000 local businesses as a best place to work.
Employees are eligible for scholarships and tuition reimbursement, even for unrelated occupational training. President Tim Musgrave shakes hands with all employees regularly, getting to know them. The company also bestows cash prizes and awards, among other perks. "Not only is this a great company with great manufacturing and great people, it also offers a great quality of life for employees from bottom to top and top to bottom," says Sonzala, who has been with the company since it started 21 years ago.