Prince George's County Fleet Management Division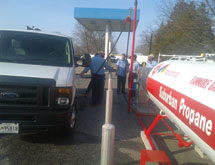 A lot more goes into running local government than many people realize. Take, for example, Prince George's County in Maryland. The county employs about 7,000 workers and has an annual budget of $2.7 billion, all to serve a population of nearly 900,000 in 20 towns and cities.
Few ever consider how many vehicles are needed for such an entity – 4,300, to be exact, which are used by 18 county agencies, 12 municipalities, 40 volunteer fire departments and two nonprofit organizations. Police cars, ambulances, administrative sedans, garbage trucks, landfill equipment, highway maintenance vehicles, senior citizen buses — the list goes on. And it takes a lot of fuel to run them.
"People take for granted how many vehicles a county is responsible for," says Rick Hilmer, fleet manager.
Most county governments have a unit similar to Prince George's Fleet Management Division, Office of Central Services, but this one is looking to be in the vanguard of using alternative fuels in its fleet.
"We're moving to alternative fuels for four reasons: to save money, to conserve energy, to set an example for the public and to establish infrastructure for potential commercial use in the future," Hilmer says.
Propane Vehicles
In April 2013, the division put five dedicated propane autogas-powered vehicles into service. They are Ford E350 service vans, powered by Roush CleanTech propane autogas systems. According to Hilmer, 20 more of these vans will be on the road next year. In the next decade, he anticipates the county will be using 500 of them, through new purchases and by retrofitting existing vehicles.
"You pay more for propane vehicles – about $8,000 more – but you get it back in fuel savings," he says.
Propane autogas is a clean-burning, domestically produced fuel that costs about 50 percent less than gasoline, reduces greenhouse gas emissions by 24 percent and is the third most popular vehicle fuel worldwide behind gasoline and diesel.
The vehicles will be refueled at a propane autogas pumping station supplied by the county's contractor, Suburban Propane. It costs less than $0.02 per gallon for use of the station, which is located at one of the division's facilities.
"Part of the reason we decided on propane is because the infrastructure is inexpensive and requires a similar size station as gasoline," Hilmer says.
Extensive Efforts
Hilmer has worked in fleet management for 30 years – first in the military, then in private construction and finally for local government. The mission of his fleet management division is to provide vehicle services that ensure that county workers always have the resources they need to do their jobs. The division operates two vehicle maintenance facilities and employs 50 administrators and mechanics. Its services include general light and heavy repair, scheduled preventive maintenance, vehicle emission inspections, body repairs and towing and road service.
Hilmer's team is tasked with operating a central motor pool at the County Administration Building, overseeing the vehicle bodywork process, inspecting and receiving all new county vehicles and equipment, and handling all county government tag and title services. It also is responsible for maintaining a $390,000 vehicle parts inventory, developing mechanic training programs and technical training for certification under the Maryland State Vehicle Emission Program, retiring unserviceable vehicles and equipment and managing the county's motor fuels system, which dispenses 4.5 million gallons per year.
About a year ago, Prince George's County implemented a Sustainable Energy Program to reduce energy consumption, cost and emissions in buildings and transportation. "We've been charged with downsizing, rightsizing and conserving," says Erica Bannerman, energy manager at Prince George's County.
"Across the fleet, everyone is getting smaller vehicles if possible. And we're buying newer vehicles because they're more energy efficient," Hilmer says. For example, the division bought half-a-dozen mail carrier vans that are smaller than the ones previously used. "Their loads are generally bulky but not heavy, so we knew we could use a smaller engine and chassis," he says. The result: The new vans average 18 miles per gallon, versus six to nine miles per gallon on the older models.
Next is to convert the motor pool vehicles to plug-in hybrids. Six cars have been ordered using funds from Maryland Energy Administration's Smart Energy Communities Grant. "These cars will run 20 to 30 miles on pure electric and then switch to gasoline, and the majority of motor pool trips are under that," Bannerman says. "It costs pennies to operate cars on electric – that's huge savings."