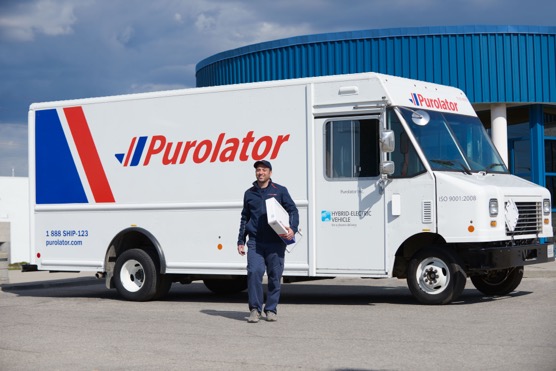 Delivering to over 850,000 postal codes across Canada, Purolator is always looking for ways to continue to enhance the customer experience.
By Chris Petersen
If a package needs to be shipped within, to or from Canada, there is a good chance that Purolator will deliver it. The company delivers to more points in Canada than any competitor, and is one of Canada's leading integrated freight, package and logistics solutions providers.
Although the company's reach is impressive, that reach would not be possible without the company's transportation and network assets. As Director of Freight, Transportation and Logistics Joe Lombardo explains, Purolator's assets on the road and in the field are an important differentiator for the company. Purolator has one of the largest asset networks in Canada, consisting of 170 operations facilities, 124 shipping centers and a fleet made up of 4,777 trucks, trailers and courier vehicles that gives the company a broad national reach.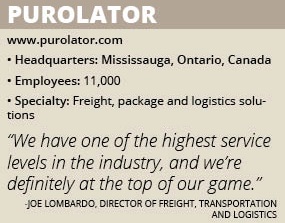 "Purolator has built one of Canada's most extensive transportation and logistics networks and supporting infrastructure," the company says. "The advantages of this size and scale benefit our customers, with more facilities in more regional centers than any other freight and package logistics solutions provider in Canada. Nationally, provincially and regionally, our customers can count on best-in-class service and support from Purolator, wherever they are.
"We deliver services and solutions critical to Canada's busiest urban centers," the company continues. "We deliver promises – the promises our customers make to their customers. From timely, dependable package delivery to integrated distribution solutions, we are well-equipped with the size, experience and expertise to meet the sophisticated, high-volume demands of our customers and deliver their promises."
All of this has worked to give Purolator a strong brand reputation in the industry, according to Lombardo, but there's more behind the company's success than the sheer breadth and scope of its operations. That's especially true of the transportation side of the business, where Purolator continues to focus on improving and evolving its operations to ensure that it has all of the pieces in place to become an even greater partner to its customers and help them deliver on their promises to their own customers.
The industry has been in a state of change for years now, Lombardo says, and the influence of technology has continued to exert pressure on companies like Purolator even as it opens new possibilities for customers and creates new paradigms of service. In this new and unfamiliar landscape, Purolator is focused on maintaining best-in-class service, and Lombardo says the company is embracing new technology and new models to better serve its customers.
Extensive Network
At the core of Purolator's success are its transportation services, which include the company's extensive terminal network. "We have one of the biggest terminal footprints in Canada," Lombardo says. "This positions Purolator well in the first- and last-mile market where we reach our business and residential customers."
Through its network of shipping centers and agents strategically located across Canada, Purolator is well-positioned to serve customers' needs quickly and efficiently across the country. Beyond the company's physical attributes, however, Purolator's success is also rooted in its dedication to providing the best levels of customer service possible, and Lombardo says that dedication comes from the people Purolator has working for it. He says customers frequently report that they have strong relationships with the drivers who serve them every day, and that has gone a long way toward building a strong sense of loyalty to the company.
Changing Lanes
Technology has played a large role in changing the industry over the last decade, thanks to the rise in e-commerce. Lombardo says the growing dominance of online retailers has driven some fundamental changes to the industry, such as a marked increase in the number of packages handled by Purolator and a concurrent increase in the number of residential deliveries.
Lombardo also says the rise in e-commerce has had an impact on how Purolator's customers approach the company, and the company has had to respond by making some changes in how it utilizes its facility footprint. The company has accomplished this by adapting its facilities to be more flexible in dealing with the surging capacity demand that is created during peak seasons by holiday shopping.
One of the biggest ways in which e-commerce and technology have impacted the industry is in the level of choice shippers have today in terms of working with couriers. In this new environment, Lombardo says asset-based couriers like Purolator traditionally have been not as well-equipped to cope with the demands of the market as have couriers with more flexibility through using third-party carriers.
Although Lombardo says these changes have disrupted the asset-based courier model to a noticeable degree, Purolator is confident that it has leveraged its network strengths to maintain its asset-based focus and still have the flexibility it needs to compete. "We believe that in this challenge there's a balance of asset and partners that can help with the changing landscape in our business," he says.
One area in which Purolator already is sufficiently equipped to thrive in the new world of e-commerce is in the final-mile portion of the market where the company handles the final portion of the journey for packages. Lombardo says the company's footprint and fleet of 2,800 courier vehicles – 560 of which are hybrid electric – put it in a good position relative to the rest of the industry in serving that portion of the market. "In Canada we are especially well-positioned for that," Lombardo says.
New Technology
Technology has created some challenges for Purolator, but it also has created some significant opportunities for improvement as well. In addition to the new markets and new customers e-commerce has brought to the company, Lombardo says technology has given it the opportunity to improve its transportation operations and become a safer and more efficient company.
Lombardo says these initiatives aren't the end of the company's focus on integrating technology, either. He says Purolator continually allocates resources into research and development, and he expects the company will continue to find new ways to use technology as a driver to maintain its leadership position. "There are a lot of interesting technological initiatives that are going on in that side of the house," Lombardo says.
Driving Forward
Purolator's focus on continuous improvement means the company expects to become more agile in the near future in terms of its facility network and asset placement. Lombardo says the company anticipates e-commerce will only continue to grow in terms of its influence over the industry, and Purolator is always looking at ways it can maintain its position as a leading integrated freight, package and logistics solutions provider in Canada.
"These will continue to be the drivers that will push us," Lombardo says.
Guided By Values
Purolator says one of the strongest elements of its success over the years has been its adherence to its corporate values, which it says guide the company in everything it does. According to Purolator, its corporate values consist of five key elements:
People First – "We recognize that our teammates and their families are key stakeholders," the company says. "We will only be successful as a business and a service provider to our customers if we provide our teammates with a safe and healthy workplace. We ensure that we have the right people, in the right roles, with the support they need to succeed. We hire for attitude and train for skills."
Customer Focus – "We can only create long-term, sustainable shareholder value and meaningful customer experiences if we deliver products and services that our customers value and are willing to compensate us fairly for," the company says. "We are committed to giving our customers compelling reasons to choose us over our competition."
Corporate Stewardship – "Our teammates are custodians of this great Canadian organization," the company says. "We strive to make our company a better place for our teammates to work in and our customers to rely on. We work together to strengthen the communities we serve, and we manage our business ethically and sustainably."
Transparency – "Trust, a value that is universally cherished, can only be earned and maintained if we are open and honest with our employees, customers, suppliers and other stakeholders," the company says. "Except to the extent necessary to comply with the law or protect competitively sensitive information, we will ensure that everyone has a common understanding of where we are, where we are going and how we arrive at significant decisions."
Performance Excellence – "We can achieve all of the above only if we work collaboratively, as one big team with aligned goals, giving our best to our teammates, our customers and our communities," the company says. "We demand and recognize excellence, both in terms of what we achieve and how we achieve it."