Ram Truck Brand, Chrysler Group LLC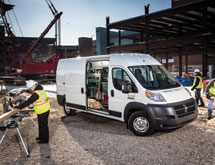 Since its establishment in 2009, Chrysler Group LLC's Ram Truck Brand has grown its marketshare year-over-year and increased its annual sales through one simple tactic. "The biggest reason for our success is we listen to our customers and bring the products they want to the market," Brand Director Bob Hegbloom says.
For Ram, listening to customers and producing trucks that offer the features and benefits they need includes increasing trucks' fuel efficiency and towing capability. Two engines are offered in the 2014 Ram 1500 series of half-ton trucks: a 3.6-liter Pentastar V-6 engine that delivers more horsepower, more torque and a fuel economy of 25 miles per gallon; and a 3.0-liter EcoDiesel engine, which offers up to 28 miles per gallon. The 3.6-liter Pentastar V-6 was first introduced in Ram's 2013 model line.
Ram recently increased the towing capability of its heavy-duty trucks to 30,000 pounds, roughly 7,000 pounds more than its competitors. "Our light-duty customers were most concerned about fuel efficiency and overall cost of ownership, while for heavy-duty trucks, we really have to deliver on the capability requirement," Hegbloom says. "We've been able to take a greater marketshare by focusing on our customers' requirements and adding best-in-class features to our trucks."
Hegbloom has been with Chrysler's Ram Truck Division since it was established in 2009 as a spinoff of Dodge, which switched to an all-car lineup following Chrysler's acquisition by Fiat S.p.A. that year. He has been with Chrysler a total of 28 years. "This is a role in which I get to touch everything from the direction of where the product is going today and into the future to pricing and packaging and what we bring to market," he says.
Hegbloom also works with Ram's network of dealers to ensure the latest sales tools such as brochures and catalogs are available to them. "We've had a fantastic run since becoming a standalone brand, and we're excited to keep pushing into the future," he adds.
Fully Customizable
Commercial users make up one of Ram's largest customer segments. Ram targets commercial businesses in three markets: agriculture, which includes the farming and equestrian industries; construction and delivery services.
The needs of Chrysler's commercial customers also largely influenced the design and features of the latest addition to the Ram line. The division unveiled its new ProMaster van line in February 2014 at the Chicago Auto Show. The company also participated in the National Truck Equipment Association (NTEA) Work Truck show in Indianapolis.
The ProMaster, based on the design of the Fiat Ducato – one of Europe's best-selling full-size vans for the last 30 years – is a purpose-built commercial van available in 14 configurations. "The Ducato platform offers Ram a proven, award-winning workhorse with an incredible combination of durability, value, efficiency and capability like no other in its class," the company says.
ProMaster configurations include different wheel base sizes, roof heights and chassis types. The ProMaster is the only van of its kind to provide both a chassis cab and cutaway from the factory. Ram later this year will introduce the ProMaster City, a Class 1 van that will compete with small commercial and passenger vans.
"The ProMaster now gives us a complete portfolio of commercial products that meet the needs of all of our customers and have the best-in-class attributes in all the areas our customers need," Hegbloom says.
The line's features include large cargo capacity and payload. Depending on the configuration, the van features total cargo floor lengths of 105, 123, 146 or 160 inches. The van features a wide body width of 82.7 inches. Up to 17 cargo tie-down rings are available, depending on model, and the ProMaster's roof structure is capable of holding up to 400 pounds.
ProMaster vans also have a step-in height of 21 inches – 9 inches below industry standard for vehicles of its type – and are highly maneuverable, as they have a turning diameter of 36 feet, similar to that of a mid-size sedan. "Lower and more vertical means more cargo space, efficient shelf space, wider center aisle in the cargo compartment, large side and rear door openings, and easy ingress and egress for users who are likely carrying something into or out of the vehicle," the company says.
ProMaster prices start at $26,030 for the cutaway model, $26,530 for the chassis cab and $28,630 for the cargo van model. The vans have a five-year, 100,000-mile powertrain warranty.
Engine Evolution
Chrysler teams with a number of suppliers and business partners to source the components for its vehicles. One long-term partner is diesel engine maker Cummins, with whom Chrysler celebrates the 25th anniversary of its relationship in 2014. Since its inception in 1989, the Chrysler/Cummins powertrain relationship has yielded more than 2 million trucks in total.
When first introduced, the Dodge Ram 3500 with a 5.9-liter Cummins Turbo Diesel engine produced 160 horsepower and 400 feet of torque. Today's 6.7-liter engine, available in Ram 2500 and 3500 heavy-duty pickups and Ram 3500, 4500 and 5500 chassis cab trucks, delivers up to 385 horsepower and 850 feet of torque.
Cummins diesel engines also feature a "smart" exhaust brake, which electronically manages exhaust braking for smoother downhill driving, regardless of vehicle load. "By monitoring throttle input, the system automatically adjusts to the driver's intended speed by activating more exhaust brake when necessary," Chrysler says. "The result is long-lasting brake linings and improved control when running heavy loads down a grade."
Ram trucks with the Cummins 6.7-liter Turbo Diesel also feature an exclusive Ram Active Air intake system. The system draws cooler air from the front of the vehicle when it senses extreme heat, and also engages at high altitudes for superior throttle response in low-oxygen environments. In wet conditions, the system pulls air from an under-hood inlet.
Cummins engines also are equipped with an advanced cooling system consisting of a high-efficiency fan, dual radiators, dual transmission coolers and a charge air cooler. "Cummins has worked with us very closely on meeting customers' needs," Hegbloom notes.