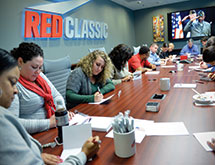 Red Classic epitomizes the adage "Necessity is the mother of invention." The senior leadership at Coca-Cola Bottling Co, Consolidated, upon examination of the company's distribution network, noticed that all of the trucks delivering Coke products were returning empty, representing a significant cost to the company's overall distribution budget. At the same time, it was also evident that soft drinks revenues had levelled out for Coke Consolidated's defined service area. So, the first order of business was to mitigate cost by introducing the opportunity for Coke raw material vendors to fill returning Red Classic trucks. This not only served to minimize empty miles, but sparked a tremendous interest in using Red Classic as a commercial provider as well as attracting outside carriers to supplement those load volumes that were overflow. It became evident that Red Classic should be its own commercial enterprise and haul freight in the open for-hire market. This led to what is now a wholly owned subsidiary that transports freight for a diverse and rapidly growing customer base.
David Heller, senior director of business development and strategy, says "Red Classic has a story and legacy that many customers find very intriguing. How we came to be makes a lot of sense and our legacy to Coke Consolidated builds on a solid reputation that has sustained for more than 100 years."
Continued Growth
Currently, Red Classic operates a truckload fleet of more than 400 tractors and 1,000 dry-van trailers throughout the southeastern portion of the United States. The logistics division of Red Classic provides nationwide coverage for truckload, less-than-truckload, intermodal and flatbed shipments. Red Classic also utilizes its 51 shops and four mobile maintenance units in seven states to provide commercial fleet maintenance services.
The company operates out of its new corporate headquarters situated in a 16,000-square-foot facility outfitted with the latest computing and fleet management systems to provide customers the best in class service and end-to-end shipment visibility. The additional office space will allow Red Classic to support its growth strategy for years to come. "Our new facilities feature a more open floor plan and room for more expansion in the future, which we couldn't do in our other facilities," Drogan says.
Red Classic has hit the ground running, leveraging the infrastructure and experience in place to serve a broadening base of customers across multiple industries with transportation solutions. Heller says, "As a wholly owned subsidiary of The Coca-Cola Bottling Co., Red Classic knows that it has a solid company behind us that believes in us and is willing to support us."
"The connection to Coca-Cola Bottling Company gives Red Classic a level of brand recognition that is rare in the trucking market," Drogan adds.
Drogan believes the exciting culture inside Red Classic as well as the company's strong support from Coca-Cola Bottling Company give it an edge when it comes to recruiting and retaining new talent, and its new headquarters gives it a more professional environment that will make it even easier to attract new people. That will be increasingly important for Red Classic in the next few years, as the company anticipates its growth.
Red Classic also recently completed a total rebranding campaign featuring a new logo which exemplifies a bolder and fresher approach to business.
The Exciting Road Ahead
"Our objective for Red Classic is to be for transportation what Coke has been to the beverage industry," commented Drogan. "We want to be the best transportation provider for shippers, the employer of choice for talented men and women, the partner carriers seek to grow their own businesses, and a service to the community where we live, work and play."
Red Classic is very optimistic about its future and has formulated an impressive and comprehensive growth strategy that includes targeted acquisitions, expansion of satellite offices, independent contractor recruiting and capital investment in equipment and drivers.
"We've set a high bar for ourselves," states Drogan. "But I'm confident in our ability to be the best. Our team will accept no less."