Regency Transportation/Regency Warehousing & Distribution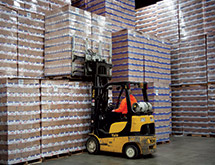 Regency Transportation and Regency Warehousing and Distribution knows that its customers have plenty of options for trucking and warehousing companies. Although some of the company's competitors may have larger fleets or even larger service areas, Regency knows that service is of the utmost importance to its customers.
"Our clients are all companies that could easily go out to bid and get other carriers, but we give them what larger companies can't or won't give them," says Ed Rodricks, EVP and COO of the Franklin, Mass.-based company. "You don't keep a company like Anheuser-Busch as a client for more than 20 years unless you're good at what you do."
Regency offers truckload, warehousing, third-party logistics and freight brokerage services to Anheuser-Busch and other big names in the beverage-bottling industry including Ocean Spray and Pepsi-Cola. In addition to manufacturers and bottlers, the company also serves retailers including BJ's Wholesale Club and Albertsons, as well as packaging and bottle makers such as Saint-Gobain and Plastipak. Many of Regency's customers have worked with the company for 15 years or more.
The company stores empty bottle and cans and hauls containers to breweries, where they're filled and palletized. Regency then delivers the filled bottles and cans to distributors.
"We specialize in serving the beverage industry, whether with empty containers or finished products," CEO and founder Rick Giroux says.
The company serves the northeastern and portions of the southern and Midwestern United States. It operates a total of 800,000 square feet of warehousing space from four locations in Massachusetts and two facilities in New Jersey.
On-Time Delivery
Many of the company's deliveries are performed on a just-in-time basis. "We have to meet certain production times," Giroux says. "The bottles go off the truck and right on the line."
Regency's ability to make deliveries of this nature is a reflection of its overall service focus. "When I came to the company two years ago as an outsider, the first thing I saw right off the bat is an enormous effort placed on customer service," Rodricks says. "[Giroux] has, intentionally or not, driven our culture to say, 'These are our customers, we will do whatever they need us to do.'"
This includes working on Sundays or other odd hours. "Manufacturers in the bottle business have lines that come on and off-line at all hours, and they need trucking to respond to that," he adds. "We believe our value to customers comes from being large enough to offer capacity and volume at a level that is meaningful to them, but being small enough to react quickly and nimbly to their needs."
In addition to making its trucks available when customers need them, Regency has also customized its fleet. This includes purchasing lightweight equipment, which enables it to carry larger payloads.
The company invests in its fleet on a regular basis to best meet customers' needs. This includes investing in electronic data interchange and satellite tracking equipment, which make it easier for clients to communicate with and track Regency trucks. "We try to stay up to date with technology because it is changing all the time and carriers have to use the newest technology to stay competitive," Giroux says.
'Great People'
Giroux started the business in 1985 with a single tractor and a borrowed trailer. Today, the company's fleet includes 150 tractors and 700 trailers. His brother Paul and sons Brian and Kevin play key roles in the business. Regency tractors and trailers are typically replaced every three years. Many of the tractors include stability control and hard breaking systems.
These purchases reflect the company's dedication to its employees' safety. "We promote a safety culture within our company," Giroux says.
The company has an in-house safety department and partners with the Vertical Alliance Group to offer online safety training to its drivers in multiple locations. The training program – known as Infinity – includes more than 800 training videos covering multiple topics. Drivers can view videos and take quarterly continuing education programs on their smartphones or at kiosks located in all of Regency's depots.
Regency also builds camaraderie among its staff through internal programs as well as its participation in community activities. This includes a program – called "Catch Me At My Best" – that encourages dispatchers to recognize one driver each week for their work and give them Dunkin Donuts gift cards. Regency's charitable projects include volunteering equipment and time to the Wreaths Across America and Wall That Heals projects, both of which honor fallen military heroes. The company's emphasis on hiring and supporting veterans and active reservists has earned it the Seven Seals and Patriot awards from the Massachusetts Employer Support of the Guard and Reserve.
For the past two years, the company has been represented in the National Truck Driving Championships, with one of its drivers winning the state championship and going on to represent Regency in national competition.
"I'm proud of everything we do here," Giroux says. "We have a successful company with great people."