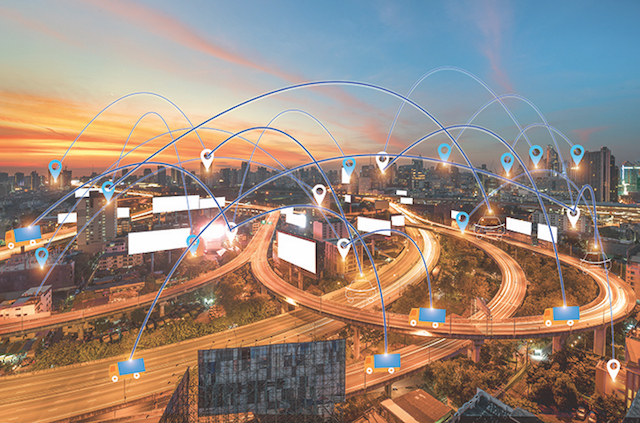 Reliable Contact
Connection improvements can help increase productivity and collaboration in today's global business world.
– By Urban Gillis
In recent years, there has been a fundamental shift in how we work. Business operations have gone global and offices spanning countries and continents require connectivity like never before. Workers in different locations have always needed to be able to seamlessly communicate with each other, but just as the world seems to get smaller with every passing year, the complexity of our need for connection grows.
A sharp increase in mobility amongst knowledge workers in call centers, contact centers and traditional office environments has created a need for constant connectivity and the ability to access information anytime, anywhere and from any device.
However, the need for connectivity and mobility does not stop at the call center. Beyond traditional in-office work environments, there are workers in more industrial environments, such as warehouses, fleets and in the field, that also need a reliable form of communication to execute the core functions of their jobs.
For example, a floor manager who works in a noisy warehouse needs to be able to answer calls from various locations without worrying about whether the person on the other end can hear what is being said. A fleet driver who spends a majority of time behind the wheel needs to be able to easily communicate with co-workers without taking attention off the road. These workers need to maintain productivity with the same ease as those working behind a desk.
Technologies such as push-to-talk and voice-control can help to bridge the gap making these workers safer and connected without compromising their ability to do their jobs effectively. Organizations with traditional office environments have embraced these mobile solutions for years, and it's time for enterprise businesses to do the same. Here's why.
Productivity
From booming inventory demands, increased product diversification and rising customer expectations, warehouse and fleet workers are busier than ever. Productivity is critical to keep up with the fast pace. Many companies have turned to mobile technology solutions to mitigate the challenges of today's complex landscape. Workers who say their employers use mobile technology well report being more productive, creative, satisfied and loyal. Those who describe their employers as mobile "pioneers" report 16 percent higher levels of productivity than workers who say their employer's use of mobile is "bad."
For warehouse or fleet employees, this mobile technology often comes in the form of wireless headsets. These headsets can integrate with existing business software and devices – making use of technology already available to an organization. They are also customizable for one-touch access to the functions most important to your business. This purpose-built technology can help streamline processes and adopt new best practices that support today's increasingly mobile workforce.
Collaboration
It's no secret that collaboration is key to efficient and effective operations for companies across the globe. In fact, 86 percent of executives blame workplace failures on a lack of collaboration and poor communication. A common solution for building collaboration in today's workplace? Mobile technology.
Anyone working on the warehouse floor or as a fleet driver can't always answer a call or communicate with teams in a traditional way. Mobile technology solutions facilitate conversation by allowing organizations to connect seamlessly – whether they're in the front or back of the house.
Technologies like push-to-talk and voice-control put collaboration at the forefront by offering simple solutions to connect quickly. With these technologies, the wearer doesn't have to choose between taking calls and everything else their job entails.
Effective Communication
Communication is critical when it comes to driving efficiency among teams. However, a vital piece of that puzzle is the ability to communicate clearly with team members. This can be challenging in high-noise environments like warehouses, factories or on the road. In a recent study, 45 percent of workers cited noise levels as the biggest factor affecting their productivity. Noise-canceling mobile technology can help ensure teams can efficiently communicate, no matter how demanding the environment. By tuning out the inevitable loud noises in these environments, team members can send and receive critical communications.
When it comes to those working in warehouses and fleets – communication is essential for operations and safety.. For example, today's fleet drivers can face hefty fines due to strict hands-free technology regulations. Headsets with voice control allow hands-free operation that provides workers with the ability to talk safely and unhindered.
Some work environments require employees to be constantly on the move in high-noise environments. With the help of new mobile technologies, organizations now may boost productivity, strengthen collaboration and provide uninterrupted communication to drive stronger results in daily operations.
Urban Gillis is the head of BlueParrott, North America. He is responsible for channel sales for BlueParrott in North America.