There is a digital transformation under way that also impacts the fleet and commercial transport sectors. How will digitization shape next-generation telematics solutions? And how will telematics solutions fit the future needs of the supply chain? Ayse Celebi reports
Telematics and logistics software are based on data collection and data sharing. But it can be difficult to gather and process data, particularly if it has to be extracted from third party data sources. Plus, data is only useful if it can be presented in a meaningful way that enables fleet managers to make better decisions and add value to their operations.
Many fleet managers are dealing with an abundance of unstructured data, struggling to extract useful information and make sense of it. That's because they often use a variety of systems, hardware, and sensors, and work with subcontractors who use different systems. This complexity limits their operational capabilities, resulting in lost time, low productivity, poor decision-making inefficiencies, and lost revenues. It also means that they have no insight into the performance of their fleet.
Besides, monitoring different data sources through multiple interfaces is time-consuming and results in reduced productivity due to mental and physical fatigue, leading to human errors. This could give rise to hazardous situations on the road, negatively affecting the conditions of the assets on the move and leading to miscommunication and violations and, as a result, increased operational costs.
These challenges are an open invitation to bring fragmented solutions into an integrated platform approach and present an opportunity for companies to drive forward their digitization agenda. What's needed are pervasive links between these fragmented solutions, and a new business model to represent them in a unifying and converging approach.
Open telematics adds value to customers' core business by integrating different data sources in a single platform and offering various services. It utilizes data generated by various third party devices and sensors in and around the vehicle to provide information to fleet managers regarding vehicle, trailer and driver in a single platform.
The benefits are numerous. Seamlessly integrating all systems into one platform enables fleet managers to see all their fleet-wide information and insight to their business in one place. Having complete visibility of all movements reduces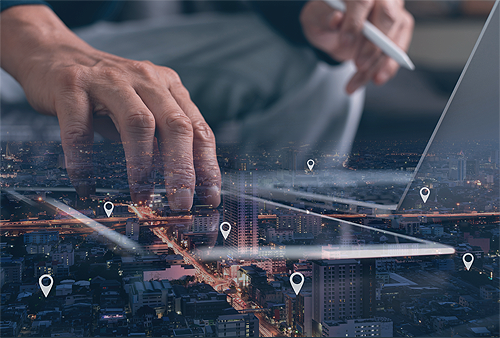 their workload, improves productivity, decreases the chances of human error, increases profitability and improves results through greater reliability and customer satisfaction. Value is added to companies' core business by making vehicles a part of the Internet of Things (IoT), including the cloud, infrastructure, and smart phones.
Different companies benefit in different ways:
Transport companies
Transport companies use telematics to get information from and about their vehicles and drivers, enabling them to reduce costs and utilize their fleets at full capacity. Their challenge is to manage every action and event on a different interface while dealing with a heavy workload. Open telematics can offer them an environment where they can see everything in one place no matter which system(s) or existing solutions they have been using. The right software will integrate with any system without downtime for the fleet or existing back-office solutions, so vehicles and operations can keep on running.
Logistics
Logistics companies execute many ransactions on a daily basis. Tracking all these transactions is complex and difficult. If operations go as planned, logistics managers have nothing to worry about. If transactions deviate from the original plan, it is vital to take action. This requires a sound information base to receive up-to-date information from the transport companies. Open telematics will enable logistics companies to see real-time information from their subcontractors in one interface, helping them to take action immediately when there is an unforeseen event. This facilitates better decision-making, reduces costs, saves time, and limits the possibility of human error.
Shippers
Companies with a more complex supply chain suffer from weak communication about their goods on the move. Open telematics helps by retrieving real-time information from the truck or trailer, enabling shippers to track their goods without depending on information from the transport company. Supply chains that work with open telematics solutions benefit from a competitive advantage by optimizing their operations.
Open telematics helps companies to achieve comprehensive visibility by implementing effective collaboration as a driver for competitiveness, on-time performance and profitability. With its standardized data, open telematics creates a social value, which is one of its most powerful qualities, by increasing the connectivity between third party providers, drivers and back offices, and bringing transport, logistics, and shippers together. It also has an environmental and social impact at a global level: by using available data from any device, companies reduce their ecological footprint. This helps to use the existing digitized data and design a smart and greener business for the entire supply chain. Perhaps the future is not only digitized, but also greener.
Ayse Celebi is Product Marketing Specialist at Astrata Europe B.V. Astrata is a software company with strong foundations in geolocation, telematics and fleet management. It delivers solutions that streamline transport, logistics and supply chain operations and mobile workforce management. Relied upon by over 1200 global customers, it helps clients operate at peak performance by improving efficiency and profitability, and increases safety and security. It ensures seamless integration of telematics with software solutions while connecting three strategic pillars: extracting data; adding intelligence; and providing information.
www.astrata.eu