Restore Harrow Green takes an energy-saving, technological approach to business relocation
Electrifying moves
Restore Harrow Green has been helping organizations change and grow for over 30 years. Its commitment to remain the leading business relocation company in the UK has seen it expand its portfolio of services to match the growing needs of its customers. Its new facility in Cambridge is a good example of its strategy in action.
"The life science world has been very much on my radar for several years and Cambridge is its epicenter in the UK," says Toby Swain, Restore Harrow Green Operations Director. "It was about Christmas 2020 when we got the site up and running, had the mezzanine infrastructures in place and increased usable storage space by about a third. We officially opened in March 2021."
Restore Harrow Green has invested heavily in providing the capabilities needed by customers in life sciences, pharmaceuticals and other areas with specialist and niche requirements. It has trucks specially equipped for transport of sensitive items, such as artefacts and materials from heritage museums, libraries, pharmaceutical companies and laboratories, for example. It uses five redundant mines for temperature and humidity-controlled storage and has two controlled-atmosphere converted aircraft hangers, selected for their very high vaulted ceilings and the additional security afforded by being on an RAF base.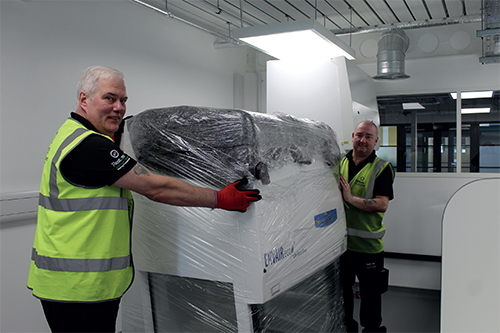 Restore Harrow Green will be celebrating its 40th anniversary in 2023. It was privately owned until 2012 when it was acquired by Restore PLC, which describes itself as the UK's leading provider of integrated information and data management services, secure technology recycling, and commercial relocation solutions.
"Ninety-five percent of our market at Restore Harrow Green is about moving offices and businesses. While we specialize in laboratories, pharmaceuticals and life sciences, co-working and flexible 'near-home' working spaces and in niche segments like libraries, art galleries and museums, we also offer a range of other specialist storage solutions," Toby explains.
"It's quite a broad business and we have the largest market share in the UK for commercial moving."
The company employs around 450 people and operates a fleet of 130 vehicles from nine facilities across Great Britain, including eight in England and one in Scotland. A lot of its trucks have bespoke equipment, such as built-in generators and inverters, to run freezers, fridges and ambient temperature control equipment for the transport of sensitive items, from vaccines to vulnerable manuscripts and super-valuable works of art.
The investment in capabilities and capacity, even during the pandemic, has paid dividends in competitive advantage. "Things returned pretty much back to normal for us quite quickly. We found that a lot of our competitors didn't have the resources that we had access to, across the Restore Group, and were struggling to re-engage with customers. They lost staff and made redundancies, but we actually grew our payroll by the end of 2020," Toby says. "After a period of uncertainty in 2021, which hampered the business slightly, we are looking at what may turn out to be a record year for us. We learned a lot during Covid and gained a lot of efficiencies during that period."
Restore Harrow Green took a deliberate decision to focus, during lockdowns, on providing services to 'business critical activities' supporting the NHS. The fact that Ford Motor Company was among them may prompt a query, but Toby is quick to explain why.
"Ford consolidated engineering space in order to produce ventilators as part of the Ventilator Challenge UK consortium," he says. "We also did a lot of work for a large pharmaceutical company involved in vaccine production, and for its suppliers. We moved a lot of furniture to and from hospitals and into care homes. We delivered furniture and equipment to three Nightingale Hospitals, and PPE and essential equipment to NHS hospitals and clinics, for both medical and facilities management."
Moving forward, Restore Harrow Green is maintaining a strong investment strategy and is now very much focused on environmental and social governance. It has a target to be Net Zero by 2035 and is already implementing the strategy in its vehicle fleet.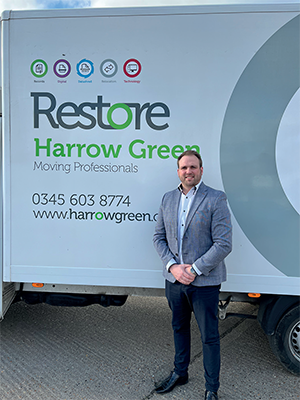 "Rising prices of supplies, of fuel especially, has been difficult for many businesses to manage," says Toby. The company has taken a number of measures to control costs and environmental impact. "We have partneredwith Shell to provide us with fuel. To compensate for carbon from our fleet operations, we give back to Shell and they invest in projects to protect and enhance natural ecosystems that capture CO2 emissions, benefit local communities and improve biodiversity."
Twelve vehicles in the company's fleet are already electric, but this predominately includes smaller vehicles, such as vans and cars. Restore Harrow Green would like to go zero-carbon with its heavy trucks, but doing so comes with its challenges: an electric HGV costs five times as much as an Internal Combustion Engine (ICE) equivalent. The company is investigating the potential for hydrogen and other alternative fuels.
"We have signed up to Climate 100, which is a commitment to have our entire fleet, up to 3.5 tonners, entirely electric by 2030. I think we will be there well before then," Toby confirms. "We have partnered with a provider with the aim of having electric charging points on sites across the whole Restore group."
Additionally, telematics technology in all trucks, running on a platform called Shell Telematics, focuses on driver behaviors and helps them to find the most efficient delivery routes. The company has also invested in a program to equip each vehicle with six to eight onboard cameras, to give 360 vision.
"We sell this as an added value service to our customers. Some of the loads can be very valuable indeed," Toby says. "Being able to live stream vehicles from the moment they leave their property to the minute they deliver has been very well received, in life sciences, especially."
As a vision for the future, it is pretty hard to beat.
www.harrowgreen.com