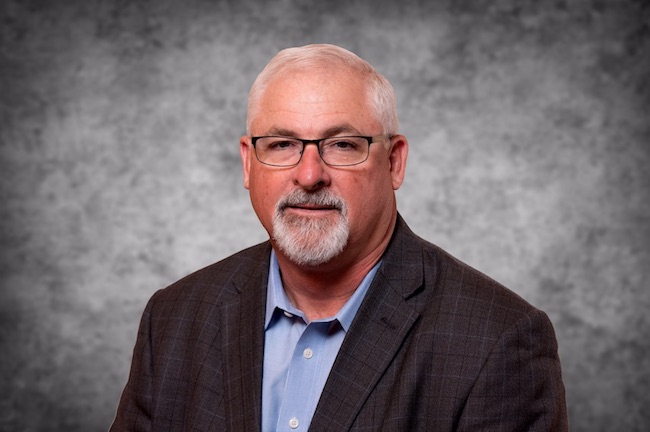 Reynolds American isn't afraid to make changes to keep its sales force safe and happy.
By Chris Kelsch
The ever-changing world of fleet management, it continues to attract professionals from all walks of life, including those who have worked in other fields. Dave Rush is one of those people. His career with R.J. Reynolds spans more than three decades, including 13 years as an operations specialist in the manufacturing division.
His multiple roles with the company, many of which had nothing to do with fleet management, have formed his ideas on running a large fleet of vehicles. "I go at it from a common sense approach," Rush explains. "A lot of my peers in the fleet industry do things the same way, but because I lack a lot of history in fleet, I ask a lot of questions and come up with other ways."
Many Brands, One Mission
Rush's approach has served him well and led to his current role, where he manages a fleet of 2,500 vehicles for the sales force of R.J. Reynolds Tobacco Company's Trade Marketing Organization. The group is a wholly owned subsidiary of Reynolds American Inc. (RAI) and began operations on Jan. 1. It is officially known as RAI Trade Marketing Services Company (RAI TMS) and consists of sales groups across several brands, including American Snuff Company, Santa Fe Natural Tobacco Company and R.J. Reynolds Vapor Company.
The mission of RAI TMS is simple: the sales and distribution of the products under these brands. That means salespeople log a lot of miles visiting clients and prospective clients. And because these salespeople carry a lot of display materials such as cardboard signs, traditional sedans will not get the job done, so the fleet is made up entirely of GMC Terrain SLT crossovers. "Sales production is a very important part of what we do," Rush explains. "The car is a tool for production."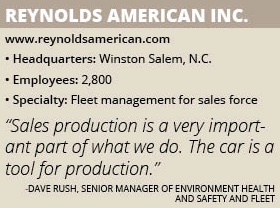 It is also a tool for keeping drivers safe. While Rush could have easily chosen a more generic version of the vehicle, he opted for the enhanced safety features of the Terrain. Given his background in environmental safety, its easy to see why that is such a huge focus for Rush. In fact, earlier in his tenure with Reynolds, he was instrumental in joining the Network of Employers for Traffic Safety (NETS), a collaborative group of employer road safety professionals.
Rush was also instrumental in developing a behavioral program that drastically altered the behavior of R.J. Reynolds' drivers. "Before this program, we had no mechanism to actively coach driver behavior," Rush explains. "I partnered with PHH and our behavior has completely changed by instituting a system of vehicle checks and alarms when the driver isn't safe."
As a result of those efforts, Rush was nominated in 2016 by Automotive Fleet Magazine for Fleet Manager of the Year, though he did not win. "I didn't care if I won or not," Rush recalls. "Just being nominated was enough for me."
Freedom to Lead
Although R.J. Reynolds can be viewed as a collection of different cultures from brands it has acquired throughout the years, Rush has concentrated on serving its customer base: the sales representatives on the road. Importantly, Rush has been given freedom to oversee a department tasked with making key purchasing and partnering decisions. "My leadership has trust in me, " Rush says. "I don't have a blank check, but I do have discretion to run the department as I see fit."
That means the discretion to make key changes when necessary. In 2015, Rush's group was not receiving the performance and service it expected from an original equipment manufacturer (OEM), and was forced to put the contract out to bid. An extremely motivated fleet team at GM stepped in and won the contract, and neither GM nor Rush has looked back since.
The GM contract is only one example of how Rush has relied on steady partnerships to keep performance standards high. Another vital partnership has been with Element Fleet Management, which has served as key advisor in telematics installations, as well as the pick-up and storage of vehicles. "We were having issues with both vehicle pick up and storage as well as telematics installations and Element recommended Auto Driveaway to RAI TMS for both," Rush explains. "Auto Driveaway has in turn been a pivotal move for us–they have met every need that I have."
Sharing Ideas
Rush continues to attend fleet conferences and events in an effort to find more efficient ways of managing a large fleet. "Fleet management changes so much over short periods of time," Rush notes. "There are so many variables that you can't control such as fuel prices or strikes. Then everyone looks at you for answers. I think that's why fleet managers are so willing to share information and best practices.
"In the fleet industry I have been blessed to meet really great managers," Rush continues. "And believe me, if I come across a good idea, I will steal it." That sharing or stealing of good ideas is commonplace in the fleet industry, and Rush says he has a reliable formula to determine whether those ideas work. "When our employees are happy, management is happy," he says.