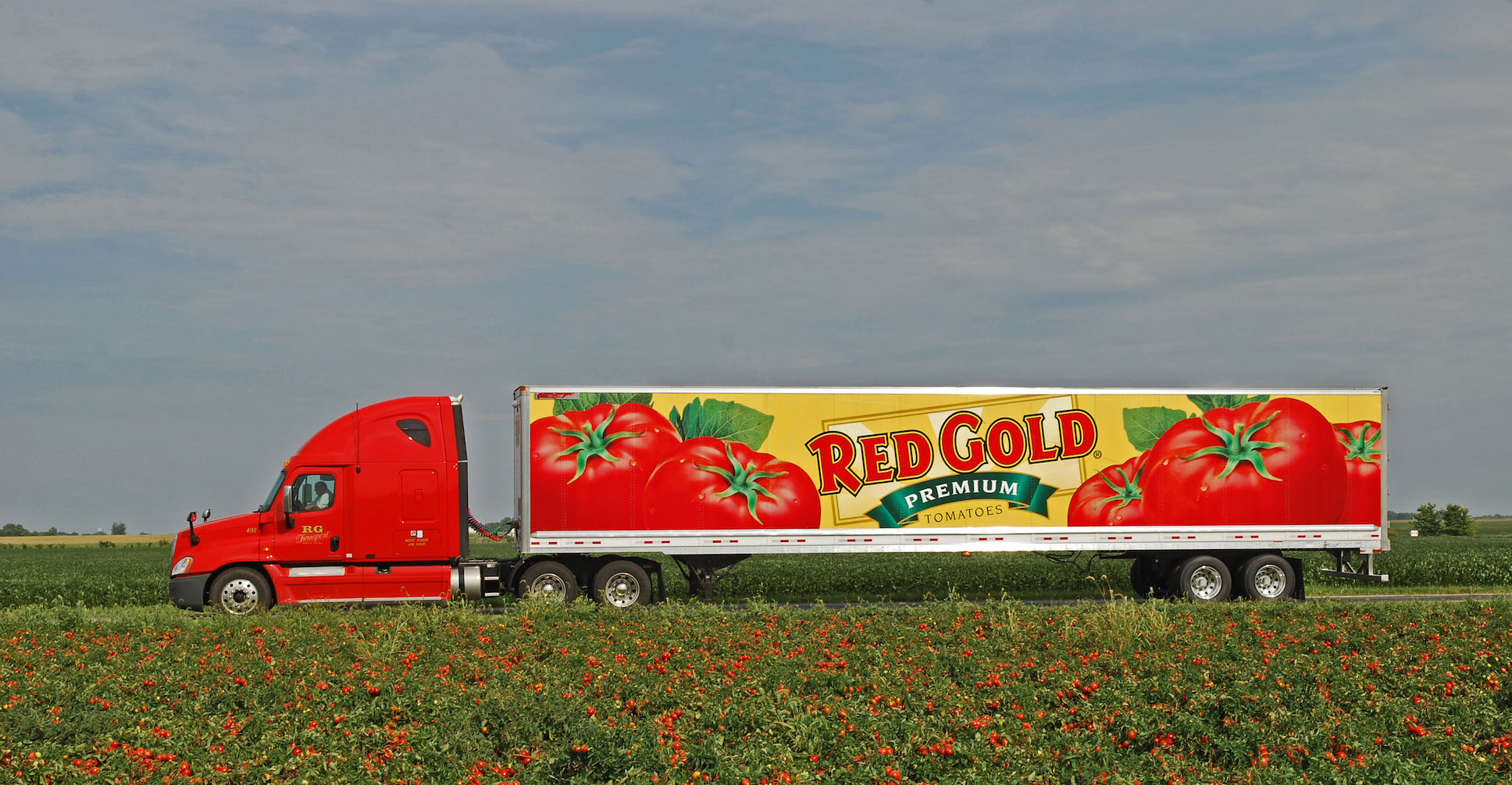 Operating as a mix of a private fleet with a for-hire carrier, RG Transport is a key partner for many national food and consumer products companies.
By Eric Slack
As a corporate entity, the RG Transport name dates back to 1990. But the company's history is much more extensive than that, and today it operates a fleet of more than 180 trucks and 550-plus trailers.
RG Transport is a sister company to Red Gold Inc., which has been producing premium-quality tomato products since 1942. RG Transport's genesis came about because of expansion of Red Gold's tomato product lines and a need to control their transportation needs. Red Gold acquired Fettig Transportation in 1980 and started increasing its own fleet from five trucks and 15 trailers. The trucking company's name became RG Transport in 1989, and in 1998 it expanded beyond providing private fleet services for Red Gold.
"We have grown into a trucking company that is an extension of Red Gold," Chief Operating Officer Hue Andrews says. "As a for-hire carrier, we primarily focus on the Midwest, Southeast and Northeast. Our goal is to provide quality transportation and customer service in the most efficient and safe manner."
Blended Model
RG Transport serves Red Gold while also offering its assets to other food distribution companies. The company is now a large common carrier, servicing national food and consumer products companies. Its logistics offerings have emerged by combining the truckload brokerage operations with the asset base of RG Transport. .
"Providing service to Red Gold is about half of our business, and beyond that we have formed partnerships over the years based on where we land our trucks, catering to customers and repositioning our trucks to take care of customer business," Andrews says. "We are essentially a hybrid operation between a private fleet and a for-hire carrier."
The company's goal is to provide exceptional and extensive logistics services to food and other consumer good shippers in need of over-the-road, dedicated or brokerage transportation services. RG Transport succeeds by leveraging its assets, technology, purchasing power and logistics expertise. Its vast array of transportation management services allows the company to design customized solutions for clients. Its services include single-source coverage of truckload services, asset-based truckload support, large carrier base, dedicated fleets, partial load consolidation and local shuttle solutions.
"If time is of the essence for the customer, we use trucks rather than intermodal or rail," Andrews says. "We operate in the lanes where customer service and time are critical as well as where trucks are the better model to get the product to end user."
Additionally, the company understands the demands of the food distribution sector. It is committed to safety and ongoing understanding of evolving FDA regulations in order to ensure on time, secure and damage-free delivery.
Strong Assets
The company has invested in a state-of-the-art fleet as it has evolved. Its tractor fleet consists of 2014 to 2016 Freightliner Cascadia Condo and Mid-Roof sleepers. Its trailers are 53-foot Great Dane plate trailers averaging just over two years of age, and the company supports its drop trailer program by maintaining a 2.5-to-1 trailer-to-tractor ratio.
Within the last decade, the company has moved away from an operating model where all of its equipment was leased to one where it owns its entire fleet. That was a big undertaking, particularly in the past three to five years.
RG Transport has also invested in a new headquarters, moving to a new facility in its hometown of Elwood, Ind. Its newly refurbished facility has improved amenities for drivers, and it allows the company to perform more maintenance on trucks and trailers.
Technology is another important differentiator for RG Transport. The company has embraced e-logs, and almost all of its fleet is utilizing e-logs today. Investments in technology allow the company to better plan truck movements and routes while also providing better visibility of drivers' hours of service.
"We've been able to improve on-time delivery because of better information," Andrews says. "Technology allows us to make better commitments with customers and increase our on-time delivery percentage."
Although the company has put a lot of emphasis on its fleet and facilities, RG Transport feels its physical resources would not be as successful without its human resources. "Our drivers are our No. 1 asset," Andrews says. "We have great drivers with long tenure, experience and a focus on safety. When we commit to haul a product for customers, the drivers execute on that commitment. They are by far our best trait. We have stringent hiring requirements, and we do a lot of continual training to keep our drivers at the top of their game."
The commitment to drivers is important as the company seeks to avoid the negative impacts of the driver shortage. RG Transport's commitment to recruitment and retention helps it ensure that it respects its workforce and rewards them for their work. "The driver shortage is an issue that we must stay ahead of, and we must make sure we are best-in-class in terms of driver treatment so they continue to choose to work here," Andrews says.
Looking forward, RG Transport believes it can continue to find ways to increase efficiency, such as reducing empty miles and improving on areas such as miles per gallon, idle time percentage and cost per mile. It will continue looking for ways to work with customers to save them some money while driving out cost and improving its own revenue.
"We are finding the right customers and building long-term ties with them," Andrews says. "The way we differentiate ourselves is not by focusing on having a lot of customers. We focus on having solid relationships with a strong block of customers that we will work with for years, and forming those ties is key to both businesses thriving as we move ahead."
www.rgtransport.com
Headquarters: Elwood, Ind.
Employees: 200
Specialty: Trucking and logistics