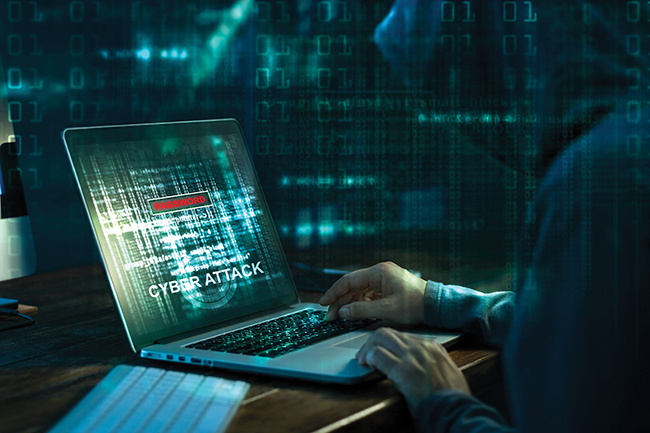 Haul trucking is becoming a target for cyber attacks.
By Zach Thompson
Tesla, Yahoo and Equifax. Some of the most sophisticated companies and organizations on the cutting edge of technology are falling victim to malicious cyber attacks and evolving cryptocurrency threats.
According to Gemalto, a world leader in digital security, 918 data breaches were reported and almost 1.9 billion data records were compromised during the first half of 2017 alone. While last year proved to be one of the worst years for cyber attacks, many experts in digital security believe those numbers will continue growing.
In the world of transportation and logistics, a highly automated industry, it's no surprise that long haul trucking is now becoming yet another target for hackers looking to make a profit, disrupt business or cause financial damage. According to the "Transportation Systems Sector-Specific Plan," updated in 2015, the reason this industry is so vulnerable to cybercrimes is the increasing reliance on cyber-based control, navigation, tracking, positioning and communications systems.
Most recently, container shipping company A.P. Moller-Maersk made headlines after suffering a malware attack that cost the company $300 million in lost revenue. According to Maersk executives, business volumes were negatively affected for several weeks and severely impacted Q3 results. Similarly, FedEx estimated a $300 million loss after a cyber attack in June delayed delivery service and halted sales.
In general, the attack in this scenario was targeted with malware to seize control over data and attempt to ransom the information back to the corporations in the form of cryptocurrency payments. Any business that relies on integrated technology or stored data is at risk and a potential target for these kinds of attacks.
While the loss of revenue to these companies is detrimental, fortunately most are able to weather the storm and move on, addressing holes in their digital security and perhaps adding a few more layers of digital protection to safeguard their data. However, how does a small business, one that is part of the supply chain and reliant on the revenue of a large company, remain safe in the event of one of these breaches?
Imagine the ripple effect of a cyber attack on a business that is the source of your cash flow. Your products aren't getting delivered or you're not getting paid. You may not be able to afford supplies and there may be a loss of productivity. Your company, your brand and reputation all take a hit.
Credit insurance can serve as a safety net during turbulent times. It protects your business from the risks of non-payment of invoices that can result in anything from a cybercrime or uncollectible accounts. This means your invoices are covered and you get paid for goods and services you supply. Generally, credit insurance can cover up to 90 percent of the value of any unpaid invoices – this includes not only delinquent customers but also other risks that prevent payment, such as a natural disaster.
Unlike a bankruptcy, where you may see signs of financial deterioration for several weeks or months, a cyber attack doesn't provide that luxury, making it extremely dangerous and unpredictable. It can take a whole sector by storm because of supply chains' complex and interconnected natures.
Further complicating the realm of cyberattacks is that there doesn't seem to be a pattern to how or when they occur. In the recent attacks on Maersk and FedEx, each one was based on a different vulnerability in either the company's information technology or infrastructure, making them hard to anticipate.
Trade credit insurance ensures that if invoices are being unpaid, you are covered. It offers peace of mind and safety in the event of many kinds of scenarios – including cyber attacks and liquidity concerns – that can create delays in your customer's ability to pay invoices and create insolvencies.
Attacks and threats to technology are increasing and becoming more sophisticated. Automated industries need to take extra precautions make sure their systems are safeguarded and updated. As long as transportation and logistics uses technology to operate, the risk of a cyber attack exists. However, seeking the proper channels of protection can avoid or minimize catastrophic losses to yourself and those in the supply chain. As long as there is technology and automation, the sector will continue to be a target.
Zach Thompson is a senior credit analyst at Atradius Trade Credit Insurance. He works with clients in transportation, logistics, engineering and machinery, and focuses on financial analysis and underwriting as well as improving business practices. Prior to his role with Atradius, he worked for a Fortune 500 company in the credit card processing industry and held positions in banking.